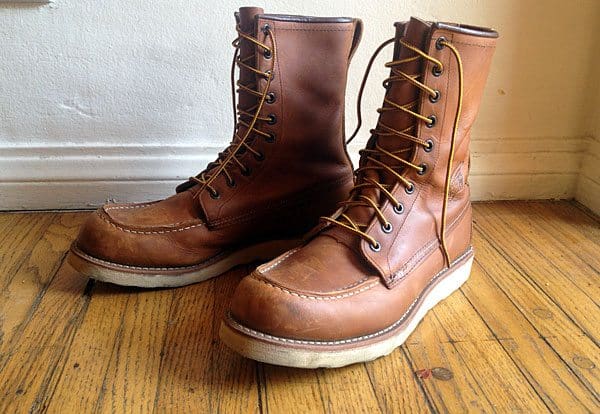 I've been pining for a pair of Red Wing boots but they were always a bit out of my price range (I've got champagne tastes and a beer budget). So when I spotted an almost new pair of 877 Red Wings at the Fox and Faun in Greenpoint, Brooklyn, I quickly grabbed them.
Since NYC is all about walking I'm apprehensive to take a new pair of shoes out for more than an hour, especially if they leather as they typically need a break-in period. The 877's were comfortable from the start so I risked it and spent two days walking the streets of Manhattan and Brooklyn and to my surprise I had no issues with rubbing or blisters. The boots felt solid and the 8″ ankle provided ample support but they weren't bulky. That added support has been helpful as I spent yesterday here in my workshop clearing out my scrap lumber pile and loading tires, crates and wood for recycling and the dump.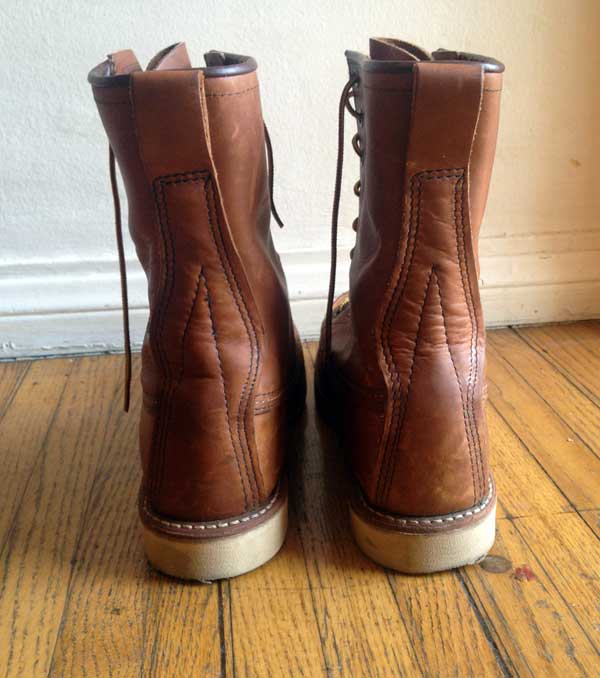 These boots not only look sharp with whatever I'm wearing they provide great protection and durability for whatever task I'm throwing at them. The only instance where I might choose another boot is if I needed a steel toe. I'd also love to grab a pair of Red Wing 875's which are shorter and might be more comfortable for long walks.
The American heritage of the 877 and 875 are unmatched and Red Wing continues to make and restore these boots from their factory in Minnesota. Here's a great piece from A Continous Lean on how they resoled his 875. If you are keen on buying American then look no further than Red Wing boots.