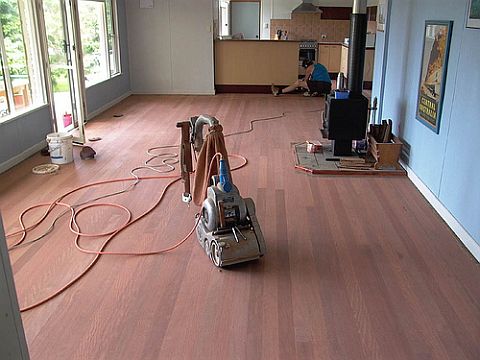 Whenever I am visiting my family at home, my mother has the same complaint about her house: the wood floors. She'd love to refinish them but with an elderly dog, other projects to tackle and a limited budget, it's not in the cards in the near future. I inquired about how one would approach a DIY floor refinishing from Tony Pastrana, who works in Installation Training & Services for Armstrong Floor Products. Surely he would know.
First, it might not be necessary to fully sand the floor to restore the finish unless there are visible dents, permanent cupping or excessive wear. A screen (a 120 grit placed on a floor buffer) and re-coat may work just fine.
Prior to sanding, remove all debris and clean the floor.

You'll want to rent or borrow a floor buffer for this project. The first cut with sand paper is a coarse grade 36. Your second cut will take a medium grade 50 and the final will take an 80 grit sand paper.
After each pass with a different grade, clean and sweep the floor.
Apply stain and finish coats. That should be all you need for a major floor upgrade on a DIY budget.
Photo by Serendigity