One of the biggest challenges many small space dwellers face is storage. Whether your abode has a bevy of closets and cabinets or is as bare as a bone, when every square inch counts, you need storage solutions that optimize every possible angle.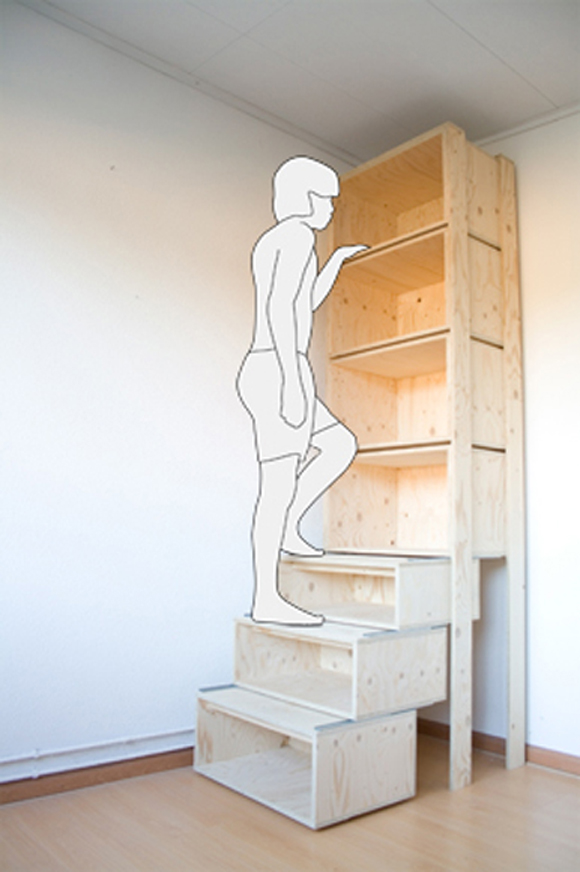 Danny Kuo of Danny Kuo Design has created a near-perfect storage unit for people who have lots of vertical wall space, but not much other space to spare. Behold, the Stepcase!
The premise is this — the bottom three (fully functional) shelving/storgae units of the bookcase pull out to make stairs so you can reach items stored in the upper compartments. How awesome is that?

The photo above is the prototype, but a finished product has been showcased at a handful of design shows. Looking at it, especially in prototype form, it seems like a pretty simple build as long as you know how to make the bottom sections support the weight of the person who'll be climbing it.
It's items like these that really make us marvel at the simplicity of good, well-pondered design. And make us covet designer housewares/storage solutions/conversation pieces.
Kudos to Danny for a stroke of brilliance, and if anyone attempts a similar build at home, please link it up!
Photo courtesy of Danny Kuo Design