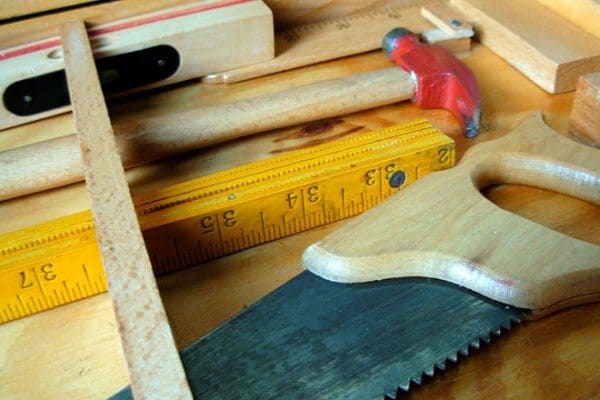 Whether you're an apartment dweller or simply don't feel the need to store a box full of tools, everyone needs some basic tools to assist in various household tasks. We've compiled a group of tools that won't take up valuable closet space, but will also have you prepared for the next fix-it job around the house.
Screwdrivers
Go with the stubby variety to save the most space (a flathead and phillips head screwdriver), but for the most versatility a screwdriver with interchangeable heads will work best, even better if it's also stubby.
Heavy Duty Scissors
Skip office scissors, which will wilt under the pressure of cutting rope or fabric. A set of contractor grade scissors has many uses from the kitchen to the workshop.
Crescent Adjustable Wrench
An adjustable wrench is a must-have in any tiny tool kit. Consider a kit that includes multiple sizes, so you've got all your nuts and bolt sizes covered.
Tape Measure
From woodworking to interior design, a tape measure is indispensable. A 12' locking tape measure should handle most jobs around the house but won't have the bulk of a 25' contractor grade tape measure.
Level
A standard bubble level with a measuring scale is necessary when installing shelves and can be helpful when hanging mirrors or artwork. But there's also an app for that.
Hammer
An 8 oz. stubby claw hammer will do 90% of the jobs around the house.
Pliers
If you've got the space then go with a 6" slip-joint and a 6" long nose pair of pliers.
If you've got room to spare, consider adding a mini-hacksaw or jab saw, an all-purpose sanding sponge, work gloves, eye protection.