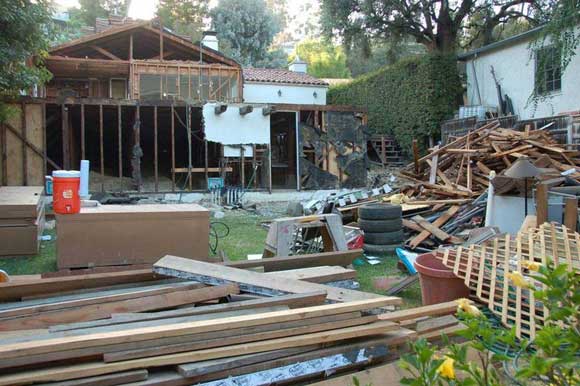 We heard a few months back that This Old House was searching for a project in the Los Angeles area. They've finally found one and have wasted little time in getting work started.
For this project, This Old House has (for the first time) selected a 1930's Spanish Colonial Revival style home. It's located in the Silver Lake neighborhood of Los Angeles. It currently sits at 1,500 square feet but the plans indicate an addition of 750 square feet to accommodate the home owners growing family.
We're also pleased to hear This Old House will explore the architectural diversity of the Los Angeles area and include side trips to renovations in process that include the Hollyhock House and the preservation of Richard Neutra's home.
We'll share more news from the house project as it moves forward and you can check out the homeowners blog as well as web cams to track the progress yourself.
More from the press release: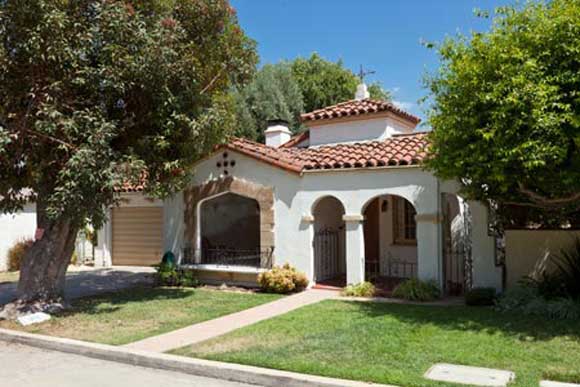 THIS OLD HOUSE EMBARKS ON FIRST-EVER RENOVATION PROJECT IN LOS ANGELES
Spanish Colonial Revival to Get Hollywood Treatment on New Season of Emmy Award-Winning Show
CONCORD, Mass., (September 23, 2010) – For the first time in its 30-year history, the PBS home improvement series This Old House is traveling to Los Angeles to tackle a West Coast renovation project. A charming 1930s Spanish Colonial Revival home located in the picturesque hillside community of Silver Lake will get a Hollywood makeover from the show's expert crew. The This Old House Los Angeles project, featuring 10 brand-new episodes, premieres nationally on PBS beginning Thursday, January 27, 2011 (check www.thisoldhouse.com/tvschedule or your local listings).
In order to accommodate a growing family, the This Old House team, with the help of local tradespeople, plans to expand the home's existing footprint, add a second floor and make updates for modern living, while preserving the quaint period details that make the property unique.
Homeowner Kurt Albrecht purchased this home in 1998 and moved in with his wife, Mary Blee, shortly thereafter. The couple was not only drawn to the original period style of the house and its view of the Silver Lake Reservoir, but they loved the diverse community and its central location to most Los Angeles areas like Downtown, Glendale, Burbank and Hollywood. The one floor, 1,500-sq.-ft. house was the perfect size for a young, married couple so they only made minor cosmetic updates at first. However, in recent years as their family began to expand and basically outgrow the two-bedroom, one-bath house, they decided it was time for more extensive renovations.
The This Old House experts are working with Los Angeles-based contractor Steve Pallrand and his design-build firm Home Front on a modest 750-sq.ft. expansion which includes a new second floor, larger kitchen, new family room, two additional baths and two more bedrooms. The plan also calls for preserving and replicating some of the homeowner's favorite existing period details such as arched doorways, tray ceilings, plaster ornamentation, inlaid floors and art deco light fixtures.
"This project embodied all the elements we were hoping to find in our first-ever Los Angeles renovation, and Spanish Colonial Revival is a style we've never worked on before, so it's particularly exciting for us," said This Old House host Kevin O'Connor. "Southern California is rich in architectural history, but much different than the New England homes we normally feature on the show. We are looking forward to sharing this and many other amazing aspects of the area with our viewers."
These Los Angeles project episodes will also feature side stories highlighting the distinctive lifestyle, world-class building projects and talented local craftspeople in the city and surrounding areas. One segment will focus on the active renovations to the spectacular city-owned Hollyhock House, Frank Lloyd Wright's first Los Angeles project built between 1919 and 1921. Another episode will spotlight preservation efforts at the Silver Lake home and studio of the late architect Richard Neutra, known for his influence on California Modernism.
"This Old House will introduce to the nation those mid-century, Craftsman, Spanish and other neighborhood landmarks that aren't as well known as the Chinese Theater, for example, but that are just as defining in terms of who we are as a city," Los Angeles City Council President Eric Garcetti said. "This Old House will highlight Los Angeles' rightful place as a leading city in terms of architecture and will help homeowners recognize and preserve our city's architectural gems."
"We love the Hollywood sign and Walk of Fame, but Los Angeles is so much more than that," said Linda Dishman, executive director of the Los Angeles Conservancy, a non-profit historic preservation organization. "We're essentially a city of neighborhoods, many of them historic and filled with excellent examples of Victorian, Craftsman, Spanish Colonial Revival and other architectural styles, not to mention our unparalleled collection of residential modernism. Residents here are using historic preservation to strengthen and revitalize their communities and protect the unique, authentic character that attracted them to these neighborhoods in the first place. We know that This Old House is committed to telling those stories and showing viewers a side of Los Angeles that they don't normally see."
Show producers found this Silver Lake property after an exhaustive search, which included extensive outreach to the local building/architectural community and a public call for entries earlier this spring, which yielded several hundred project submissions. Previously, the expert crew renovated four other homes in California, two in Santa Barbara, one in Napa Valley and one in San Francisco. The last California project was completed 10 years ago.