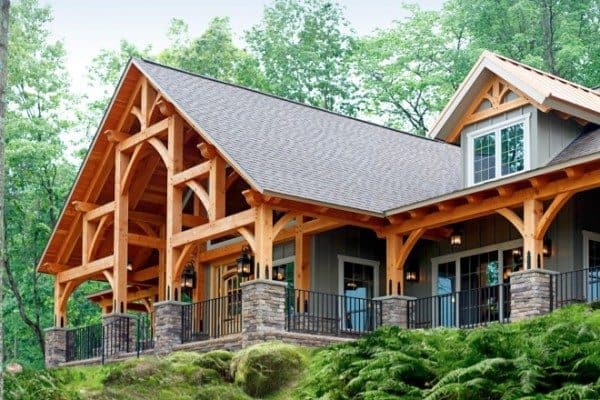 Timber frame homes have been around for hundreds of years and many of them still exist today. With large open areas, exposed wood beams, and excellent insulation, you'd be hard pressed to find a more interesting and solid building material.
Timber frame cabins are popular worldwide but you'll find many great examples in Ireland, Scotland, England and throughout the UK.
Mid-Atlantic Timberframes shared some details regarding modern timber frame construction as well as some stunning photos of a home they recently built in Pennsylvania.
What is Timber Frame Construction
Timber framing came about from builders needing to construct homes as quickly as possible and without access to tools to cut logs into smaller pieces (2x4s). The timbers are large squared off tree trunks that are connected via joinery techniques such as mortise-and-tenon and complex joints using wood pegs.  These joints don't require nails or screws that modern building entails. The beauty is in the concise joinery and corners and angles it creates.
Modern timber framing enlists CNC machines to cut the wood which eliminates unnecessary waste and miss-cuts during the construction of the frame.
Advantages to Timber Frame Building
Environmental Impact
Trees are a renewable resource as long as we don't cut down entire forests. Select a timber frame homebuilder that sources timber from well-managed and responsible forests.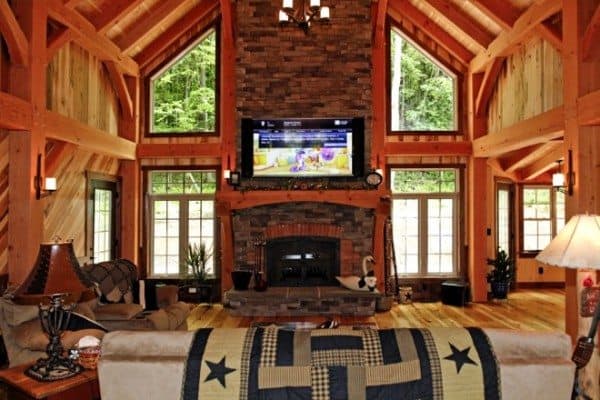 Temperature Control
Passive design techniques to take advantage of natural climate to maintain thermal comfort. The insulating panels used around the timber frame structure provide far greater energy efficiency than convention-framed walls.
Design flexibility
Timber frame homes are highly customizable, with the ability to adapt the interior floor plan, illuminate the house with natural light, and make use of drywall. Homes built with a frame of timber have a strong exterior shell, which makes customization of interior walls easier than ever. No interior wall is needed to hold the shape of the structure (less materials are needed), enabling walls to be placed where desired or for no interior walls to be used at all, creating large open spaces. The strong frame also enables homeowners, architects, and designers to make more use of windows.
Durability
Timber frame buildings receive a double dose of durability through the use of timbers and the strong mortise and tenon joint design that are computer cut in-house in their shop. Timber frames have withstood earthquakes and hurricanes and have a good fire resistance due to the inherent fire resistance of heavy timber. As a credit to their strength, timbers that have experienced fire can be planed down and reused as structural beams in new designs. Joints known to withstand massive amounts of pressure connect these strong and durable timbers. The combined strength of the timber and woodworking joints serves to create a structure of extreme strength and long-lasting durability.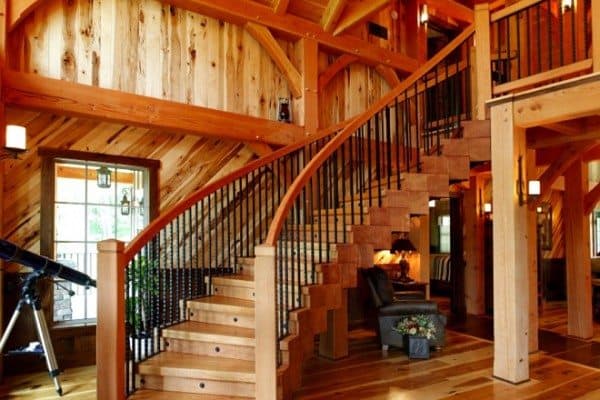 As for pest issues, the exterior have no more than conventionally built homes but tend to have less wall and crawl space intrusion due to its tight shell. Regarding cost, a custom timber frame home can be all over the cost spectrum depending on the size and options incorporated into the home.
Disadvantages
Timber frame homes often require the space to maneuver cranes to install the large beams, which is why these homes are often built on larger lots with space around them. Their larger footprint also looks better on sites with space around them.
Builders who specialize in this type of construction aren't as easy to find as traditional building. It takes a lot of time and research to locate a reputable builder as well as sort out the plans.
Timber Frame Home Photo Gallery
Check out the photo gallery below of a timber frame home built by Mid-Atlantic Timberframes. The home has four bedrooms, four bathrooms, and features a large game room and home theater. The owners built their home on a private spot high up on a mountain, with exceptional views, and access to hiking, trails, and outdoor activities.
The homeowners are second-generation family business owners of a large trucking and logistics company based in the northeast. The home started out as vacation home, but has ended up being more of a primary residence, since there are so many outdoor amenities associated with the property.
The last photo is a smaller timber frame home in Wyoming. Note the timber frame roof details which you don't get with any other type of construction.
For more information contact Sam Ebersol of Mid-Atlantic Timerframes whose team has more than 20 years of experience building timber frame homes.