Toyota set the bar high for hybrids with the ubiquitous Toyota Prius, and they hope to do the same with the all-new 2023 Toyota bZ4X electric vehicle.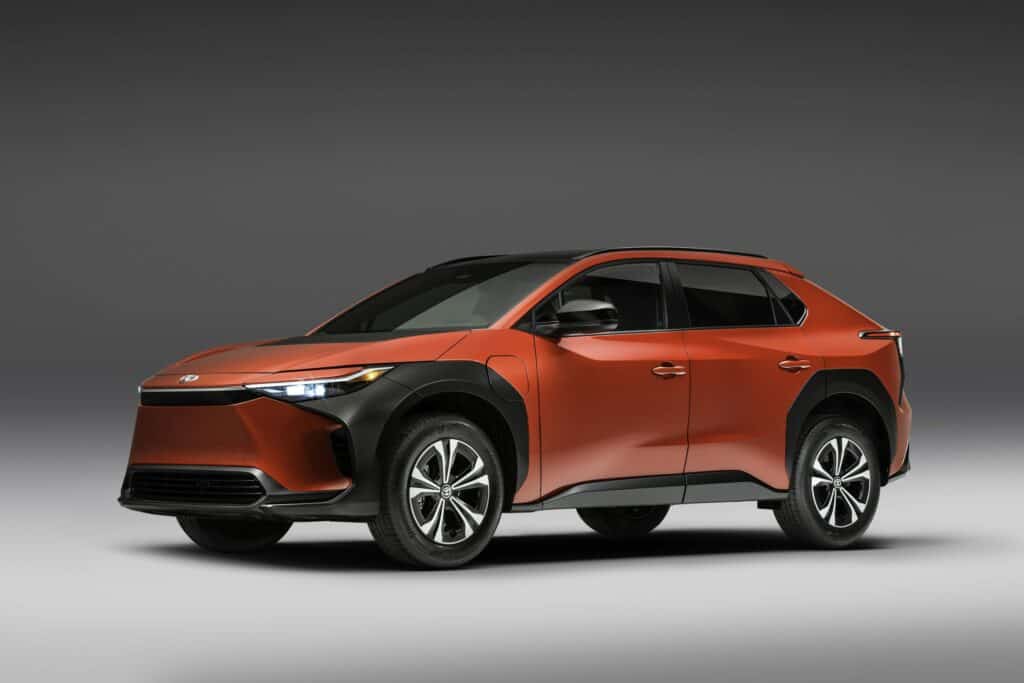 Tesla has forged a huge lead in market share for electric vehicles, but you don't count out the world's largest automaker. Toyota has fully committed to electric vehicle powertrains that include hybrids, plugin-hybrids, and fully electric vehicles. In fact, Toyota is the #1 manufacturer of electrified powertrains for 20 straight years (2001-2021).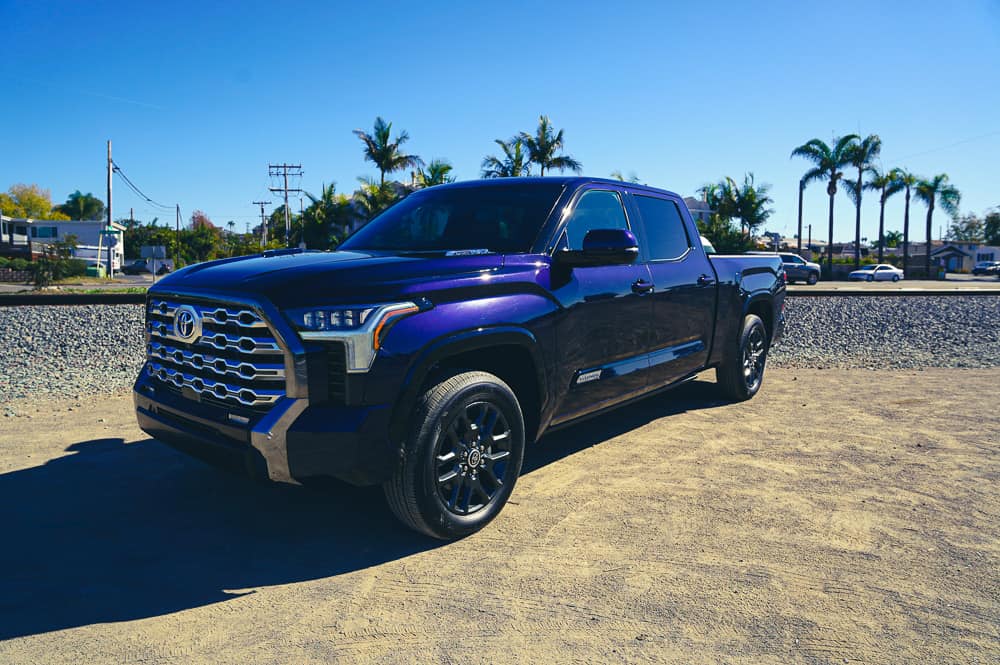 Even the full-size Tundra pickup truck has been electrified and is currently available as a hybrid!
But, you came here to read about the new battery-powered 2023 Toyota bZ4X that will lead a new fleet of EVs for Toyota in years to come.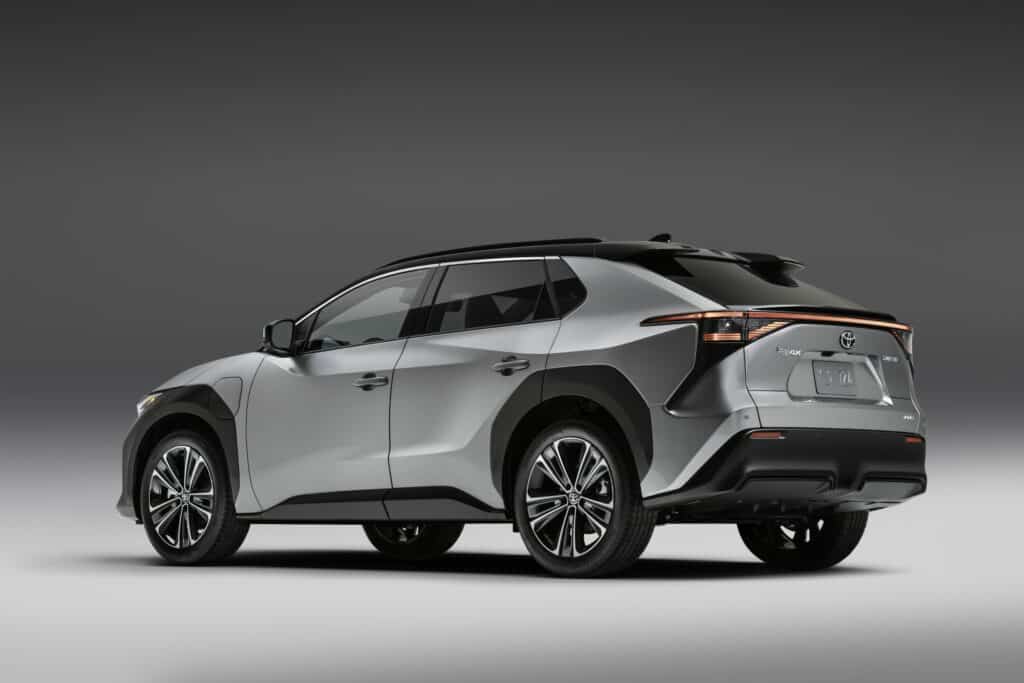 The Launch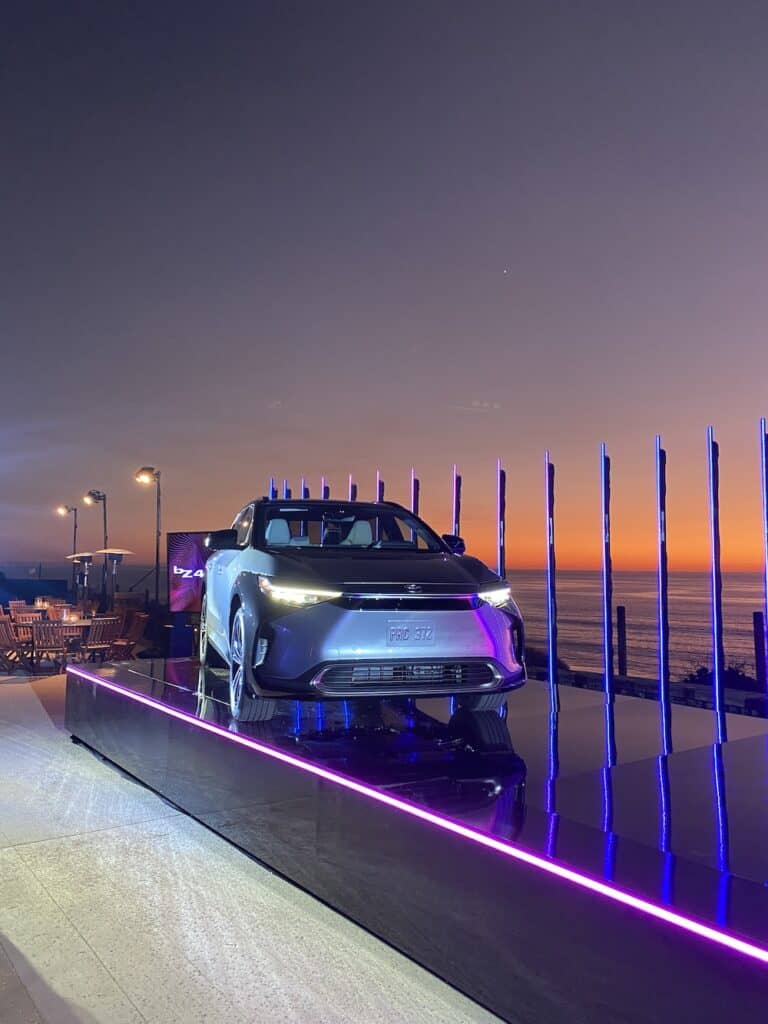 Toyota spared no expense in introducing the bZ4X to the world. A select group of media was invited for a first look at the bZ4X at the Alila Marea resort in beautiful Encinitas, CA. I can't think of a more spectacular setting to unveil this vehicle with the backdrop of the Pacific and a well-timed sunset.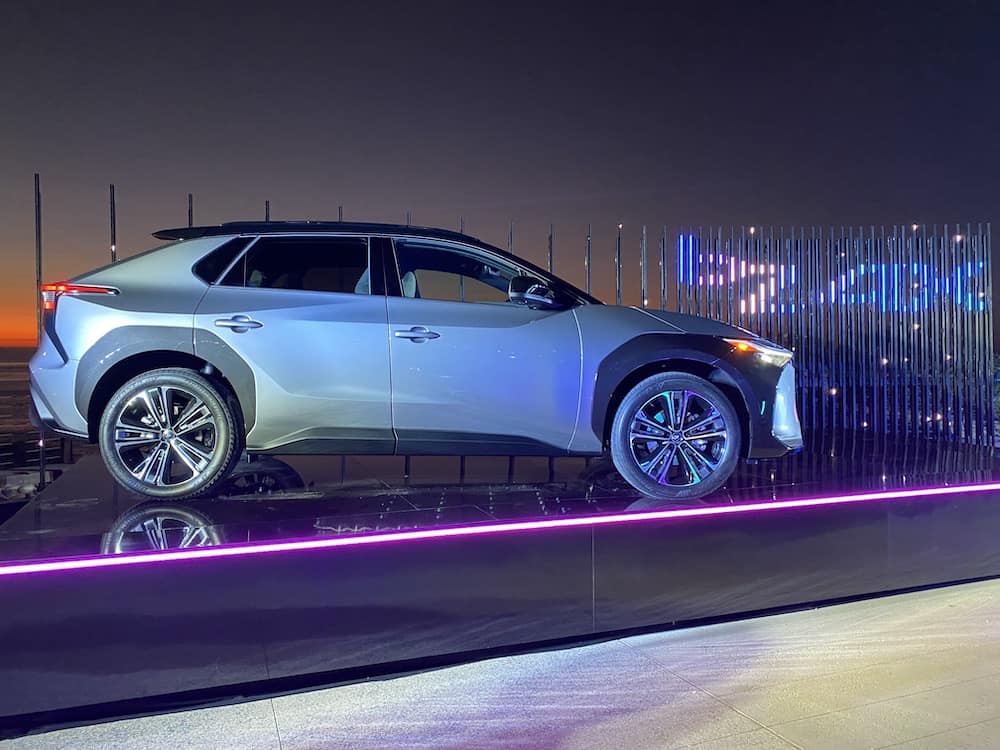 First Impressions
The bZ4X is certainly unique. The angular lines are a welcome change from all of the smoothed over crossovers that have become interchangeable.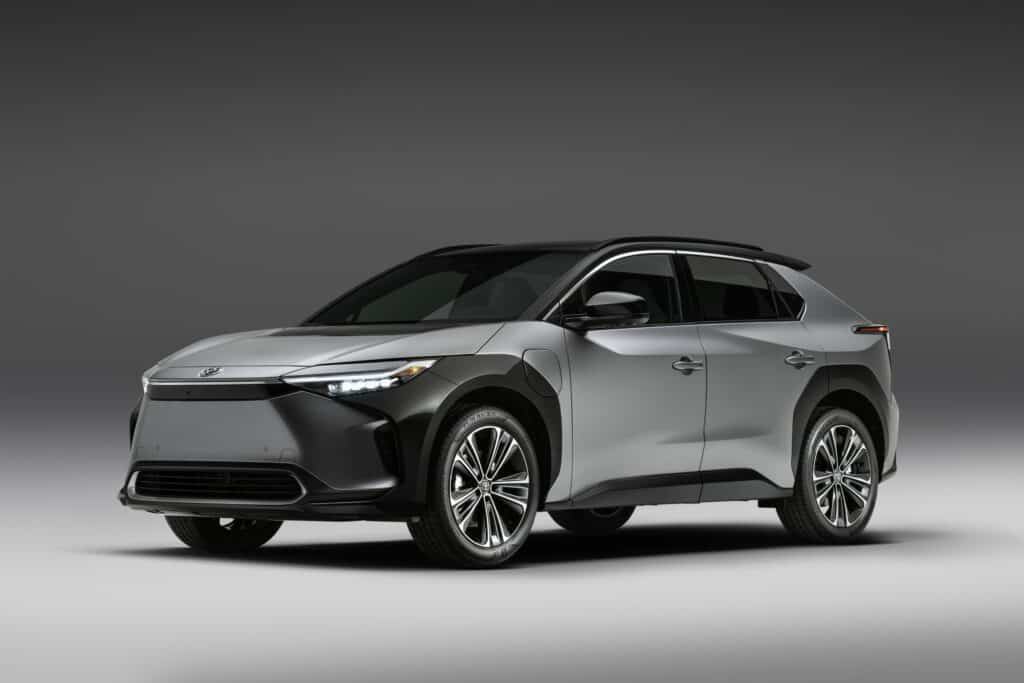 I didn't get a chance to drive the bZ4X, but I was able to sit in and feel the vehicle. The build quality is superb as expected from Toyota, and everything felt familiar and easily accessible.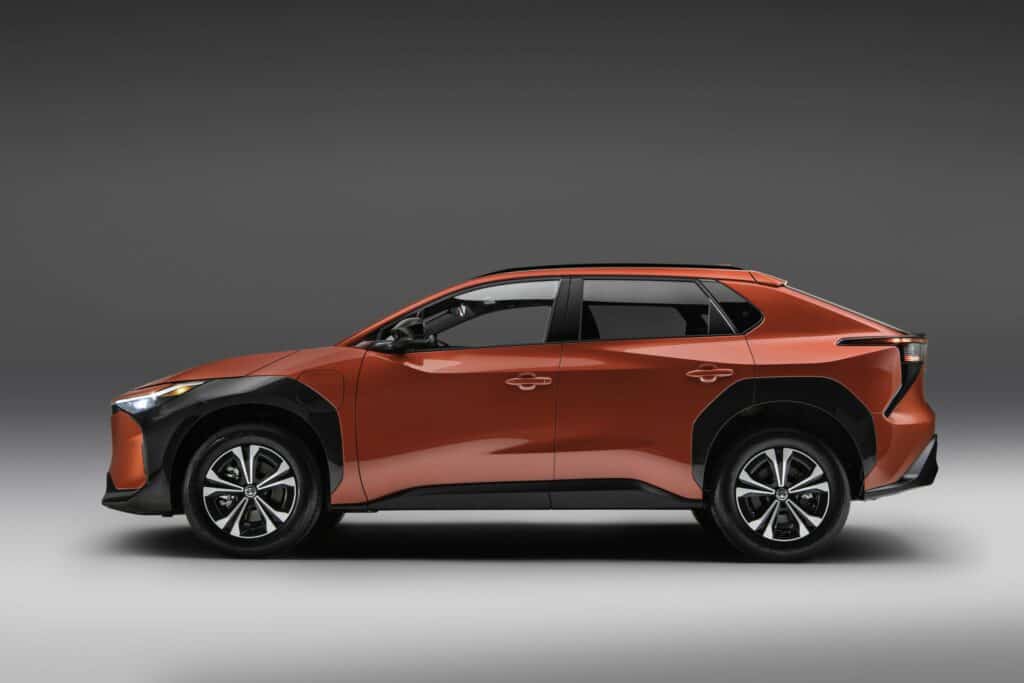 The bZ4X is larger than I expected it to be both inside and out. To me, that's a good thing. You definitely won't feel cramped in this vehicle, especially if you were to compare it to a RAV4 or similar-sized compact SUV.
bZ4X Interior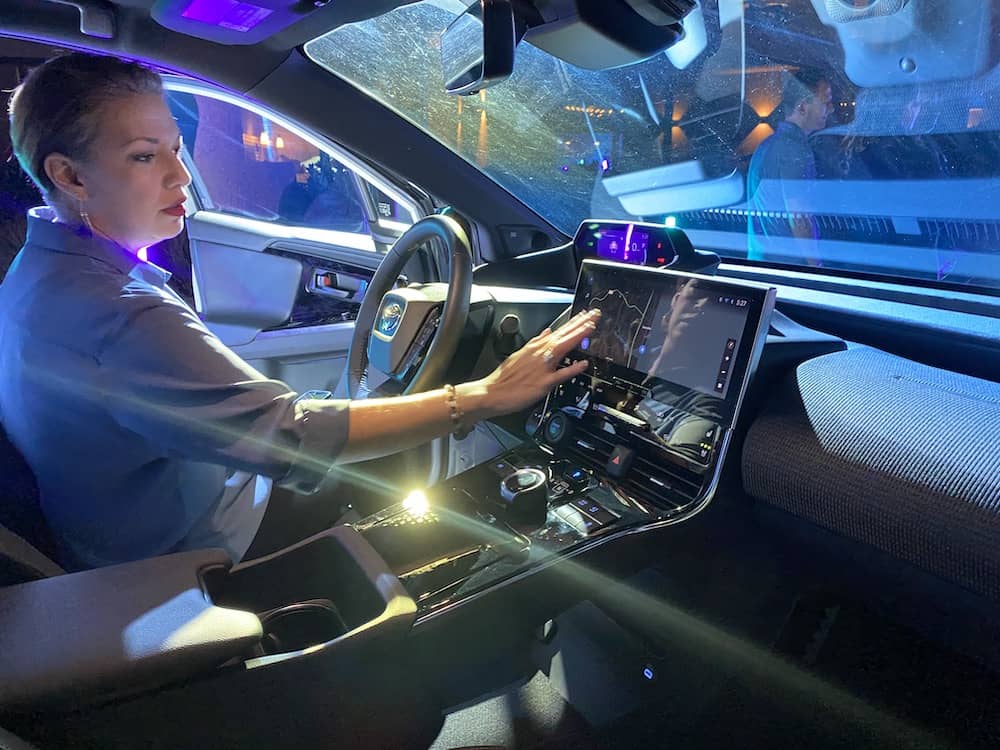 The bZ4X interior is clean and modern. Definitely an upgrade and more tech-centric than the Corolla Cross.
A large touchscreen provides access to infotainment and vehicle settings. Fortunately, climate control has remained as a separate panel underneath.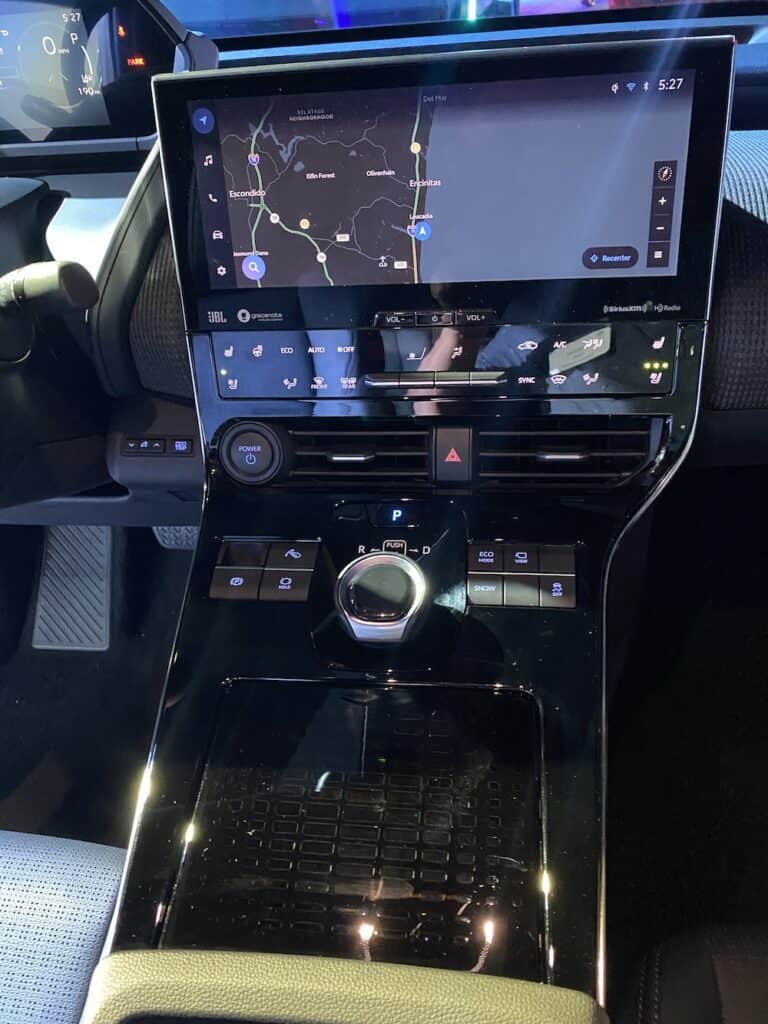 The digital dash display is easy to view and the sightlines in front were large and unobstructed. But, I'll wait until I can drive the bZ4X before commenting on overall visibility.
Both the front and rear seats were comfortable and spacious enough for four adults. I'd even say a family of five with two or three kids would find the bZ4X large enough to accommodate them.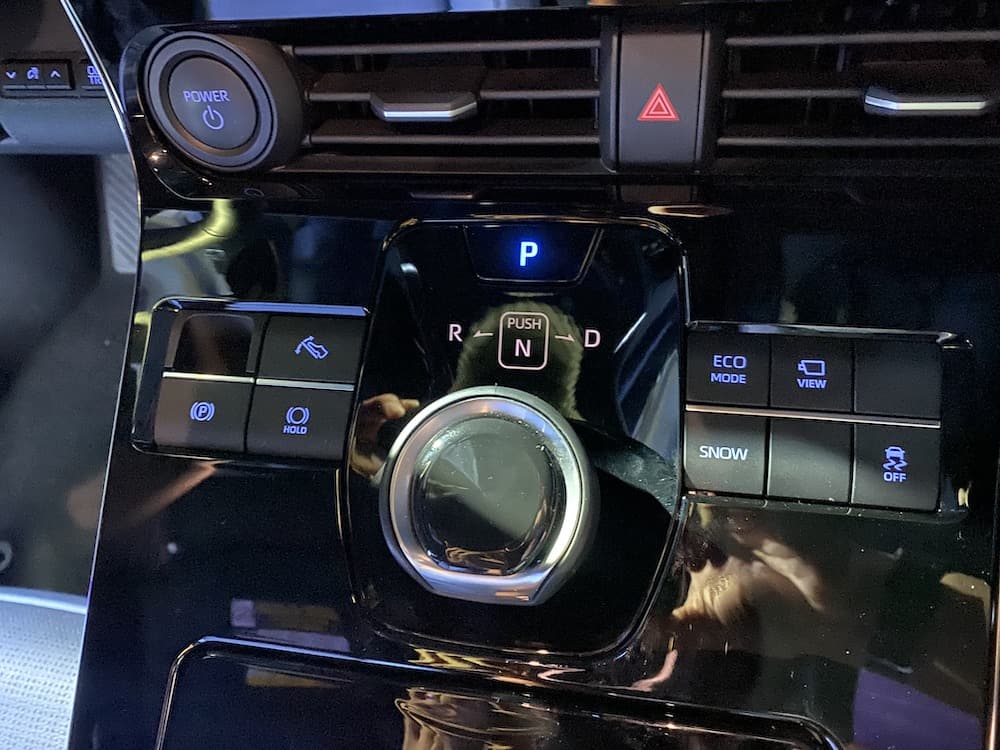 The trunk space is impressive and you won't be giving up the everyday practicality of you choose this vehicle.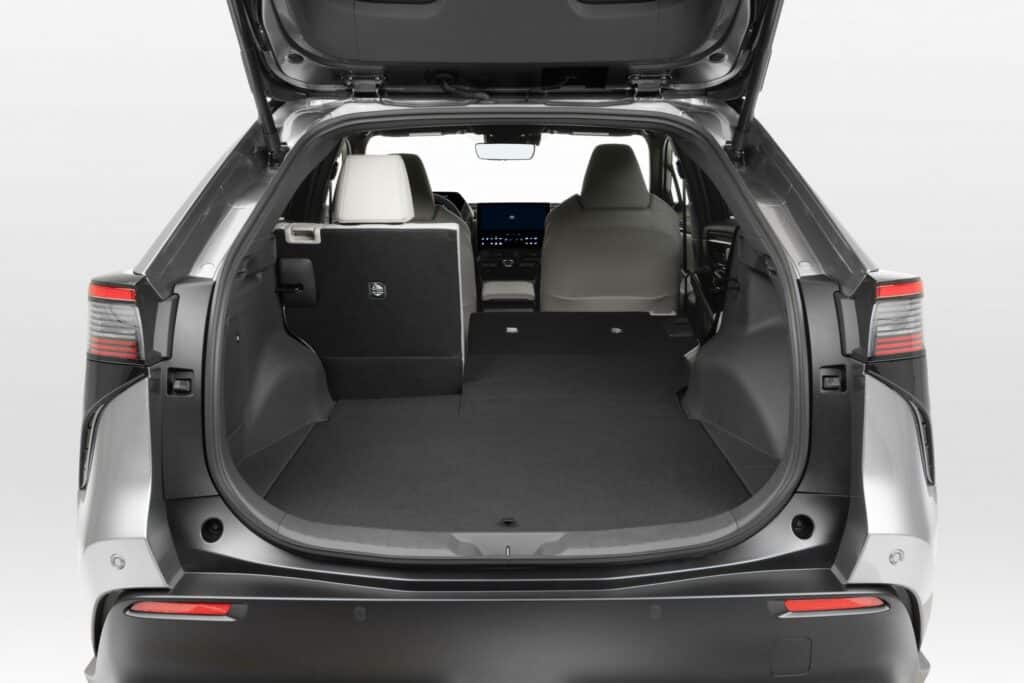 The bZ4X on display was a working prototype and not a production vehicle, so future changes could be made.
bZ4X Exterior
As mentioned before, the bZ4X is unique and will stand out in a crowd of crossovers.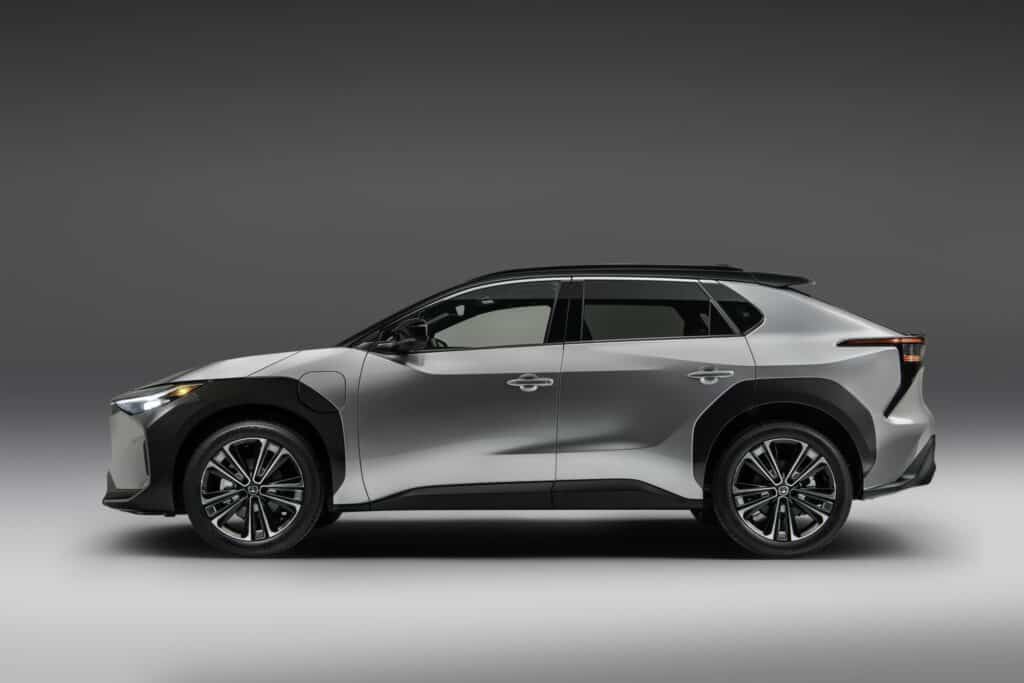 It has a stout and squared-off look that I love. Toyota got the stance right with the wheels and ride height.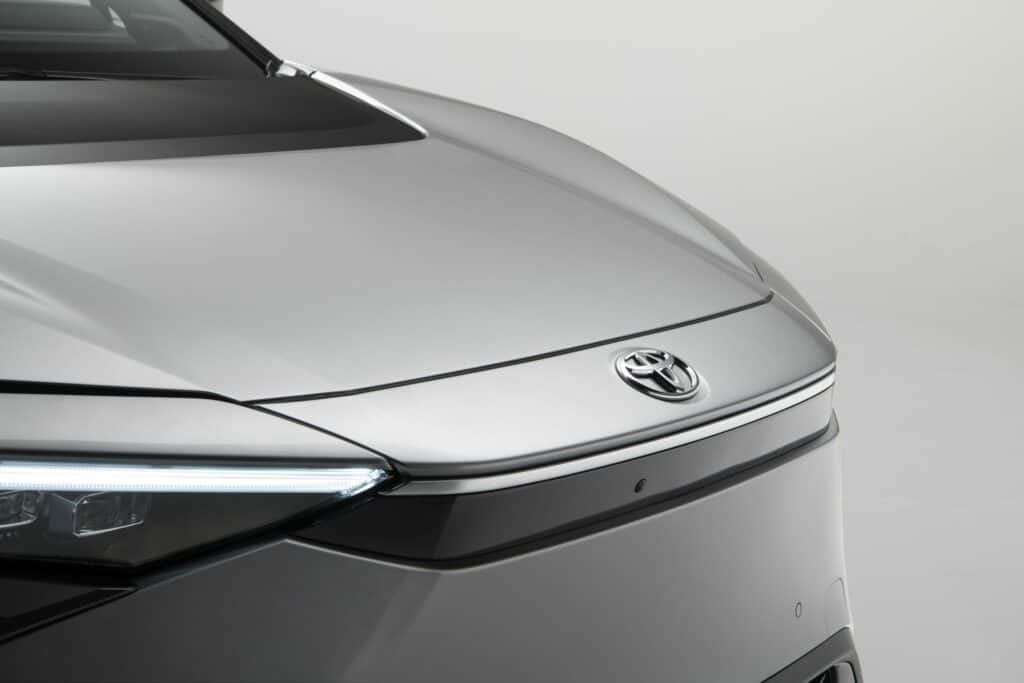 The front fascia is more upright than what I'd expect from an electric car, and the small headlights are tucked away and almost hidden at the corners.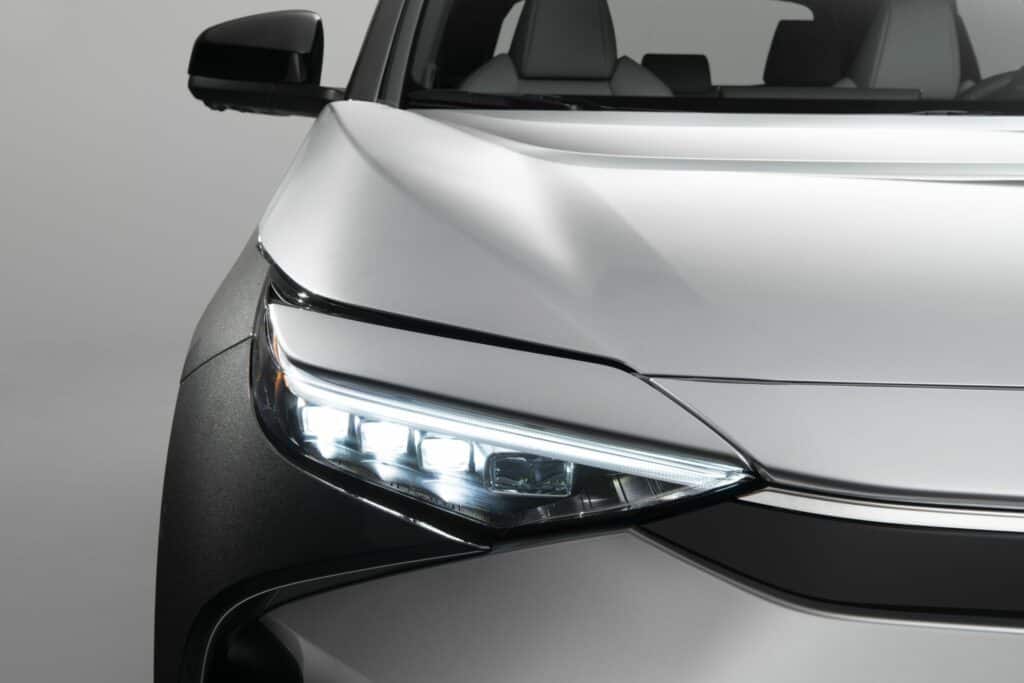 The black fender flares around the vehicle provide somewhat of a rugged look, with the front flares wrapping around to the front of the vehicle. This design touch is distinctive and in my opinion a sharp addition.
bZ4X Power, Performance, and Range
The bZ4X is a battery-only electric vehicle. There is no gas engine and it is not a hybrid. It will come with a 64.0-kWh battery packpower with an output of 150 kW, which equates to 201 hp. That doesn't sound like much but the instant torque of this EV will get you from 0-60 mph in 7.7 seconds according to Toyota.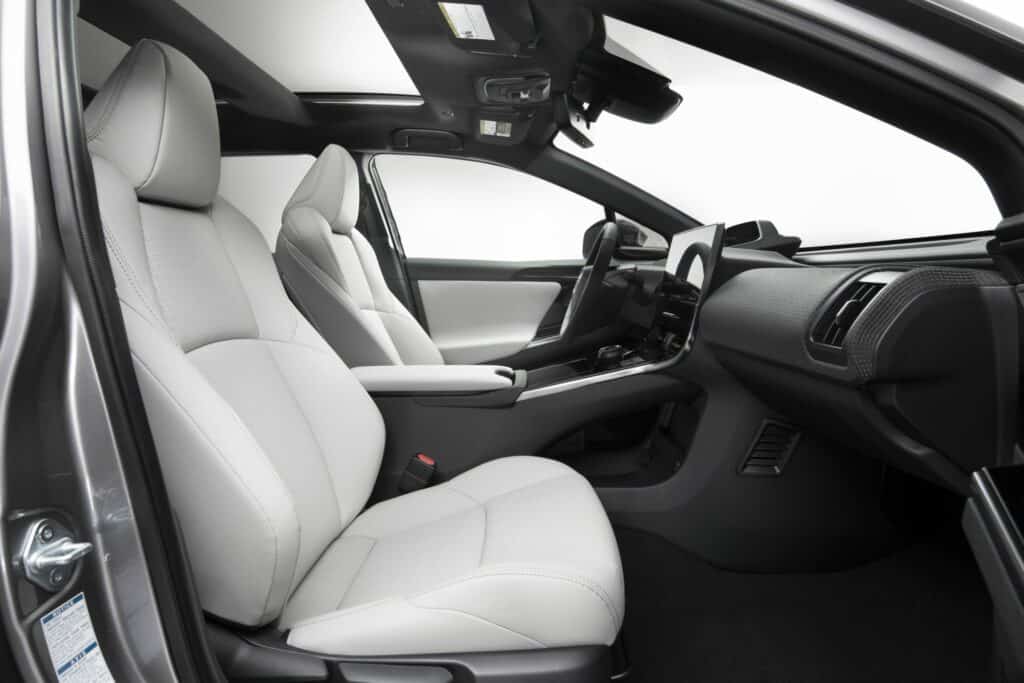 Toyota claims the bZ4X will deliver up to 250 miles of driving range per charge in the single-motor front-wheel-drive model. You can opt for a more powerful dual-motor AWD powertrain that will affect the range but probably not that significantly.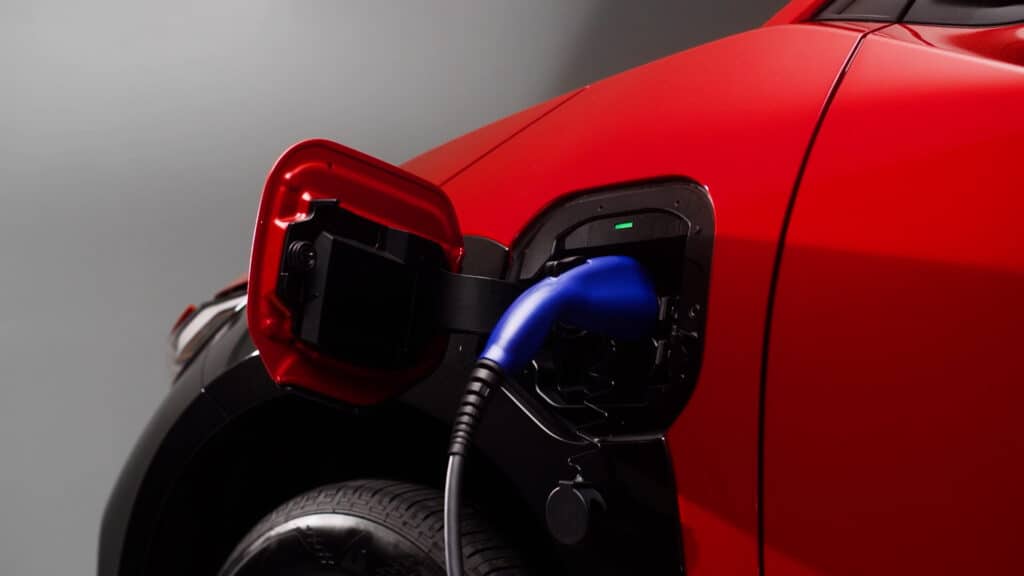 A big selling point of the bZ4X is that the battery will only retain 90% of its capacity within the first 10 years of ownership. Early EVs have been notorious for battery degradation, and Toyota's claims should put your mind at ease for long-term ownership and resale value.
bZ4X Pricing
Toyota has not released the pricing of the bZ4X, but I expect it to be comparable to the other EVs in this class which would make it in the $30,000 range.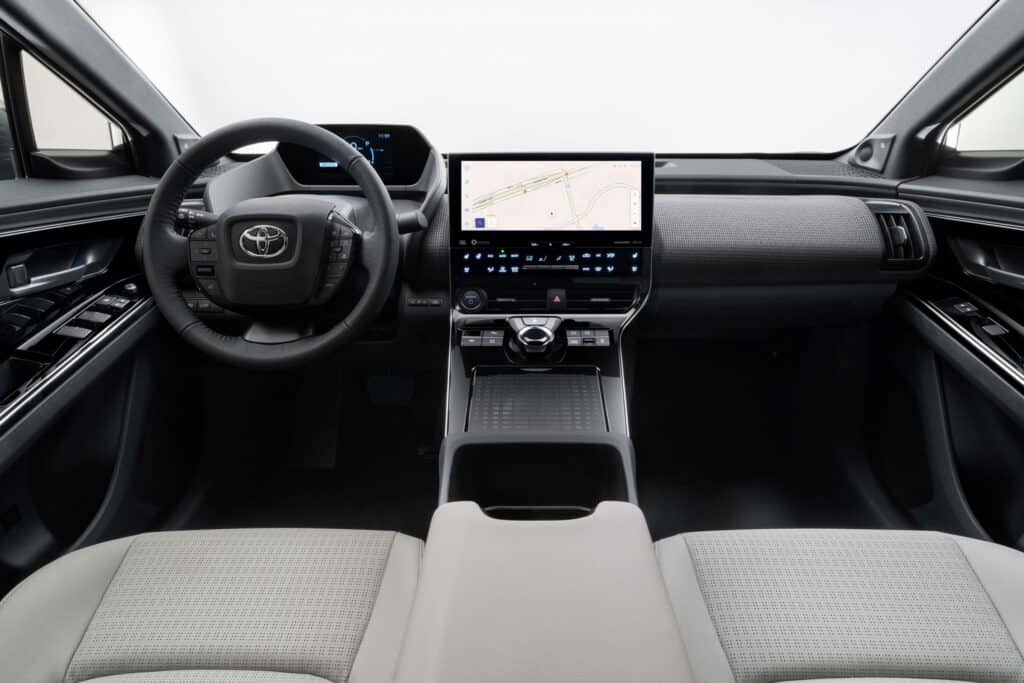 The current administration is committed to EV vehicles and you can expect Federal incentives to continue and possibly expand.
Toyota bZ4X Driving Impressions – Update
Toyota invited me back to Encinitas to get some actual seat time in the new bZ4X. I spent about an hour driving and riding in an all-wheel and front-wheel drive version of the bZ4X.
Performance
As EV's go the bZ4X isn't a screamer. It still has the instant torque you'd expect from an EV, but it's not going to win any races. But, the point of an EV isn't to waste your battery whizzing around everywhere. It's all about getting from point A to point B comfortably and quickly and the bZ4X accomplishes that.
For everyday driving the bZ4X will be a dream for couples and families that are commuting and running around town. There is more than enough power to launch you into highway on ramps and it drives like a normal vehicle as you use your brake instead of the accelerator pedal to slow down.
The front-wheel drive version provides a bit more ooomph and is also a bit cheaper, so that's my recommended option for anyone in a drier climate that doesn't need extra traction.
Comfort
The bZ4X seats were wide and firm and for a mid-size vehicle it felt spacious inside with plenty of leg room in the front and second row.
There is no third row in the bZ4X, which leaves plenty of room for cargo.
Summary
There is no doubt that Toyota will sell a lot of these vehicles, even though the competition will be fierce, Toyota delivers on reliability and functional use more than any other brand and that is what most buyers are seeking especially those who are purchasing an EV for the first time.
Toyota bZ4X or Subaru Solterra
It wasn't until I attended the LA Autoshow that I realized the bZ4X was developed jointly with Subaru which is launching their first EV called the Solterra.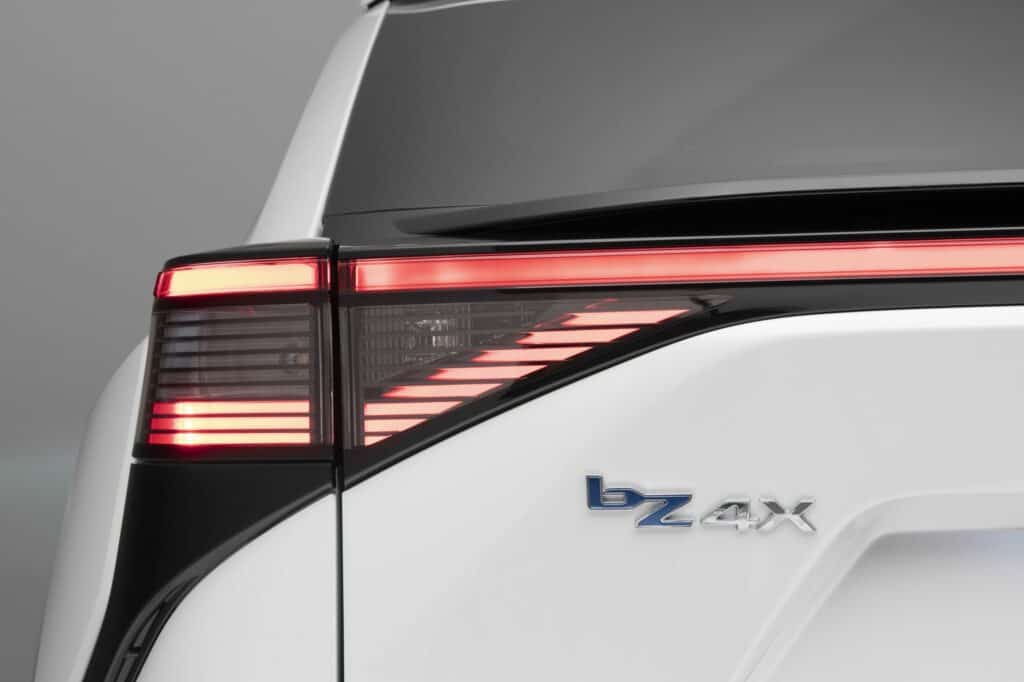 The bZ4X and Solterra will be very similar, so once we get closer to the launch date expect more side-by-side reviews. Expect to see the Toyota bZ4X arrive at dealers mid 2022.
For more information visit, Toyota.com.
Toyota bZ4X Photos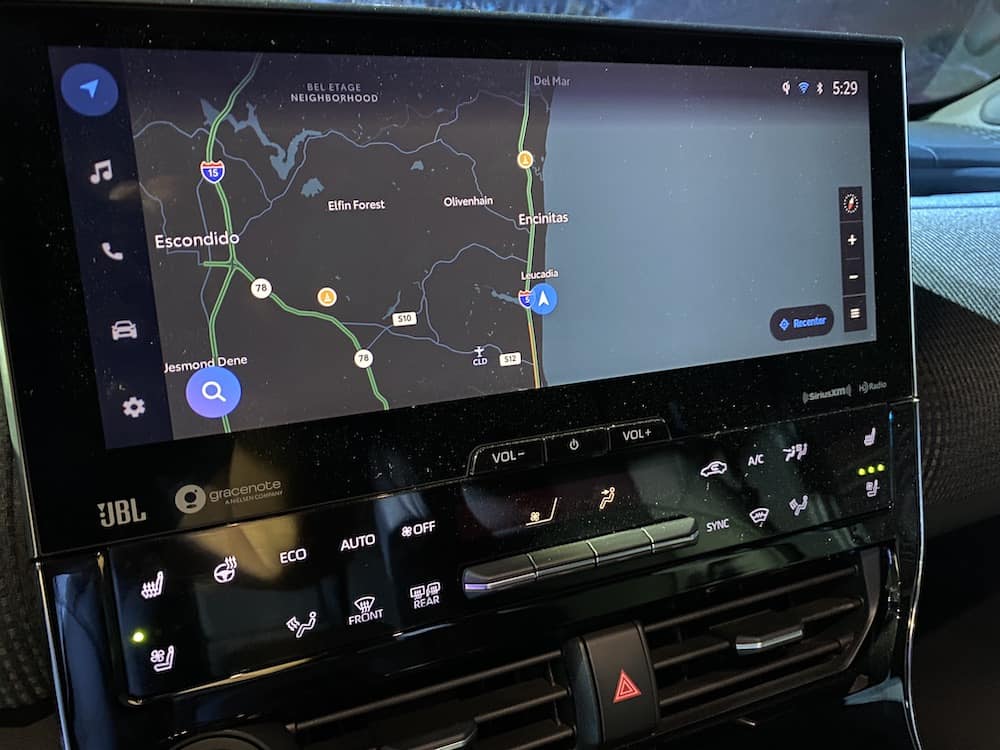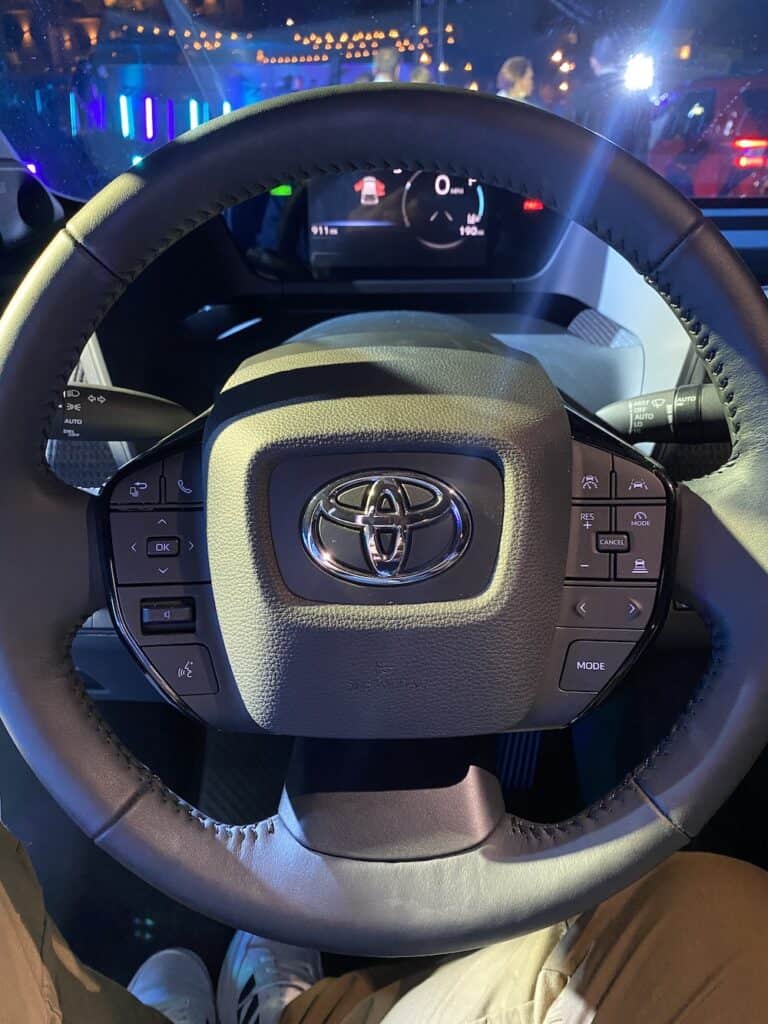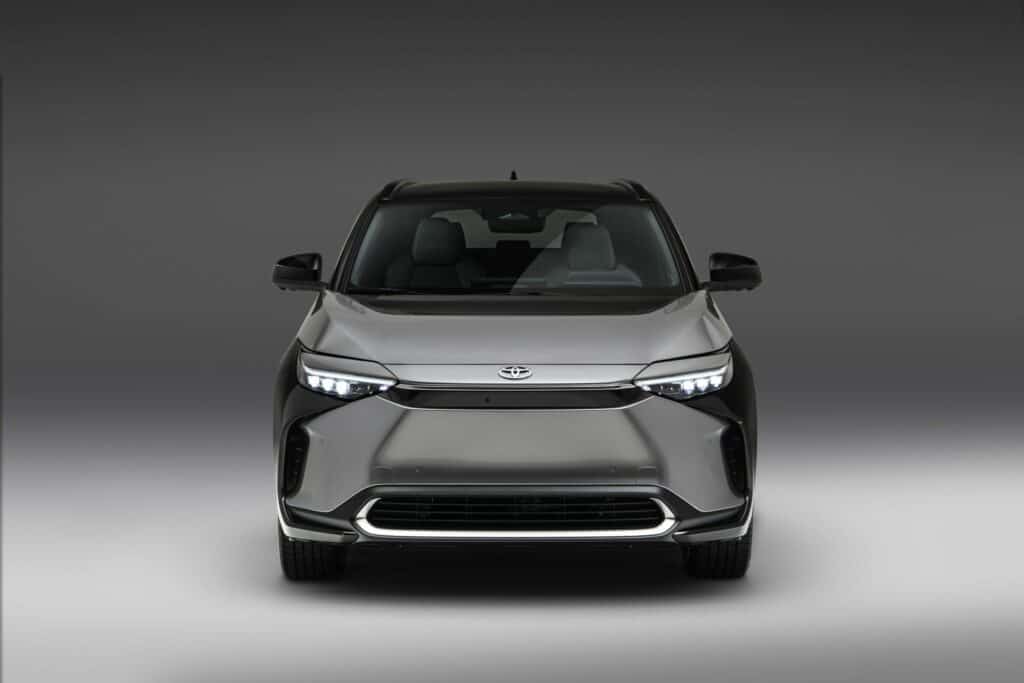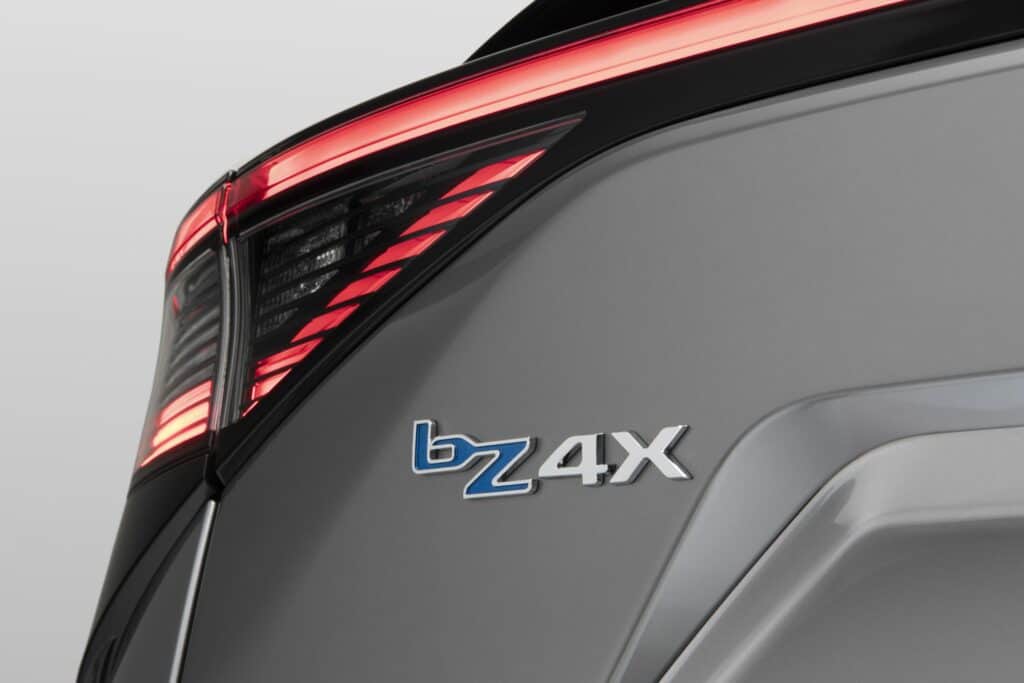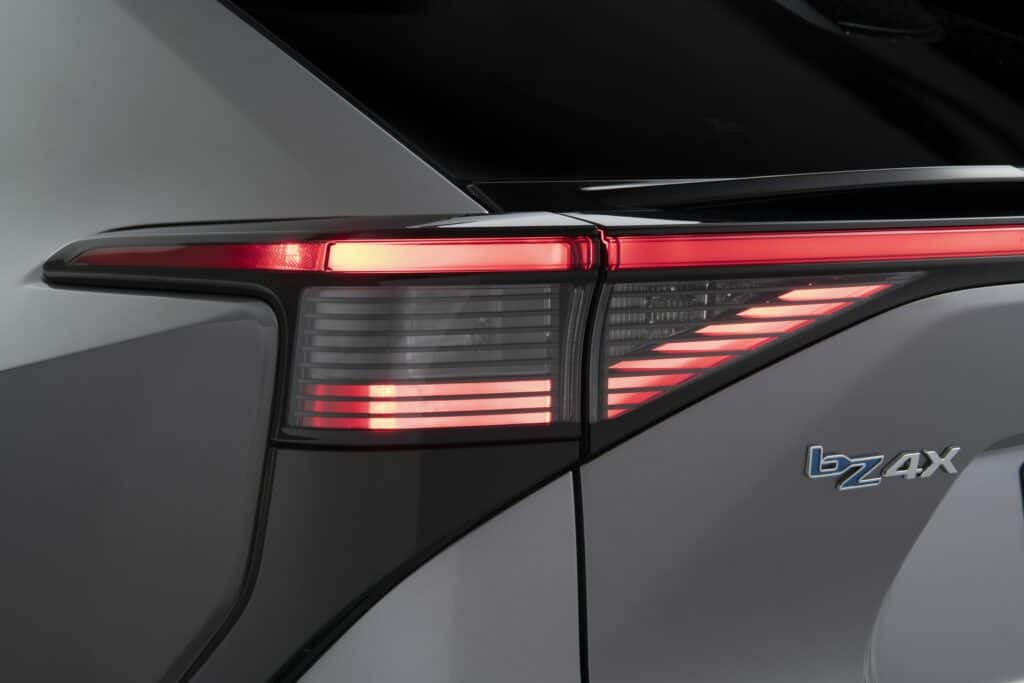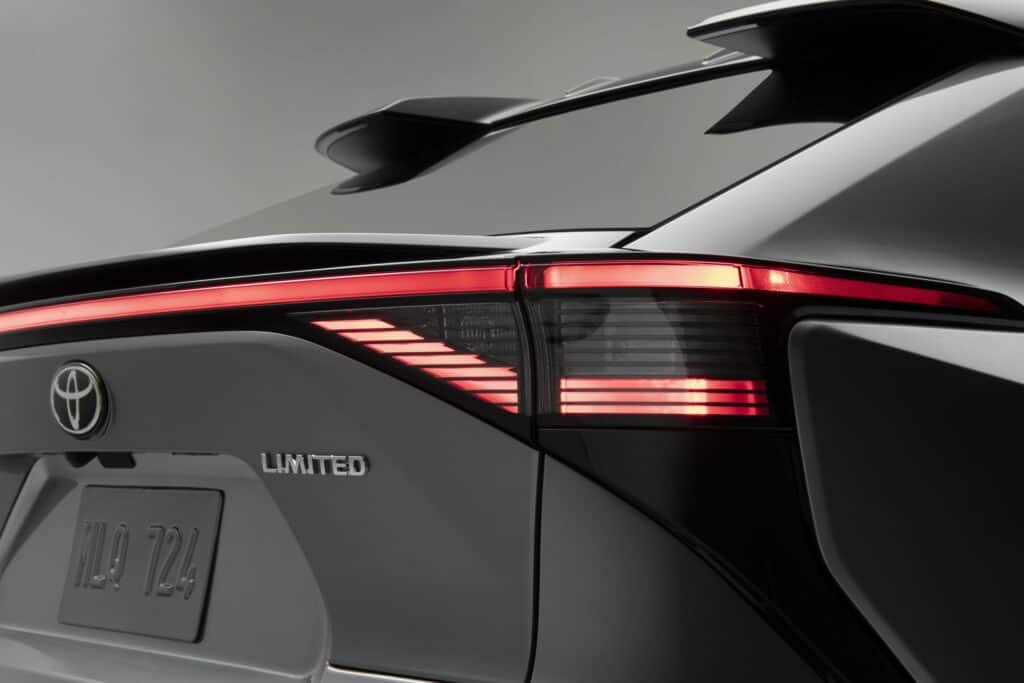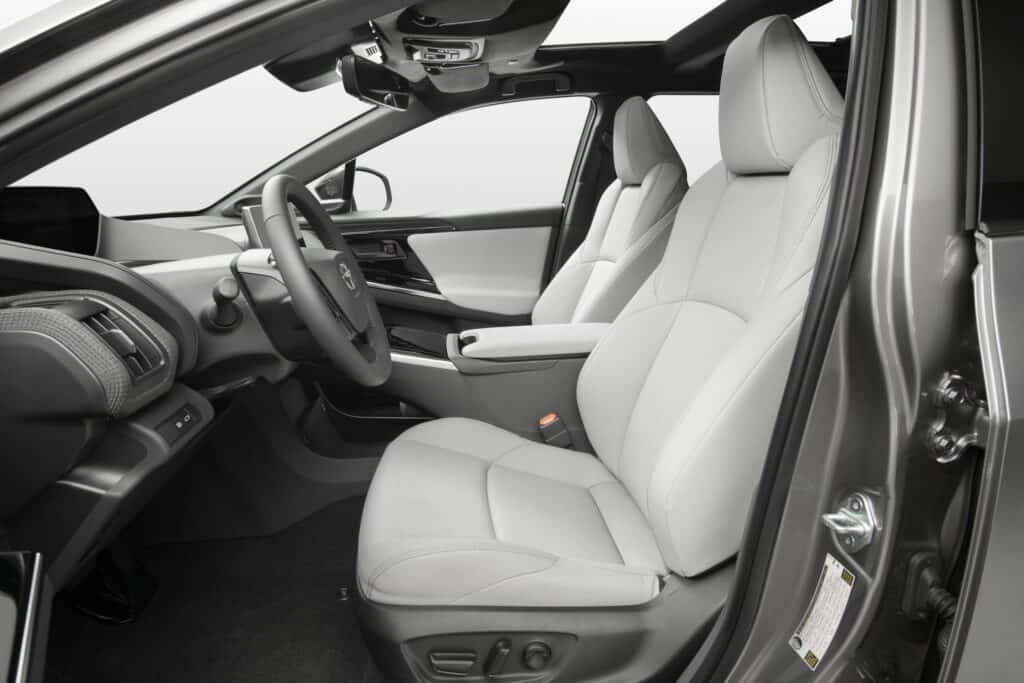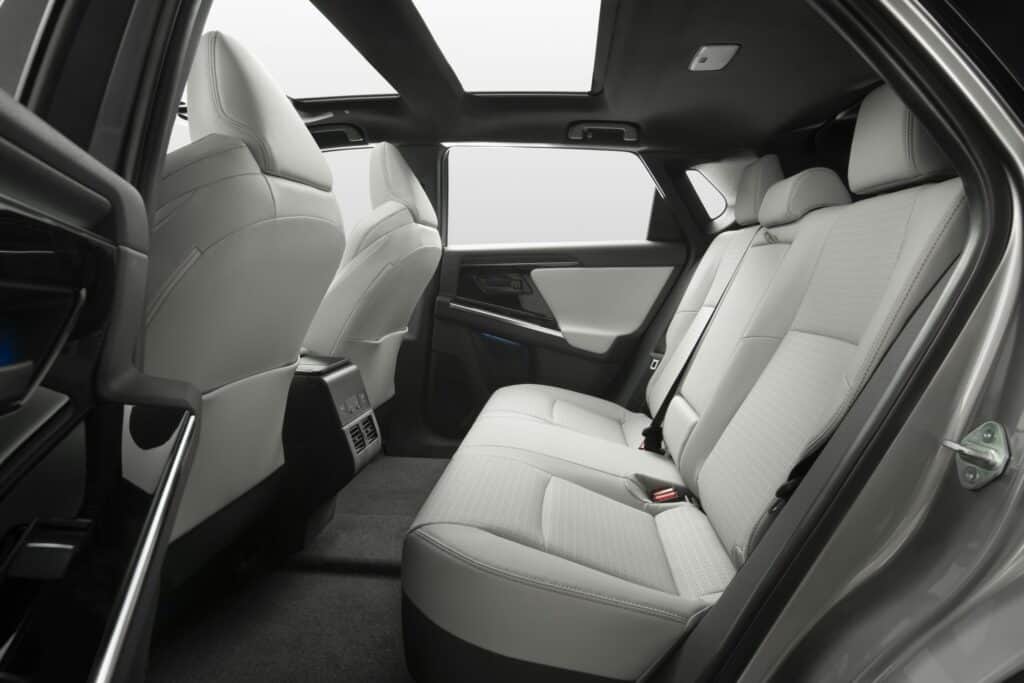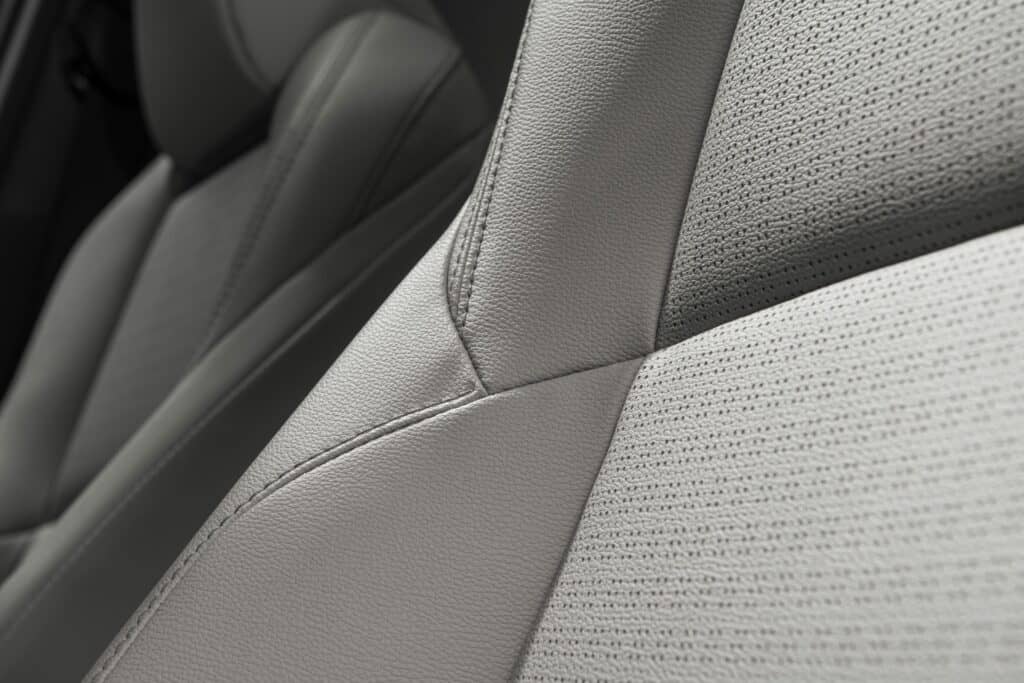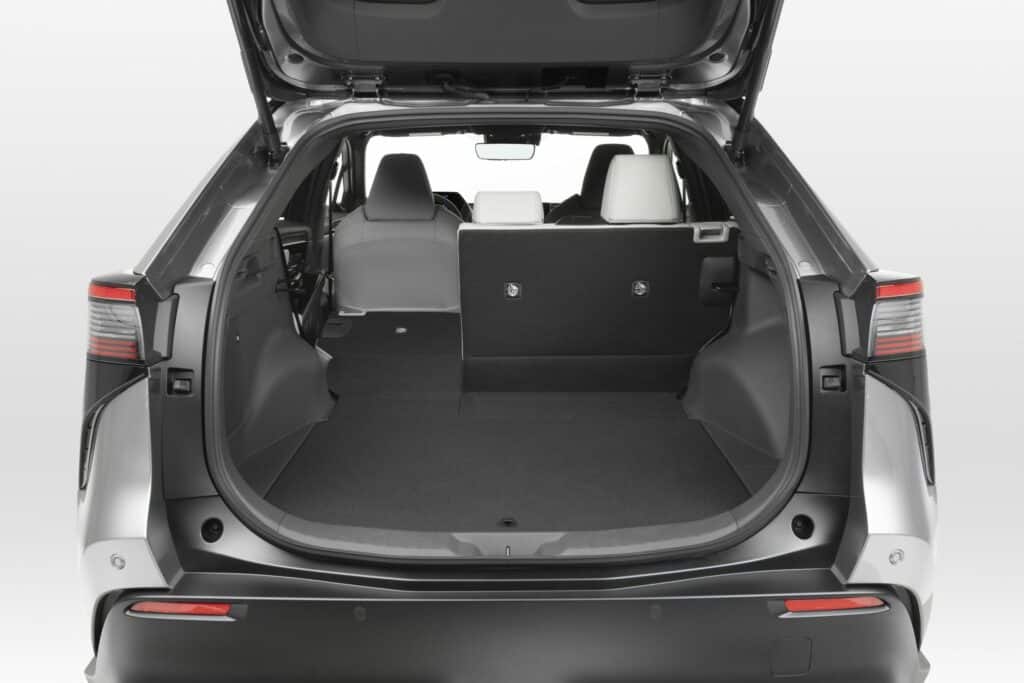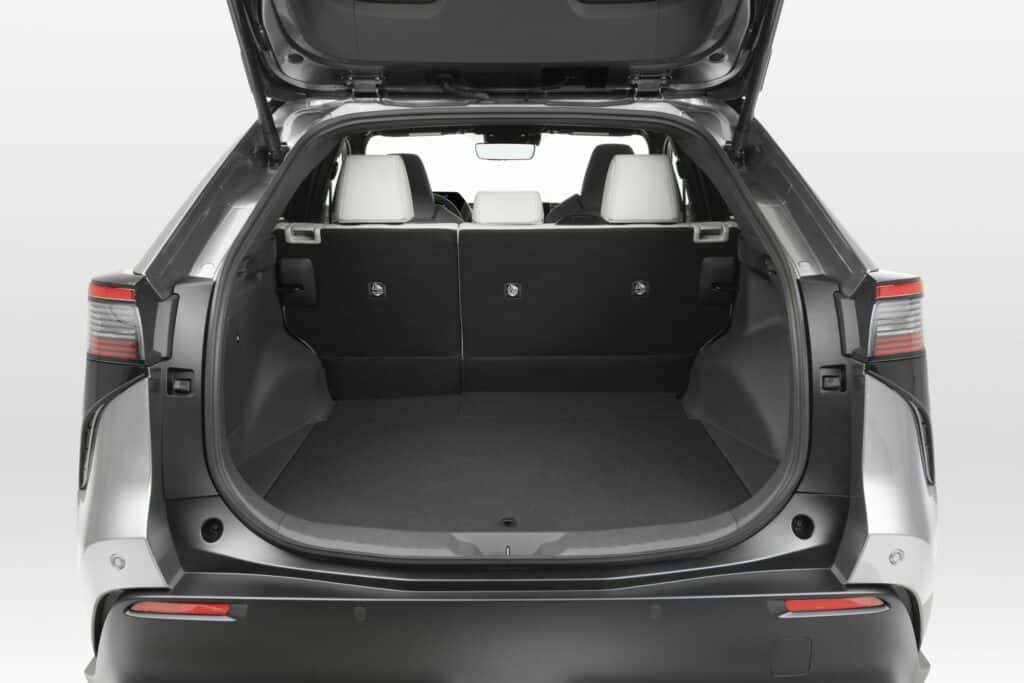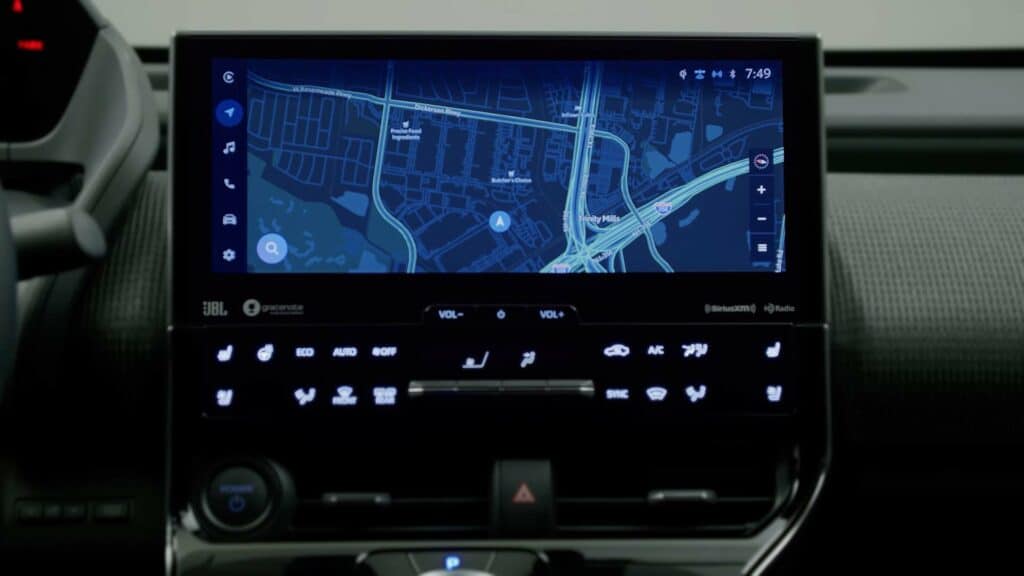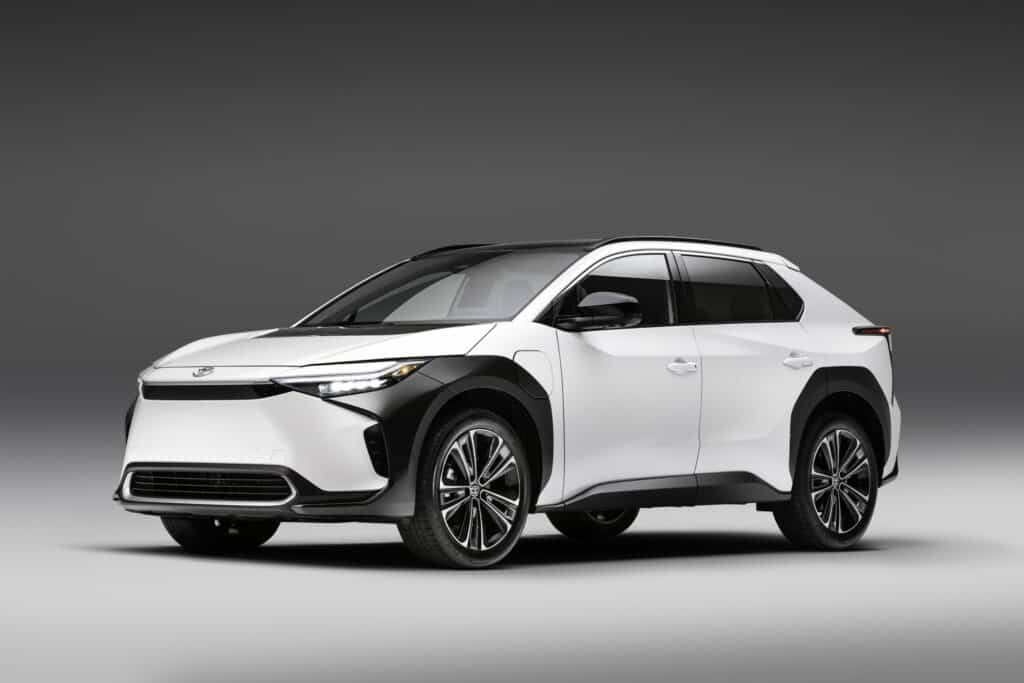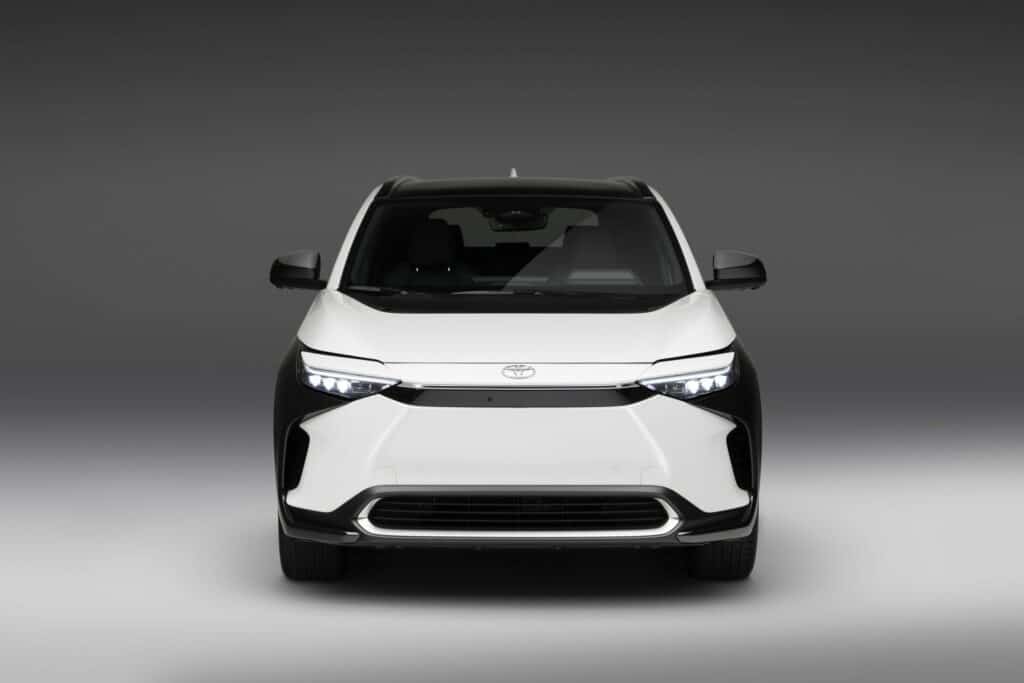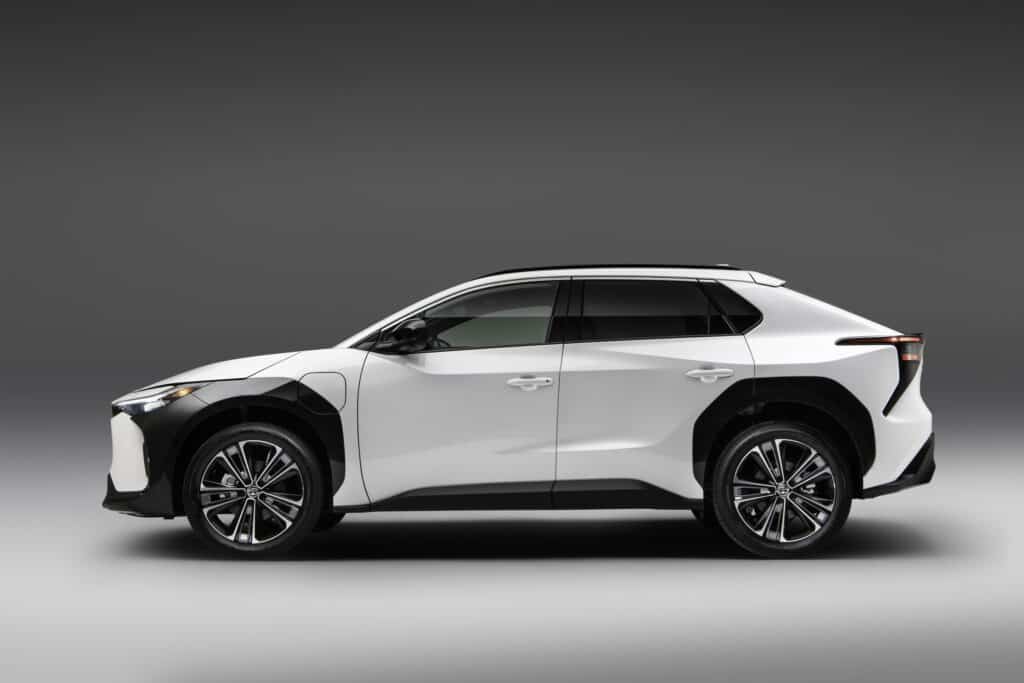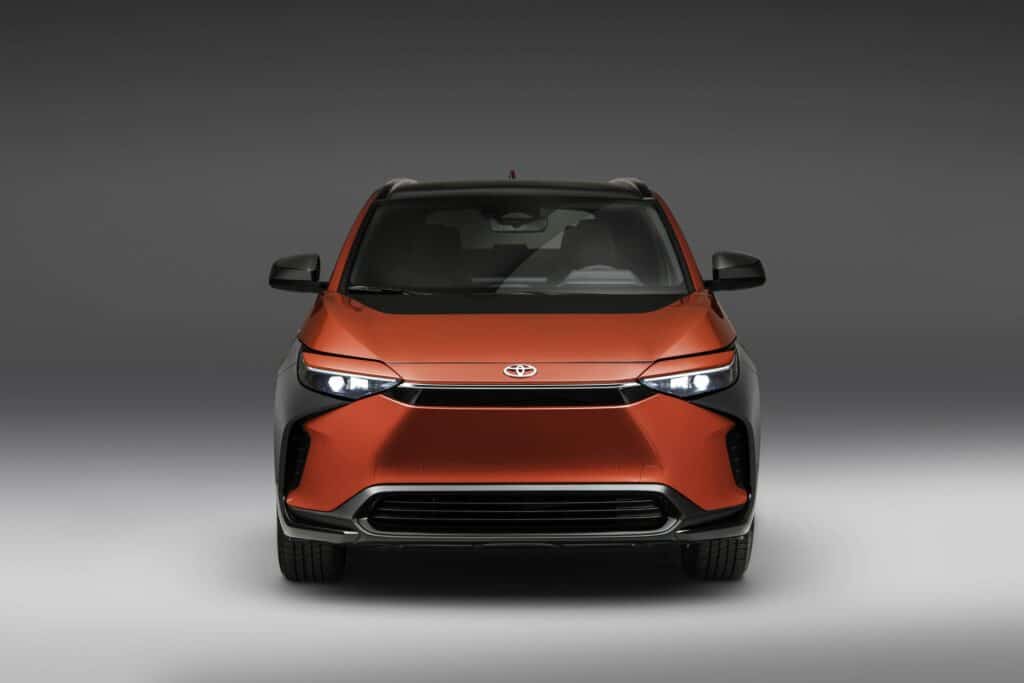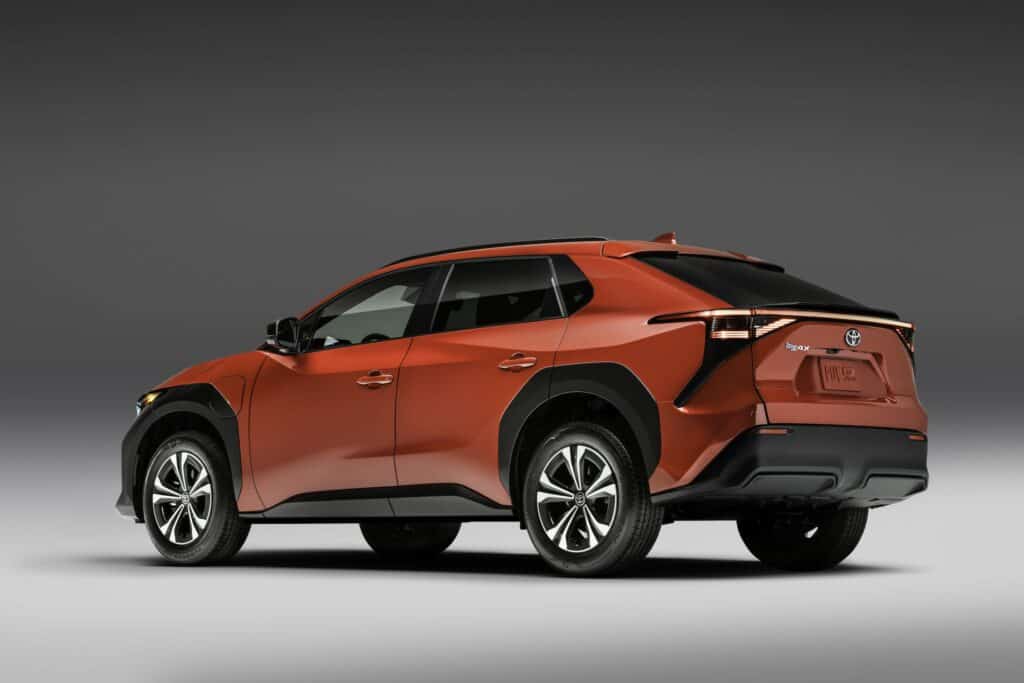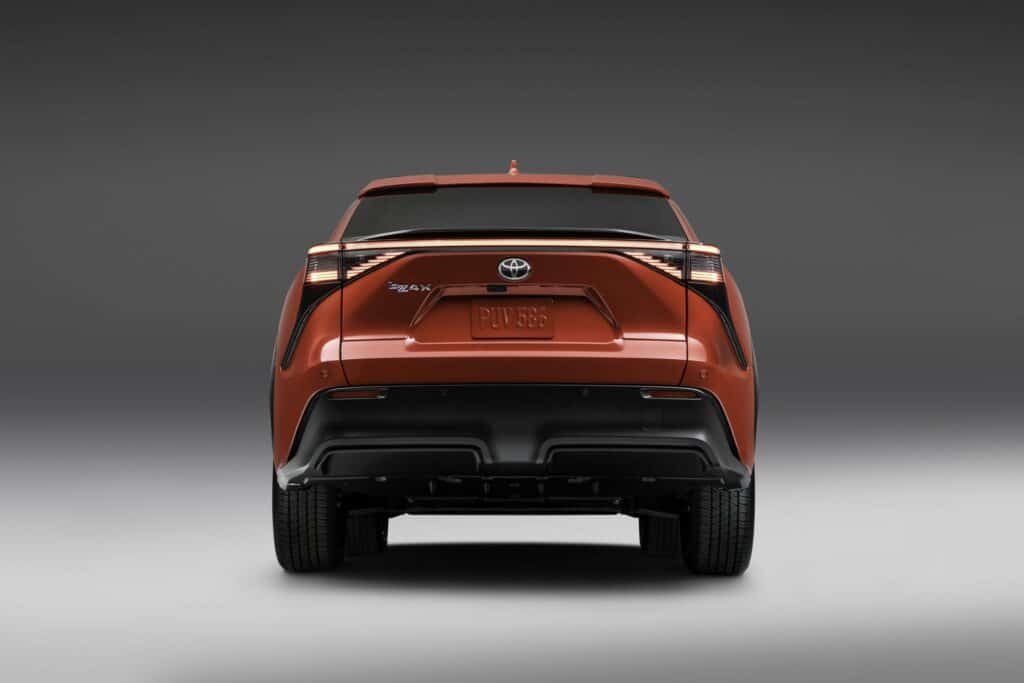 Toyota BEV Concept Vehicles
UPDATE: New Toyota BEV Concept Vehicles Announced
Toyota President Akio Toyoda has set a goal "to achieve global sales of 3.5 million battery EVs per year by 2030." That's an ambitious number, but at the current rate of BEV adoption, it's possible.
These vehicles include sporty coupes, sedans, SUVs, and pickup trucks. Is that an electric Tacoma and FJ Cruiser???