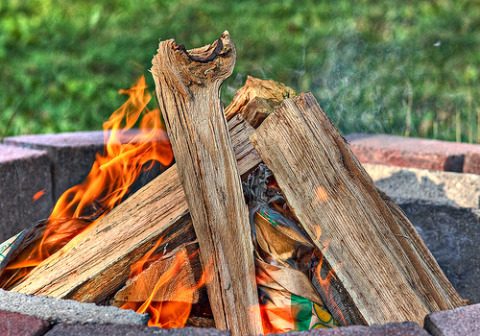 Summer is far from over. But as the sun sets a little earlier each day, bonfires are starting to take center stage on the schedule. You don't need to head for the beach or campground to host a bonfire. Build a fire pit in your backyard for a convenient place to throw an all-night bash.
Permits and Planning
Find out from your local municipality whether you'll need a permit for your fire pit. Some subdivisions and cities do not allow them or limit the use to factory-built fire bowls and other units.

The building department will also provide the proper specs for construction, covering the fire safety codes for your area.
Step-By-Step Construction
Building a fire pit really is a cinch.
1. Mark out the area, being sure that you are far enough away from any flammable surfaces and buildings.
2. Dig out a bowl-shaped hole around 6 to 8 inches deep. The diameter of the hole will be based on the size of pit you want (and possibly what you are limited to by your building department).
3. Pack down the dirt until it is firm.
4. Line the outside rim of the hole with bricks, stones or other non-flammable material. This can be flush with the grass to make for easy mowing or mounded up to provide protection from sparks. Aim for this rim to be at least 6 inches wide (that's the distance from the open pit to the grass area).
Convenient and Comfortable
There are plenty of prefab pits, bowls and outdoor fireplaces that are much more elaborate than this simple model. Be sure that you install them as per the manufacturer's instructions and invest in quality. If you're seeking a less costly alternative, however, this DIY style will do the trick just fine and blend into your landscaping nicely.
It's ideal to have the fuel within easy reach, so look for a sturdy log holder to place nearby. Sometimes you can find low benches with log storage built into the bottom, a super convenient product that completes your fire pit.
In any case you'll need seating, whether that's a few logs laid out, some custom benches or a collection of Adirondack chairs. Choose whatever is comfortable for you and suits your yard.
Now pick up the drinks and a few snacks to nibble. All that's left is to invite your friends and start the fire. The best backyard bash of the season is all thanks to that backyard fire pit you built yourself.
Photo courtesy of flickr/chefranden