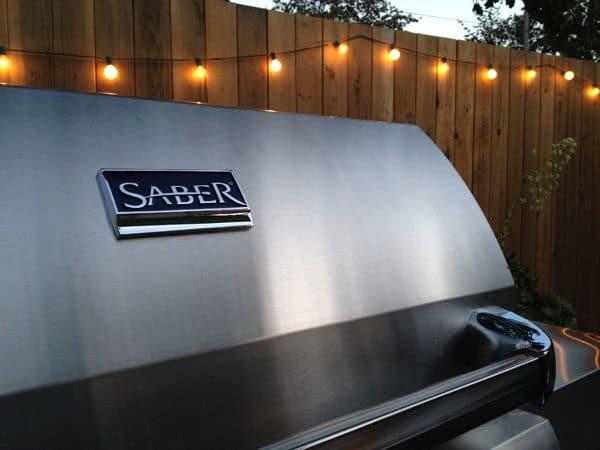 Our outdoor grill serves as a second kitchen and we use it year-round to cook our meats and veggies and occasional rotisserie chicken. But as much as we love our gas grill it does have some drawbacks.
Over the last year the porcelain coating has started to flake off but our Broil King has truly served us well. We keep it clean and covered and know that regular maintenance is the key to a long lasting grill.
We've been hearing a lot of buzz lately about infrared grilling and were recently contacted by Saber Grills to check out their SS 500 grill.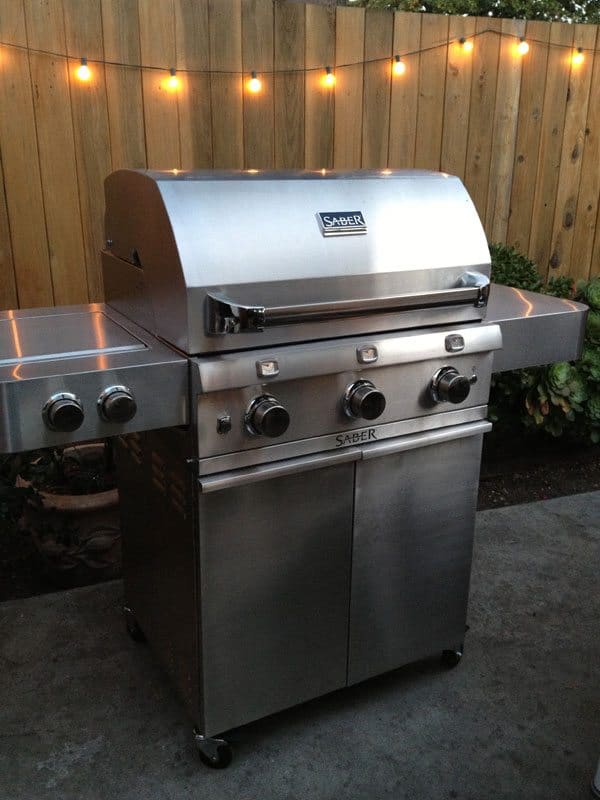 Infrared grilling isn't just a buzzword but a truly different process of cooking meat. Typical grills cook via the conduction method where heat from the grill is directly transferred to the food. Infrared grilling uses the properties of radiant heat to cook your food and convective air is vented which can dry out food and flare-ups are eliminated since there are no open flames to ignite oil.
The first meal we cooked on our SS 500 was chicken thighs and asparagus. As recommended we seasoned the grill with cooking oil as the grill reached HI for at least 10 minutes. Then we started grilling!
Honestly, our dinner was one of the tastiest meals that has ever been cooked at our house. I didn't even get time to marinate the chicken but it came out super juicy unlike the dry chicken we sometimes got from our other grill. The high heat searing then slow cooking is definitely a plus but it is taking me some time to coordinate the meat with the veggies as they go super quick. Getting my asparagus al dente takes a bit more skill.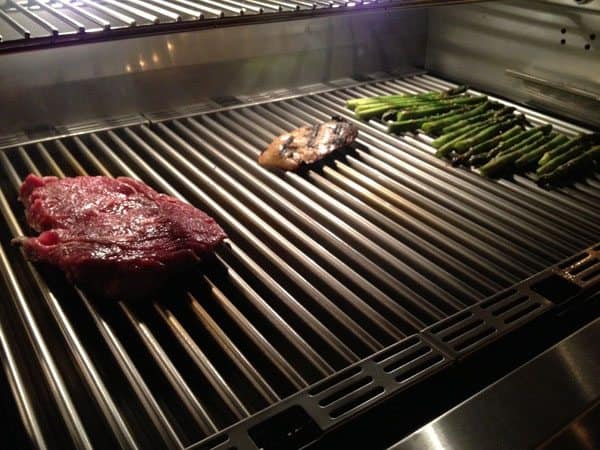 The SS 500 has proven to be the perfect size for our family of three but also up to the task of cooking for weekend BBQ's with friends and family.
High quality infrared grills are on the pricier side but you get what you pay for. We assembled this grill ourselves and it weighs in at a hefty 216 lbs because it is all stainless steel. There are no plastic parts to fade or warp and I feel almost like a real cook standing next to it.
One of the coolest features are the two halogen lights installed inside the grill. No more fumbling with flashlights to see how the meat is coming along. The grill lights are almost romantic looking under the glow of the stainless steel cover.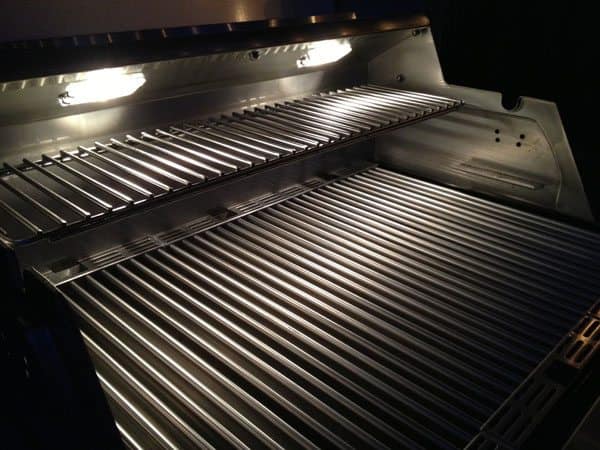 If you are considering a new grill this summer then check out the infrared models including these great models from Saber Grills.
Here are more details on the Saber SS 500.
Standard Features
·         The SABER patented infrared cooking system for superior grilling performance: IR across entire cooking surface, even temperatures, no flare-ups, 30% less propane consumption.
·         All 304 stainless steel (commercial kitchen grade), nonmagnetic
·         Strong, stable, durable construction with welded tubular cart and firebox frames
·         Shelves bolted to a tube frame provide solid work surfaces
·         304 stainless steel burners, grate system and emitters
·         Independent zonal control, allowing a wide temperature range
·         Front access grease tray for easy cleaning
·         Simple cleanup: just burn off and brush away food debris
·         Safe, easy natural gas conversion with SABER's exclusive EZNG technology
·         Fast assembly with 26 common fasteners
·         SABER grate cleaning tool included
Special Features
·         675 total square inches of cooking area (500 primary, 175 secondary)
·         Enclosed 304 stainless steel cart and heavy duty side shelves
·         304 stainless steel firebox exterior with seamless welded lid
·         Grate-level temperature gauges for greater accuracy
·         Three burner zones with 304 stainless steel tube burners (24,000 total BTUs, including 18,000 for side burner)
·         Dual tube side burner for greater versatility (perfect for boiling, frying, woks, skillets)
·         Push and turn integrated electronic ignition at each burner for reliable start-up every time
·         Adjustable 304 stainless steel warming rack with storage and roasting positions
·         Interior halogen lights for nighttime cooking
·         Heavy duty 3-inch locking casters