We're so unbelievably saddened by the horrific photos and video coming out of Joplin, Mo., in the aftermath of yesterday's damaging tornado. This spring has seemed to produce an especially volatile trend of severe weather, as witnessed by many in Alabama, Kansas, Minnesota, Missouri, Arkansas and other states.
If you live in an area that's prone to tornadoes, you likely have a safety plan to get you, your family and pets to underground shelter or the innermost part of your home, whatever applies. But what happens if your home is hit by a tornado? We've compiled some tips thanks to FEMA to help you prepare in the event of this natural disaster.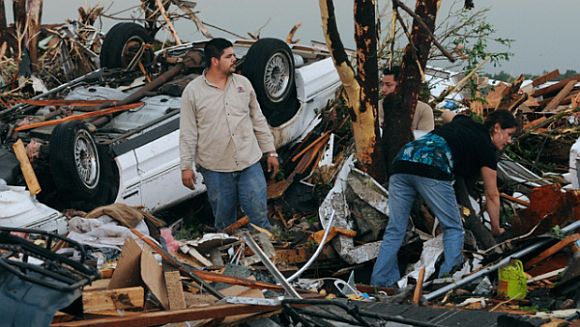 Immediately after the tornado:
If your home has been hit, immediately account for any occupants in the home, including pets. If no one is injured, get yourselves out of the home in case the structure has been compromised. You may want to keep an emergency kit near the area where your family gathers to take shelter from a tornado that includes battery-powered flashlights and battery-powered radios, which can provide vital emergency and rescue information. Fully charged cell phones are good to have, too — even if you can't make calls, you may be able to log onto the Internet to help track neighbors, find local shelters or access other pertinent information.

Re-entering your home
Once you return to your home to assess the damage, proceed carefully. Before you enter, walk around your property and check for loose power lines, gas leaks or structural damage. If your house is in severe condition, you may want to call a building inspector or structural engineer to inspect the dwelling before you enter. If your home has suffered severe damage and is mostly flattened, you may want to dig through debris to find any mementos worth keeping. Dig carefully, watching for nails, wires, sharp objects, glass, insulation and other hazards.
If your home appears safe to enter, step carefully. Flooring may be loose and/or slippery. Watch for debris, wildlife and broken or frayed wires. If you smell natural gas, open a window and leave immediately.
If your appliances are wet, FEMA recommends turning off electricity at the circuit breaker and unplugging all appliances so that they can dry. If you can see damage to your home's pipes, turn off the main water valve. If your pipes are intact, check with your town or city's local authorities before using the water in case it's contaminated.
And most importantly, take photos and document any damage to your home. You'll want to promptly call your insurance agent and discuss the rebuilding process, and it helps to have thorough documentation of your home's condition.
It's scary to think about this situation, but it's always better to be prepared and have a tentative plan in case the worst should occur. Even now, parts of the Midwest are gearing up for more severe weather, with a sizable outbreak expected tomorrow. Stay alert and be safe!
If you have additional severe weather tips to share, we'd love to hear them.
Photo: AP Photo/Mike Gullett, via CBS News