Some people are incredibly invested in their private space. Maybe it's a cozy nook for reading, a sumptuous bathroom made for spa-like relaxing or a well-lit office that's conducive to long bursts of productivity.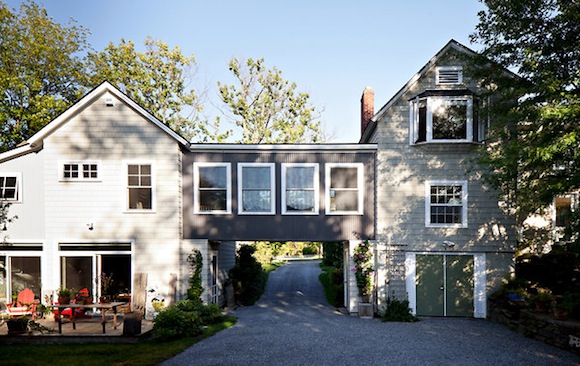 Of course, some people need a little more space. And if you're one of them, you'll adore Eleanor Lanahan and John Douglas' inventive solution. The artists built an addition off of Eleanor's home in Burlington, Vermont, and then constructed a 20-foot bridge that joins their two spaces, as documented in the New York Times.
The bridge serves as more than a device to connect the two spaces. It also houses an open kitchen and dining room that are shared by the couple. (Note: They share a master bedroom, too, although the two spend most of their days in their separate houses, often communicating by phone.)

If you have the right-sized home, property and budget to accommodate an addition and an adjoining bridge, it sounds like a burst of architecture brilliance. Each person has the freedom to decorate several rooms as they wish, yet still maintains common areas in which they share meals and company. It seems like the ideal balance of alone time and togetherness, doesn't it?
What do you think about the bridged home? Too much privacy for your liking? Or just enough isolation to make the shared moments even more special?
Photo via the New York Times
The following two tabs change content below.

Katy Schamberger is a Kansas City-based freelance writer, editor, blogger and author who weaves experience as a journalist, magazine editor and Chief Content Officer to create compelling, engaging copy that informs, entertains and inspires action. Oh, and she likes to take photos, too, especially of architecture, food and cocktails. Welcome!

Latest posts by Katy Schamberger (see all)