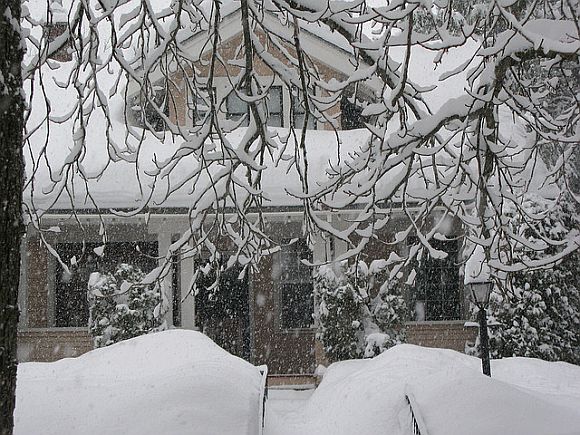 A large portion of the U.S. is currently digging out from a snowstorm. Although it seems the high priority is to shovel your driveway, porch and sidewalk, you should also turn your attention to other parts of your home during the snow removal process.
Mike Holmes of HGTV's "Holmes on Homes" recommends clearing snow from key exterior portions of your home. This will help prevent melted snow from seeping into your home's frame or structure, which, over time, could lead to rot.
Holmes recommends focusing first on doors and windows. Also focus on any air vents that are connected to furnaces or hot water tanks.

You may need to hire a pro to do this, but if your area is hit with an especially sizable accumulation, it's ideal to clear heavy amounts of snow off of your roof as soon as possible. Large amounts of snow — and the resulting run-off — can damage roofs and gutters.
And above all, be safe, especially while shoveling.
Do you remove snow from exterior areas of your house in addition to driveways and sidewalks? Let us know any additional tips you might have.
Photo: Flickr.com/janeyhenning
The following two tabs change content below.

Katy Schamberger is a Kansas City-based freelance writer, editor, blogger and author who weaves experience as a journalist, magazine editor and Chief Content Officer to create compelling, engaging copy that informs, entertains and inspires action. Oh, and she likes to take photos, too, especially of architecture, food and cocktails. Welcome!

Latest posts by Katy Schamberger (see all)