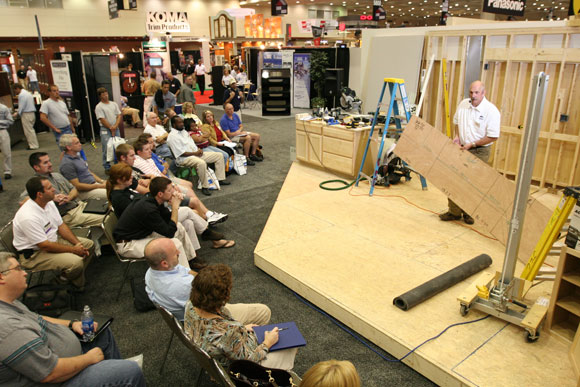 We've rounded up the best new products and materials from the 2010 Remodeling Show. Some are available now but many will be hitting shelves in 2011 so ask for them by name. You can also check out our list of Remodeling Show exhibitors on Twitter for more direct information straight from the source.
The Remodeling Show is sponsored by the National Association of Home Builders (NAHB), NAHB Remodelers and Remodeling Magazine.
Bondera Tile Mat Set
Eliminate the need for mastic, mortar, or thin-set for tile installation with Bondera Tile Mat Set. The advanced pressure-sensitive adhesive-on-a-roll provides a more convenient tile installation option. Ideal for backsplashes, and countertops, tub and shower surrounds.

Nyloboard
Made from 100% recycled carpet fibers, Nyloboard products can be used in a range of construction applications, including as deckboards. Natural-looking in texture and color, NyloDeck is termite-, moisture-, mold-, and rot-proof, the maker says, and weighs less than wood-based and other composite decking.
Paslode Cordless Roofing Nailer
This revolutionary tool is easy to use, drives two nails per second and holds 120 nails per coil. Like other fuel powered cordless tools, the Paslode roofing nailer drives nails sequentially by pushing the tool down and then pulling the trigger. It is faster than hand nailing and is perfect for a wide range of roof-related remodeling jobs, including roofing dormers and small additions, installing skylights, or working on garages and storage buildings.
Keynote by author Sarah Susanka who provided us with her favorite green remodeling tips.
Thanks to Marvin Windows who provided us with the following trends straight from the Design Awards
+ Screen Porches
+ Adding Bay Windows instead of a sunroom
+ In-law suites and other guest accommodations (Furnished Room Over Garage)