While enjoying the sojourn into Amish country, we were introduced to the completely redesigned line of Genie products, and to be completely honest, I could not be more impressed with the attention to detail paid to these new garage door openers.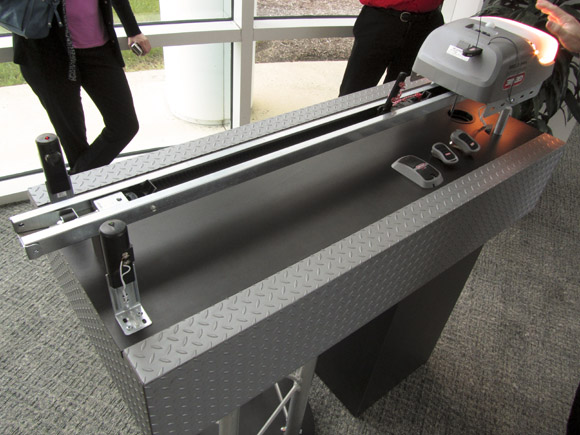 According to research compiled by Genie, the three main concerns heard form consumers was they wanted their unit to be quiet, to provide ample light, and to be reliable. Genie kept these concerns at the forefront of their redesign, and the improvements made clearly reflect their dedication to not only their product, but to their customers.

Genie's biggest change comes in the source of power — every model, save one, has been converted from AC to DC, which will give the openers the same level of power with much less noise. The new motors can also go up to 140v and 1 HPc (horse power comparable), allowing the unit to raise a door a speedy 13 inches a second. But don't worry, your unit won't tear your door apart due to a soft start and soft stop component that reduce stress on both your door and your opener from too-quick starts and stops. You can also opt for an external battery backup unit to ensure (with proper charge indicated by LED lights visible from the ground) that without electrical you can still open your garage door with ease.
They've also redesigned the photo beams, which are regulation since 1993 to ensure the safety of the families who live around garage door openers. The new Genie units won't work unless the beams are properly aligned (which means you can't just point them right at each other in a non-obvious place in your garage) and the casings of the units have been completely remastered from boxy brackets to sleek, cylindrical pieces to help prevent ambient light interference as well as misalignment due to bumping one or both of the units, causing your door to no longer close. And if safety of the spring is your concern, rest assured that these new offerings will not function if the spring is broken — meaning you can't open the door to only have it come crashing down on your car, or worse yet, your kids or your pets because it simply just won't work until the spring is replaced.
As you can see, from the C-channel rail built to protect the drive from the elements to ensuring the new screw-drive openers have no metal-to-metal contact (meaning they never need to be lubricated, as the older models did), there isn't a single part of the new lineup that hasn't been carefully considered.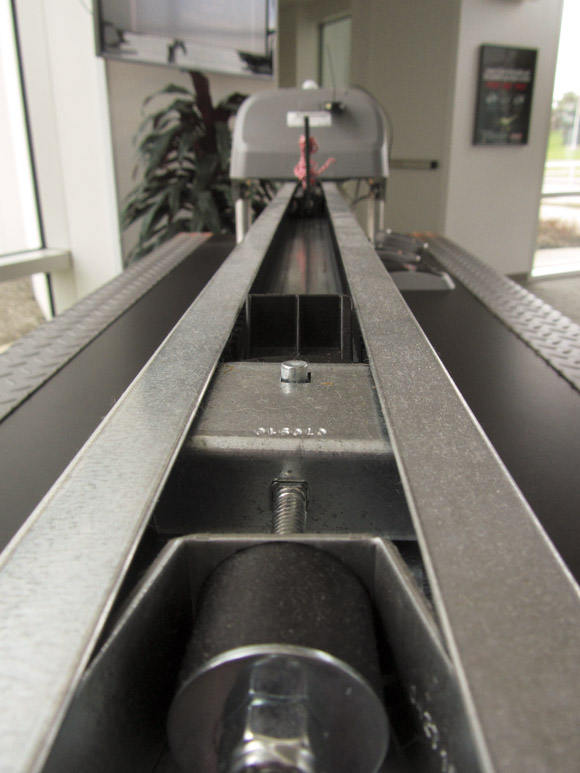 They've also included a great deal of technological upgrades, the most impressive of which are the network adapter and the closed confirm remote.
The network adapter is a USB-esque add on component that unlocks a bevy of possibilities for your opener, from being able to connect to your home automation system to the future potential to tie into home security systems, home networks, and even possibly to smart devices.
The closed confirm remote, however, is one of those things you wonder why no one came up with it sooner. It operates as your handheld remote for use in the car, but it notifies you both by light and by sound whether or not your door has closed after you've pushed the button. So if you're running late to work or to take the kids to practice, you don't have to wait for your door to close before leaving your driveway — simply hit the button and know within seconds by the green light and multi-note chime that your door has successfully closed. If it hasn't, a red light will appear as well as a single-note chime, meaning you'd best go back and try again. But at least you can rest assured you won't be driving away from your home with your garage door open and inviting anyone into your home and to your belongings.
In the coming months Genie will be launching an Intelligent Wall Console that will have the ability to track everything about the door, from how many revolutions it's performed to fault codes to be untilized by both professionals and homeowners alike. It will also function through the network adapter accessory, so keep that in mind for future reference.
The last major consideration is that Genie will be offering lifetime guarantees on the motor and gear box assemblies (applicable only to the original purchaser). They believe so much in their products and desire nothing more than for their customers to be completely satisfied with their product that for the lifetime of that product, they're willing to have your back if anything concerning the motor or gear box fails.
So if all of that information wasn't enough to make you reconsider what your garage door opener has (or hasn't as much) been doing for you lately, in the coming weeks I'll have the opportunity to install and review the brand-new PowerMax 1500 opener with the Closed Confirm remote/network adapter, and Genie has graciously donated one to give away to a lucky reader as well! Perfect for the holidays as a gift or in order to prep your home for an influx of family and friends, this is one giveaway you won't want to miss! Keep your eyes peeled for the review and giveaway coming up soon!