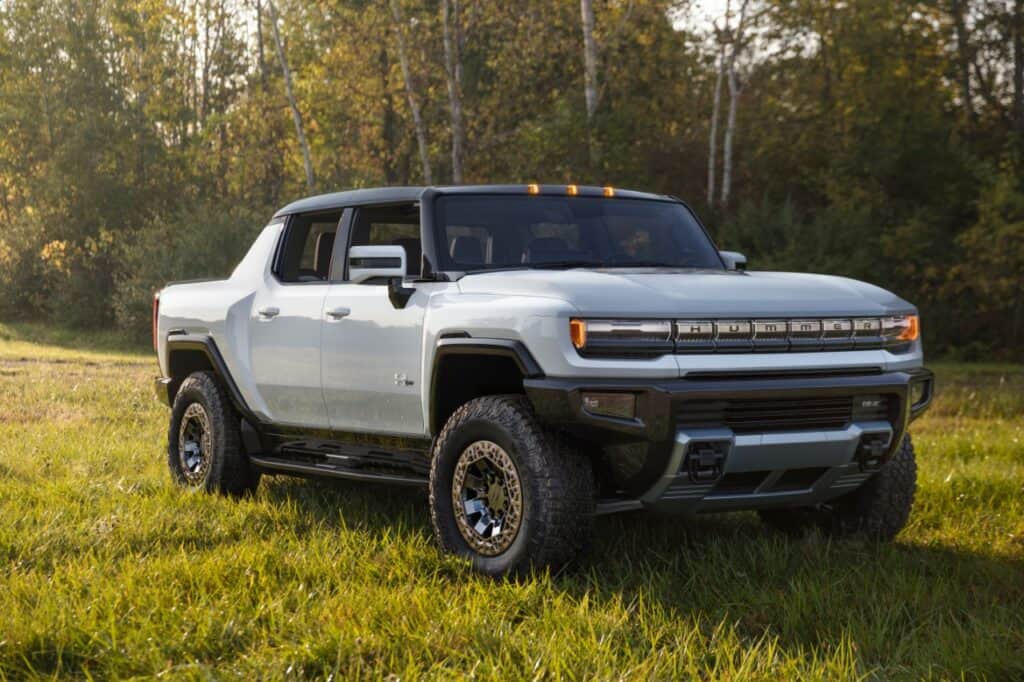 If I listed every feature I'd want in a dream off-road vehicle, I don't think I'd come close to what the new GMC Hummer EV offers. It's that mind-blowing of a vehicle!
I got a tease of the Hummer EV a few months ago, but after seeing it in person and getting a bit of seat time (while stationary), here are my first impressions, of the Hummer EV electric truck.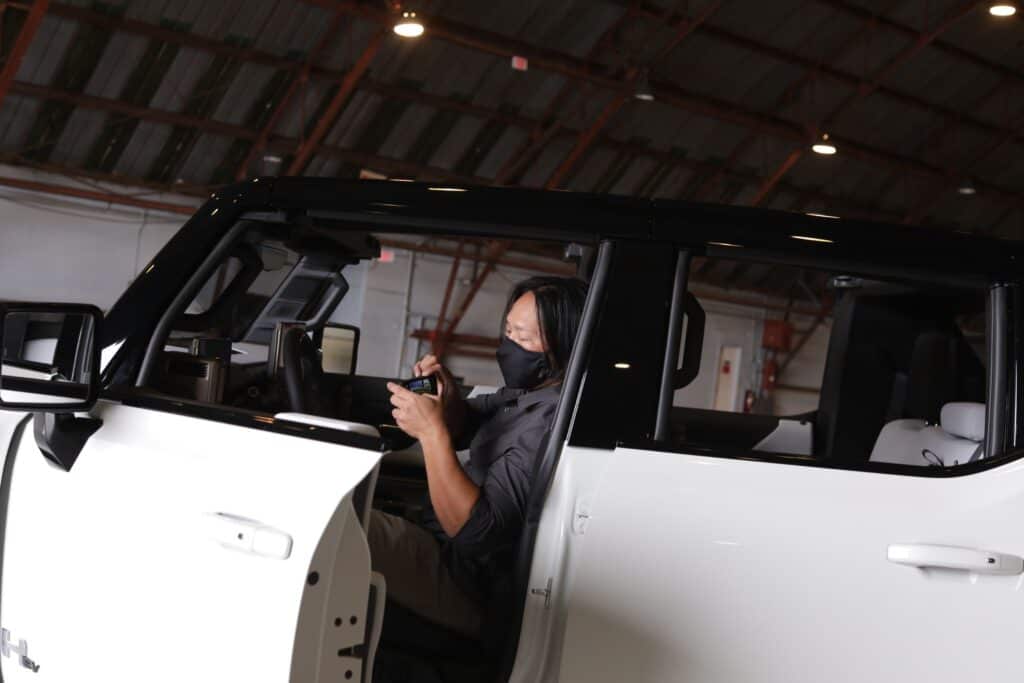 1,000 Horsepower
Let's start with the ridiculous stat of 1,000 horsepower. This number is bonkers for any supercar, so when applied to a high-tech SUV, you've got a fun and powerful combo.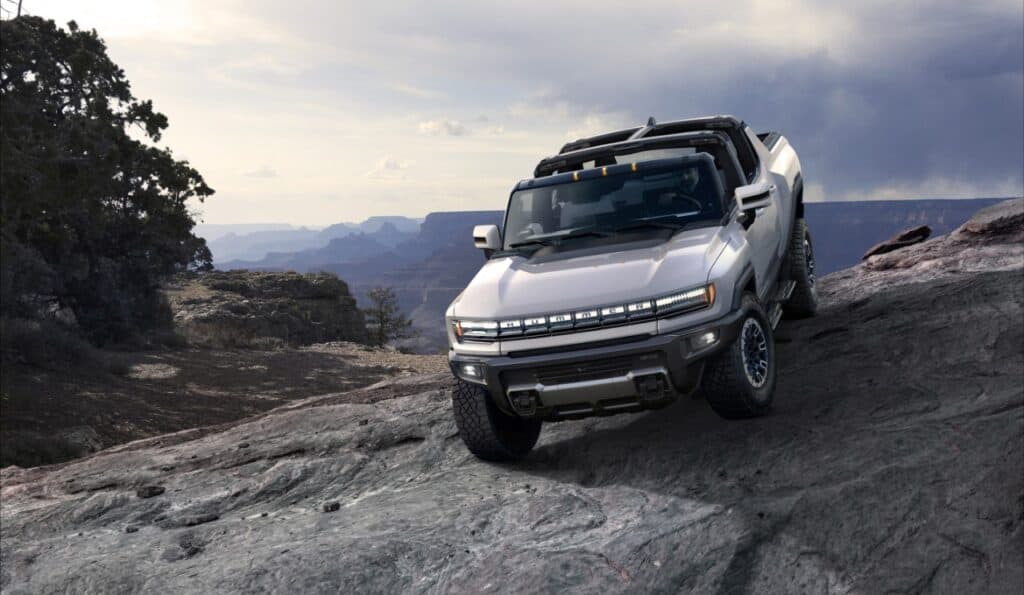 The three motors of the Hummer EV Edition 1 will generate 1,000 horsepower which will power the vehicle from 0-60 mph in 3 seconds! Don't forget the 11,500 lb ft of torque which is what will slam you into your seat once you smash the pedal. There are no payload or towing numbers yet, but it will probably be in the 8,000-10,000 pound range.
All of this power and an expected 300 mile range!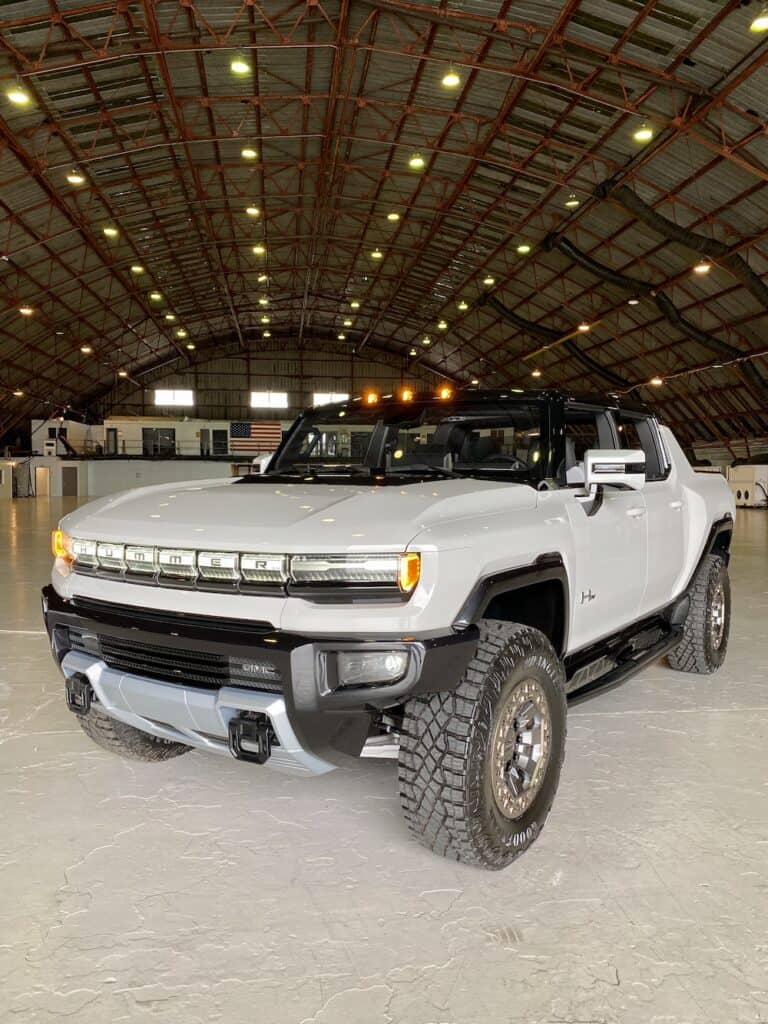 Off-Road Abilities
GMC packed the Hummer EV with slew of features that off-road enthusiasts will love. Since there are no real world reviews yet of how any electric truck will perform on the trails, we will just have to dream of what the Hummer EV can do.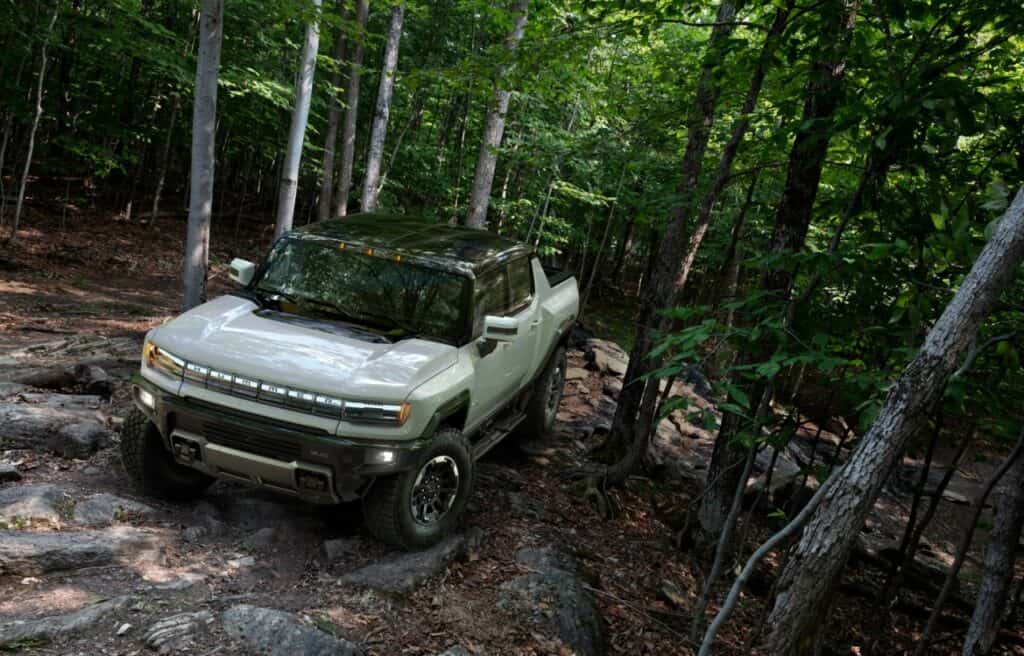 Let's start with what GMC is calling the "Extract Mode". This mode maxes out the adaptive air suspension to raise the Hummer EV to a height of 6-inches. This will help you to clear the largest of obstacles and prevent you from getting high-centered and possibly damaging the precious motors and batteries under the truck (there is a full armored skid plate for added protection). It also has steps/sliders to protect the rocker panels. It was tough to see if they were attached to the frame or just the body.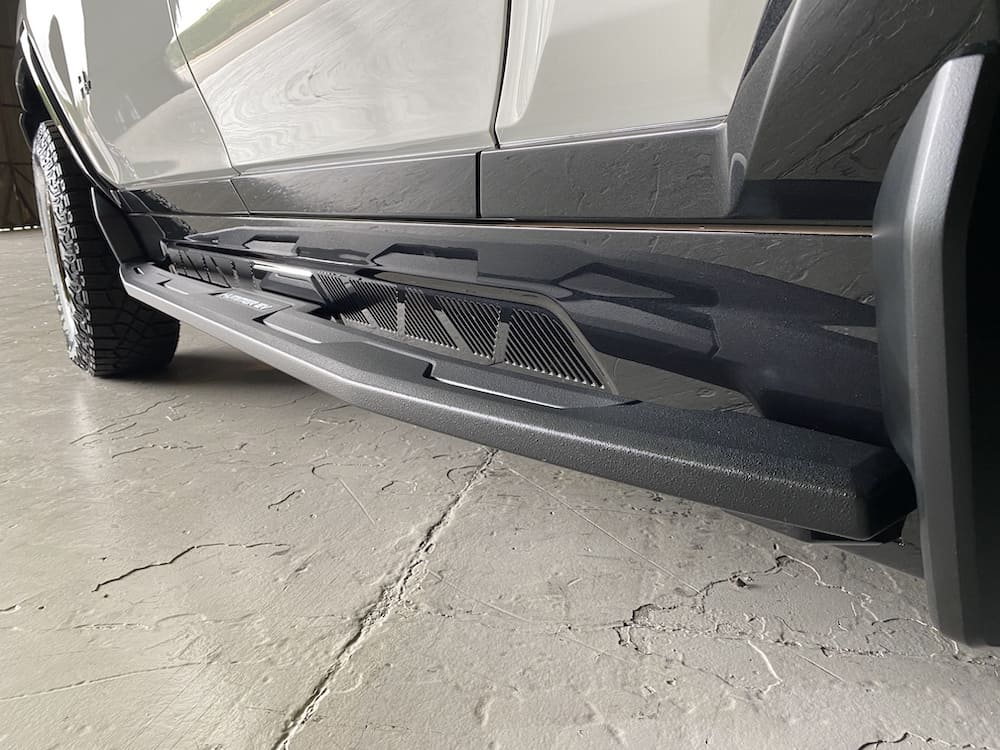 Air suspension has not been utilized in quite the same way, although the new Ram Rebel can also be raised, but not to this extent. 100 Series Toyota Land Cruisers and Lexus LX 470s also had hydraulic suspension as an option to raise and lower the vehicle, but again not to this extreme. The air suspension should also be a dream to ride on over washboards and fire roads.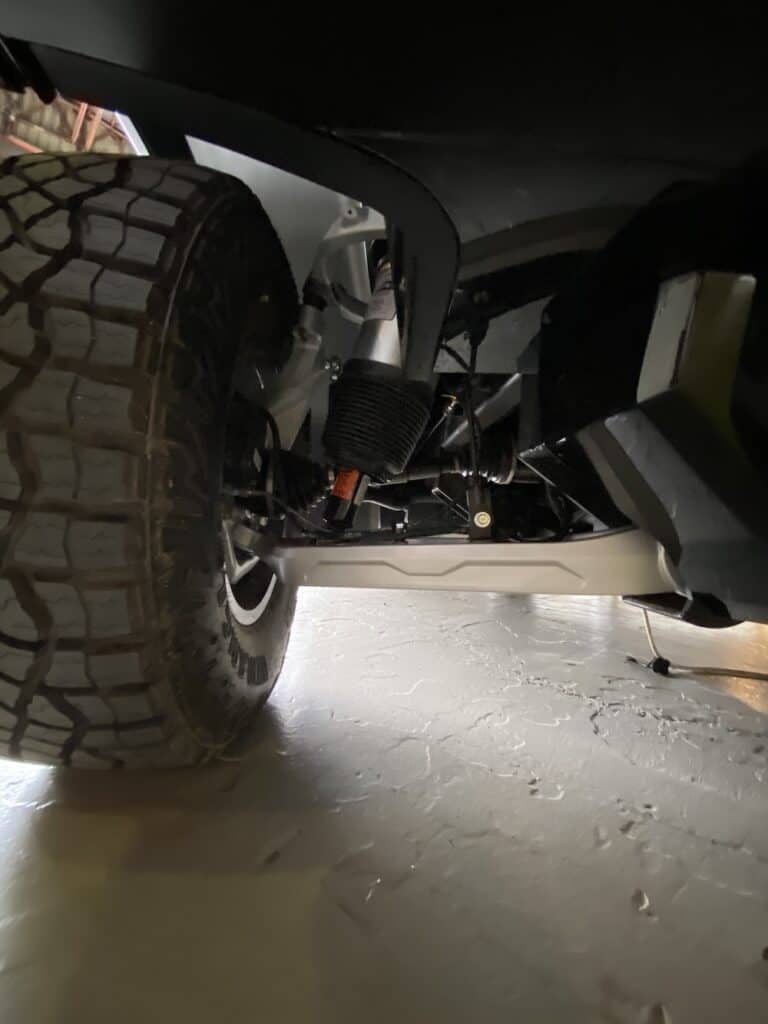 Nobody asked for this, but GMC decided to throw in diagonal driving on the Hummer EV, to simply raise the bar on what this truck is capable of. With a truck this grand, everything deserves a catchphrase, so they've dubbed this the "Crabwalk".
I remember when four-wheel steering was offered in the Honda Prelude years ago, but in this version all four wheels can turn up to 10 degrees in the same direction for true diagonal driving. I imagine there are moments when someone might want to use this, but I doubt there are that many drivers who want to be in that much of a of a pickle with a $100K+ truck.
The cost and engineering to implement the Crabwalk must have been exorbitant, but I'd rather delete this tech to avoid future issues and save weight.
Besides the Crabwalk, GMC went in the right direction on tire size with standard 35-inch ATs which can be upgraded to 37-inch with no mods. And, the full underbody skid plate armor is a necessity that they certainly didn't skimp on.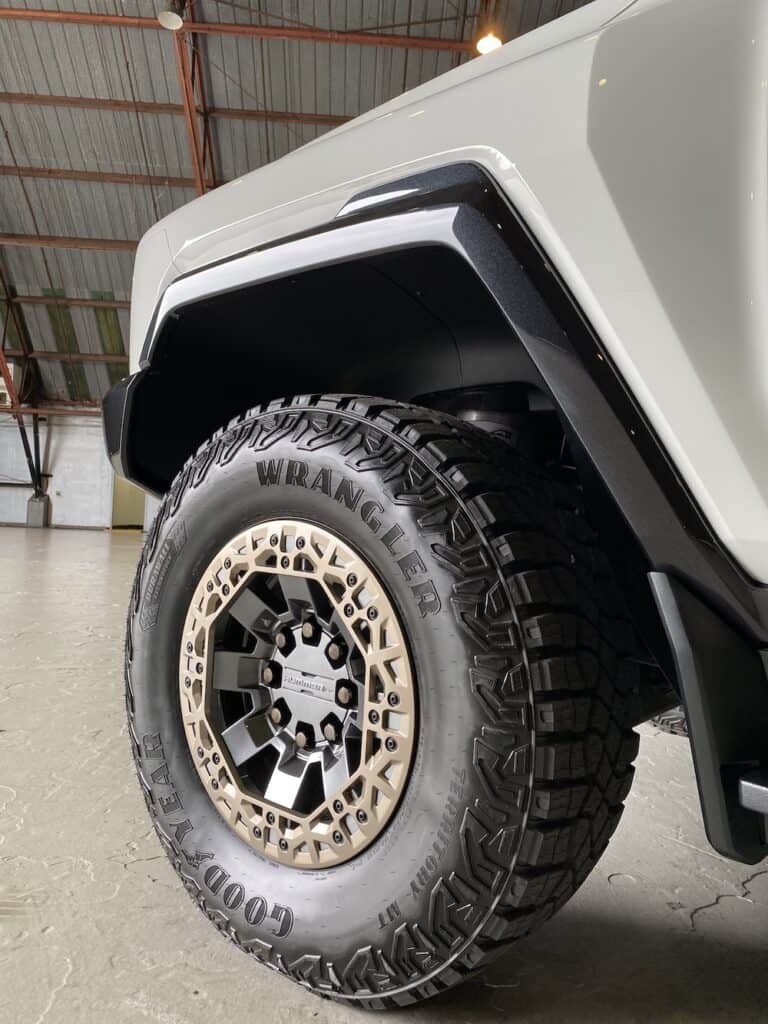 With a truck this large it will be hard to see the corners and when cresting over hills, so GMC has introduced "Ultravision" which is a system of 18 different cameras to show all underbody, side, and front and rear camera angles. You should have no blind spots when driving this beast on or off-road.
A couple things I didn't see are a winch and onboard air system. Both of those features are almost a necessity to most overlanders and off-roaders. It did have massive tow hooks and recovery points.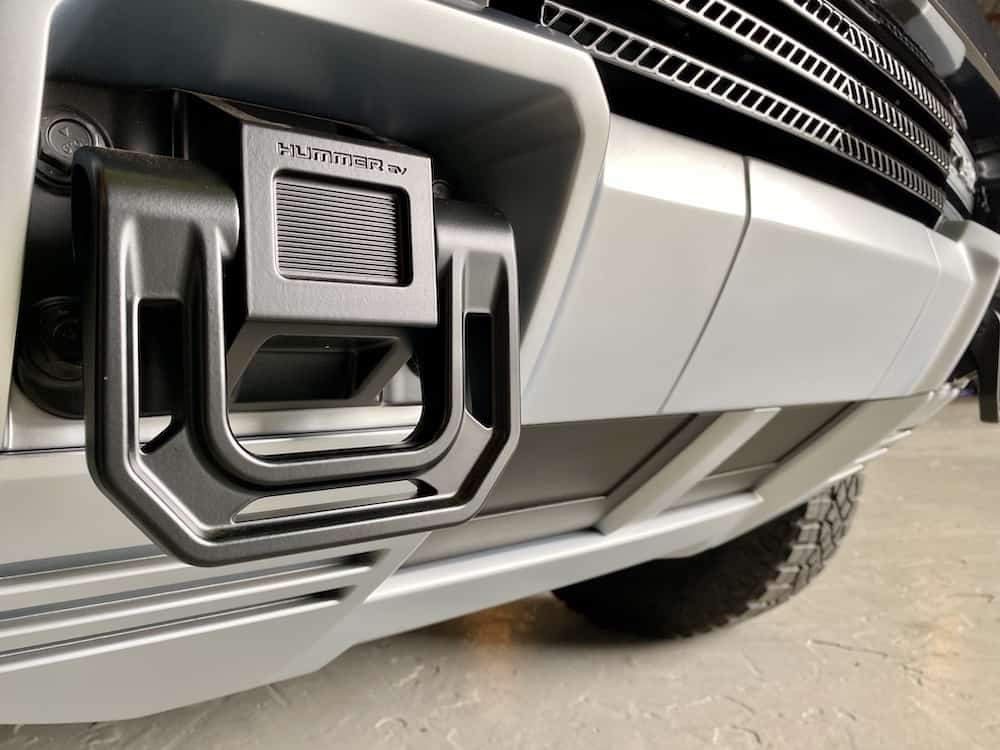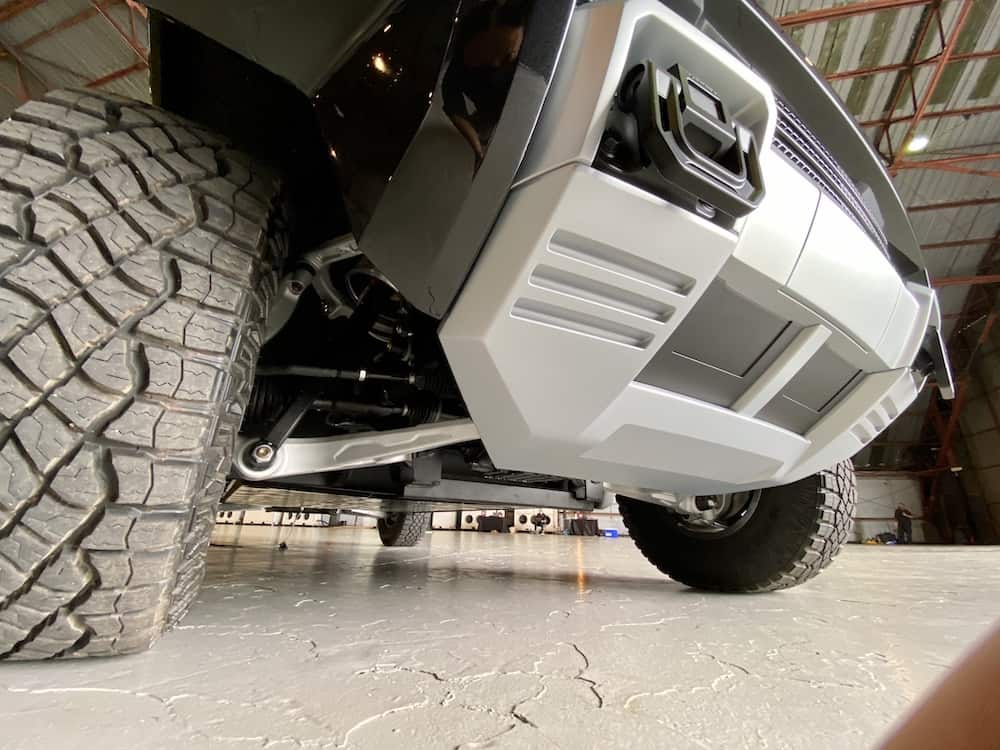 Grand Interior
What first struck me about the interior of the Hummer EV is that it's tasteful. Not that I was expecting something gaudy, but GMC was able to infuse a lux feel into what might be the most capable 4×4 ever built.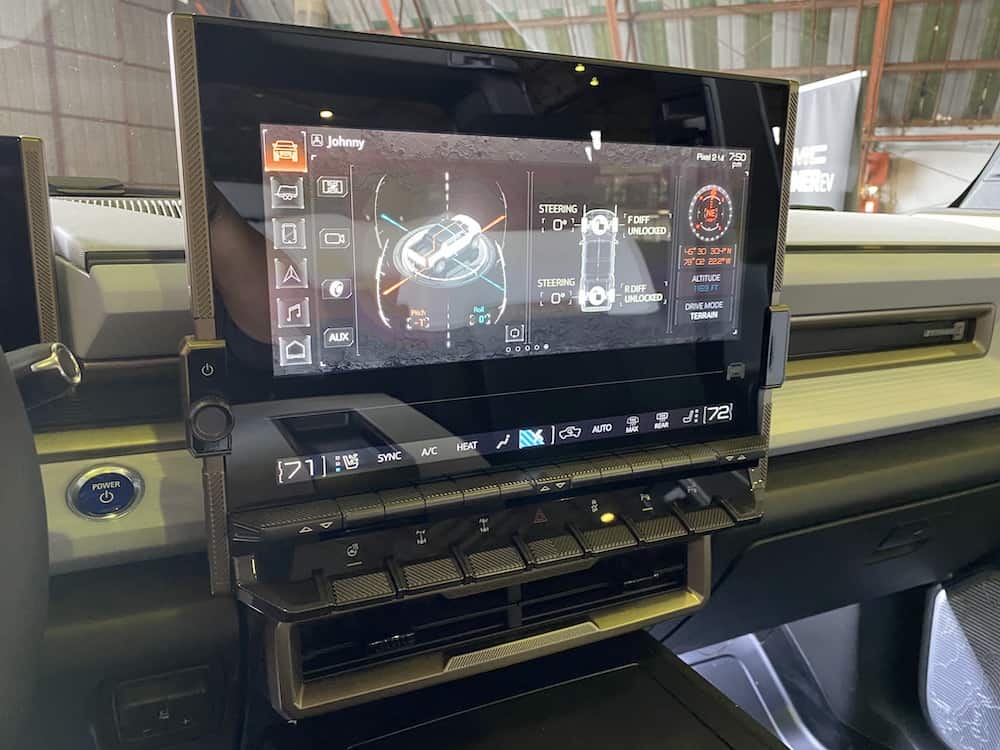 The snow white interior on this truck might get dirty quick, but it does look sharp against the black trim and dash. The large screens are informative, but not overly intrusive or intimidating.
The same hidden rear seat back pocket is on the Hummer EV as seen on the Sierras and the overall feel just has a GMC vibe to it, which is comforting and makes sense since this vehicle is built in Detroit.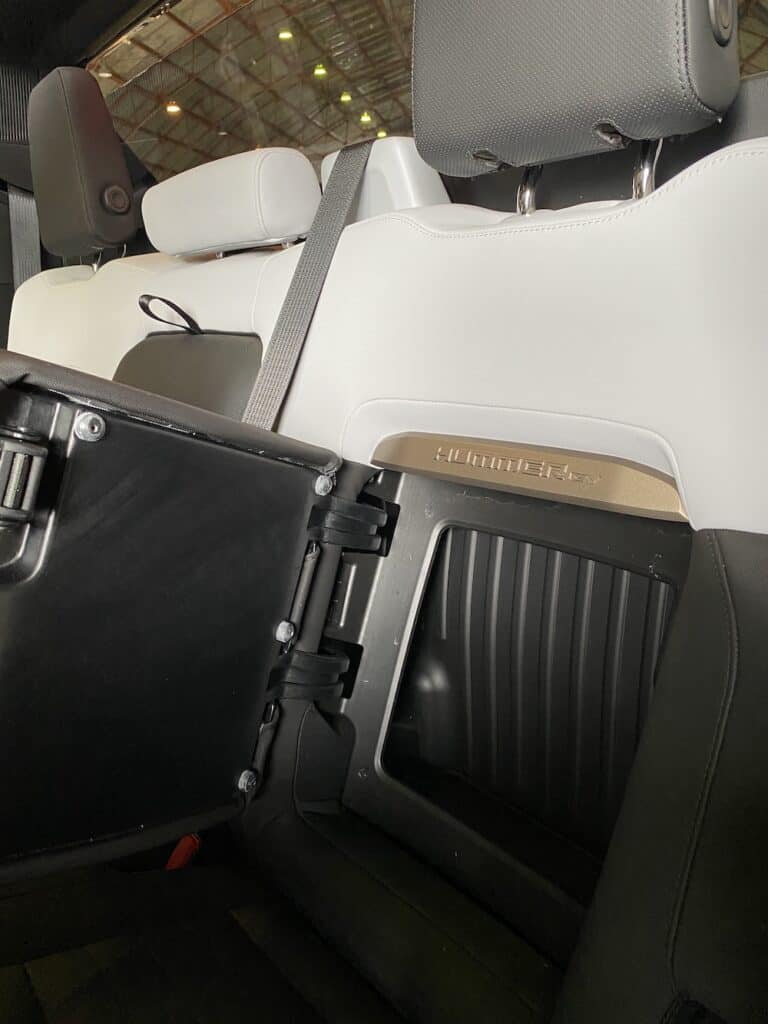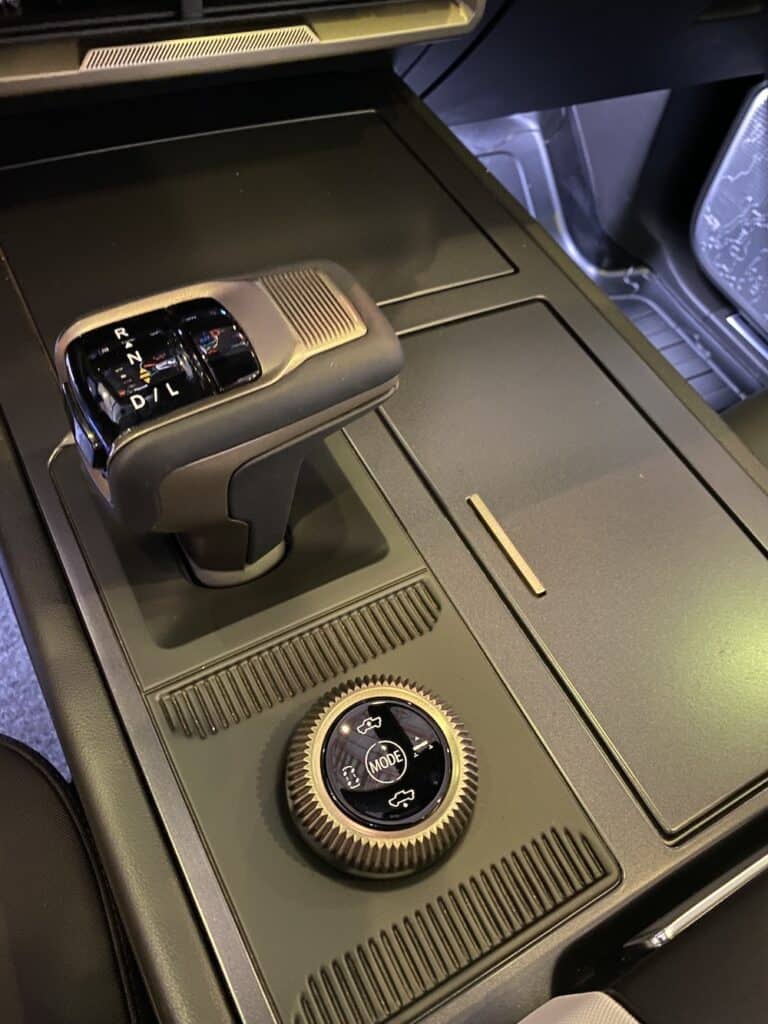 Although this vehicle is new from the ground up, expect the same cavernous interior that it's nameplate implies. There is nothing cozy about the inside of this truck as you still sit far from the other front passenger and the rear seats provide plenty of room for the largest adults.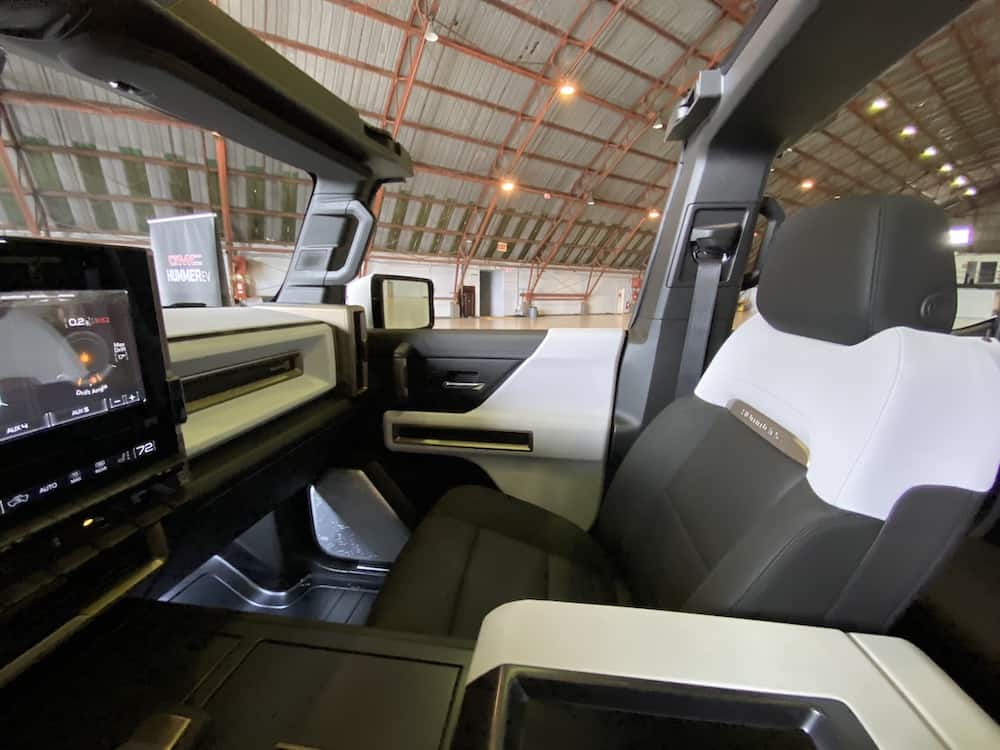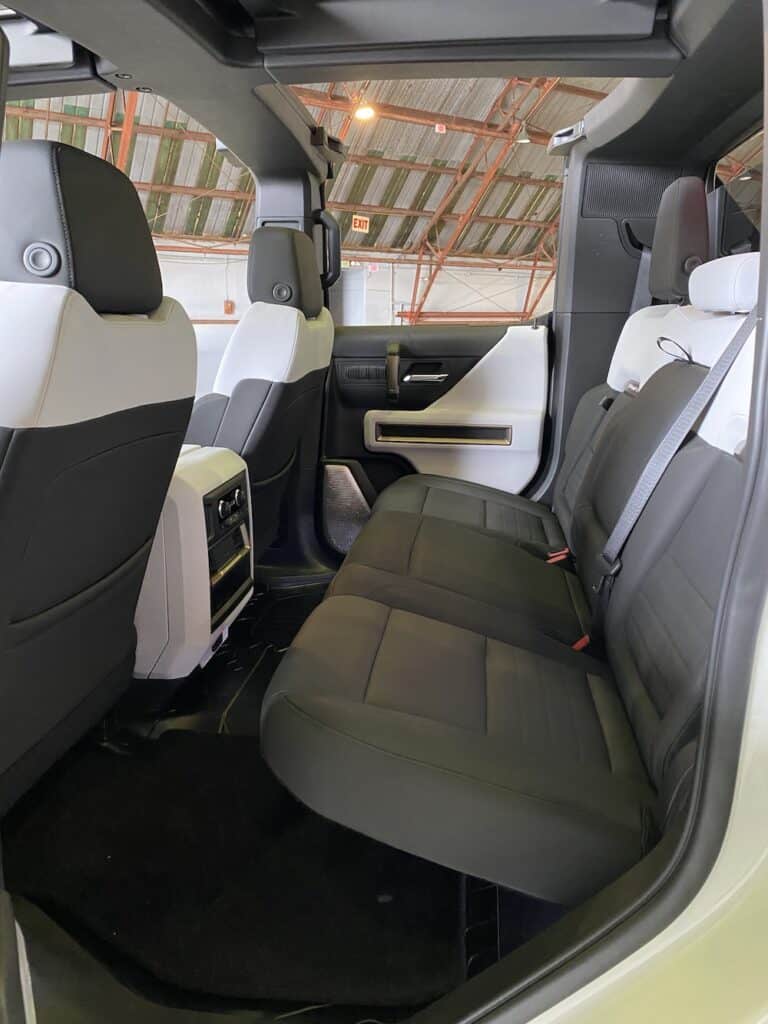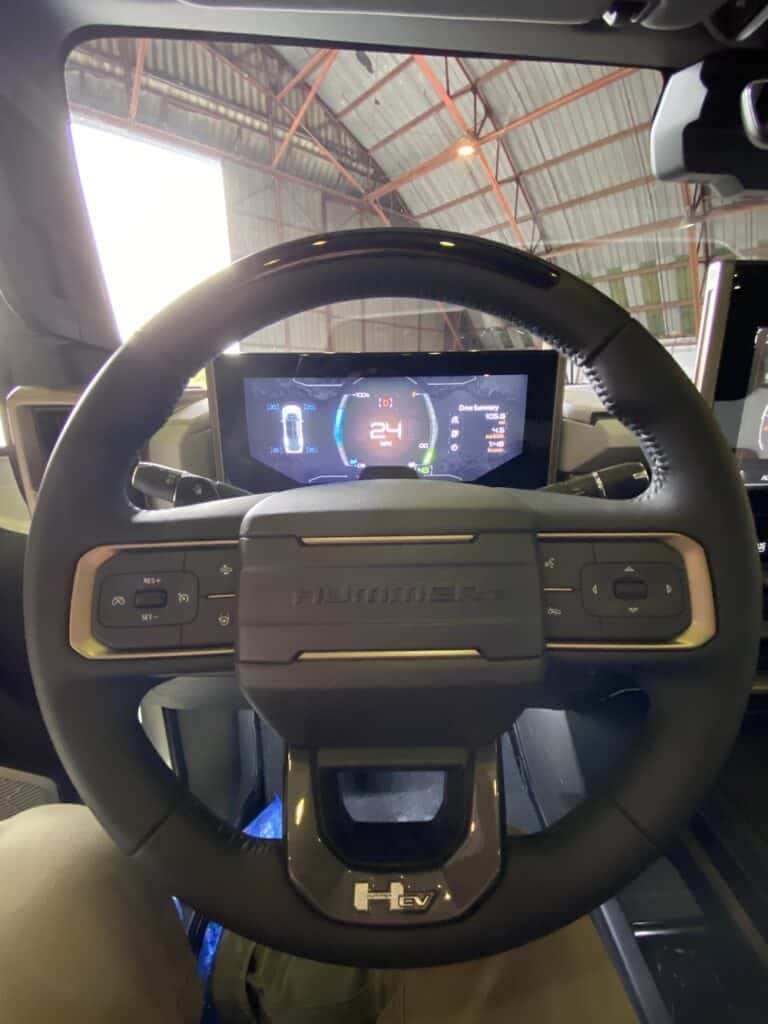 The Hummer EV will feel even more spacious once the Sky Panels are removed, to reveal an unobstructed view of everything up and around you.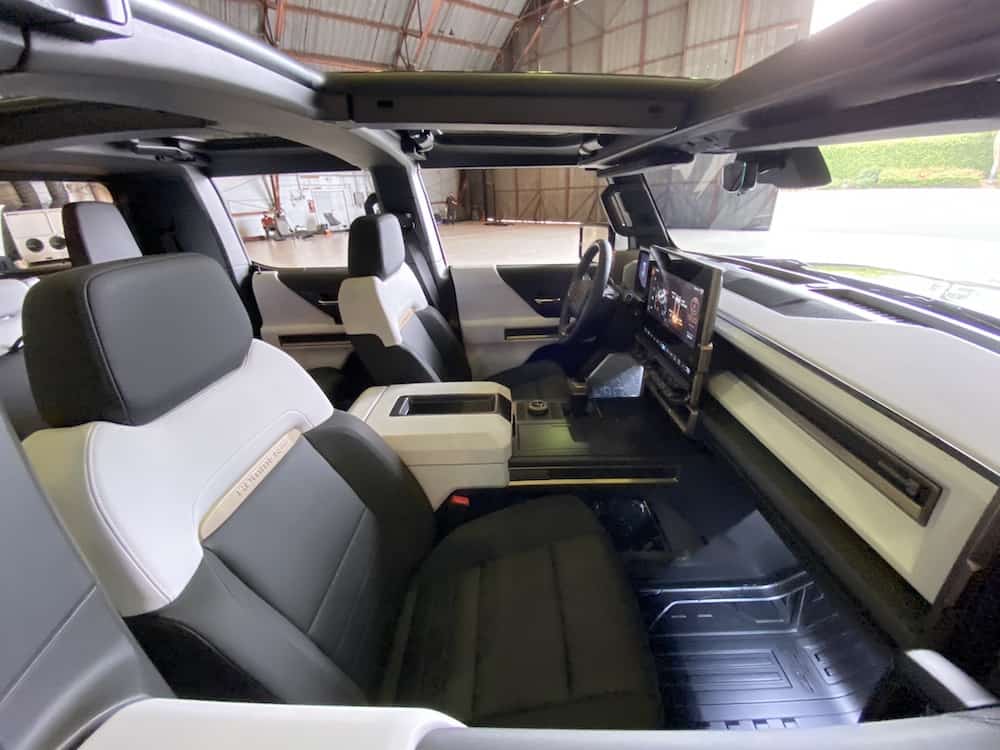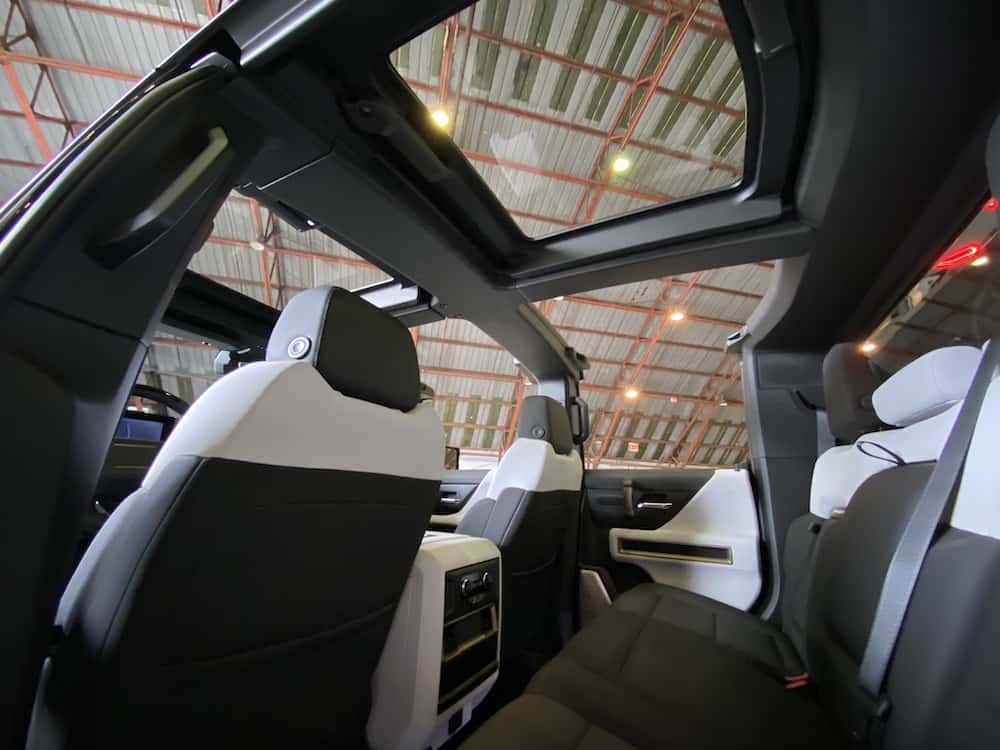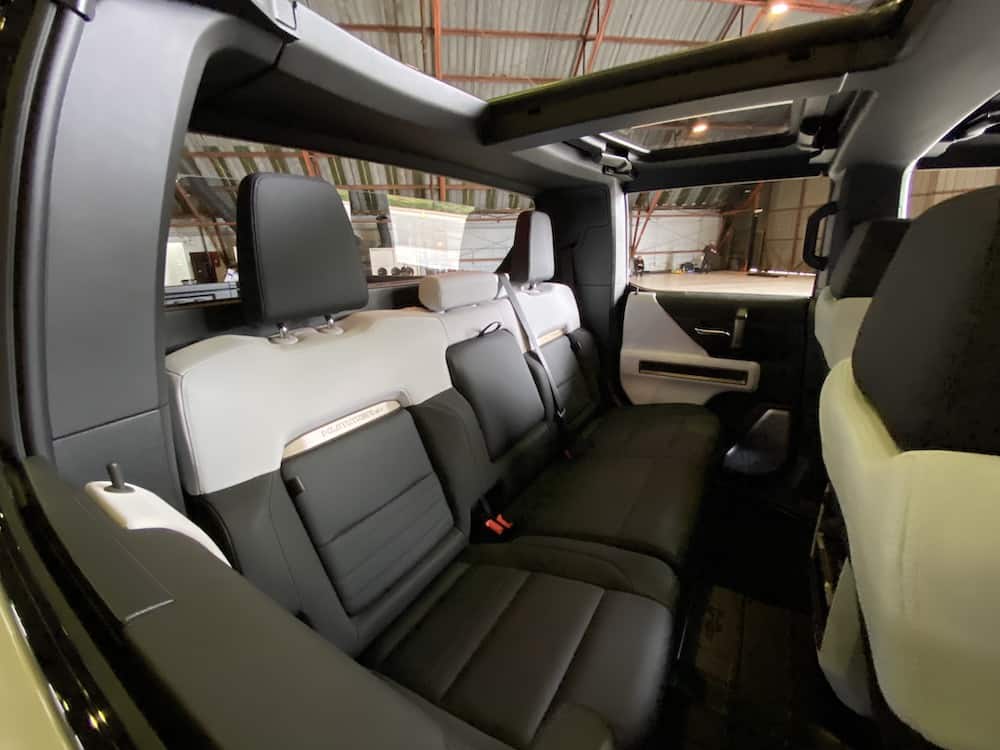 The GMC Hummer EV Edition 1 will be hitting the streets in the fall of 2021, and future models are scheduled to become available every year after that until 2024.