Concrete patios are basically maintenance-free, but almost always ugly. Patio furniture and outdoor rugs can go a long way towards designing a beautiful backyard, but adding a raised redwood deck can really make a space stand out.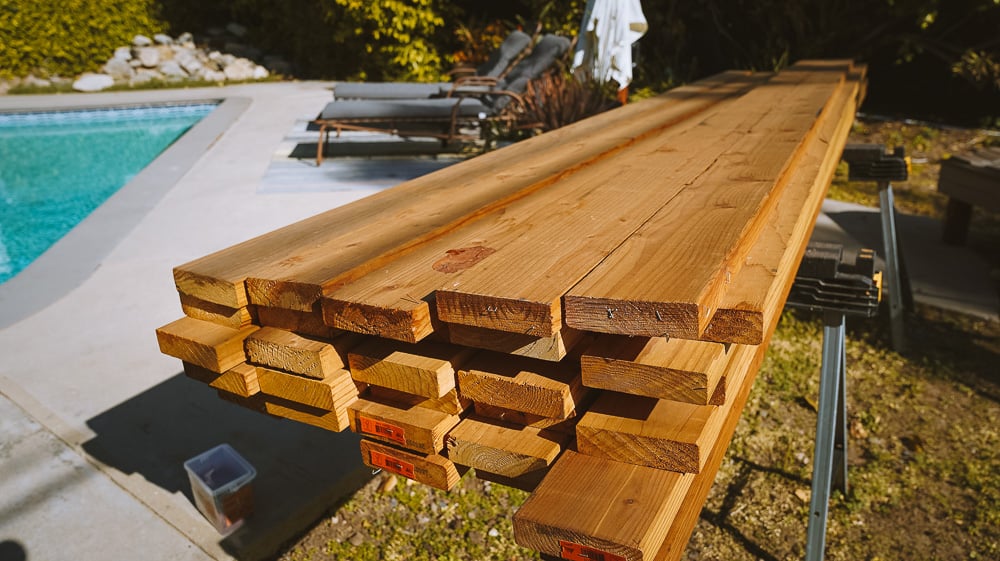 Redwood decks can be built on any type of surface as long as it's level. This is why a concrete patio is a great option as it's solid and usually very level. We saved a lot of time and effort by building our deck on our patio as we didn't have to prep the foundation beyond sweeping.
Here are the steps to design a redwood deck that will beautify any concrete patio and when you're ready we've shared the process of how to build a raised redwood deck.
Choose a Deck Location
We have a few different spots in our backyard that would benefit from a raised platform deck, but the ideal first location is right next to our pool.
We currently use this as our prime seating area with two chaise lounges, a side table, a shade umbrella, and some potted plants. This is the focal point around the pool and the best hang-out spot due to the shade and proximity to the pool.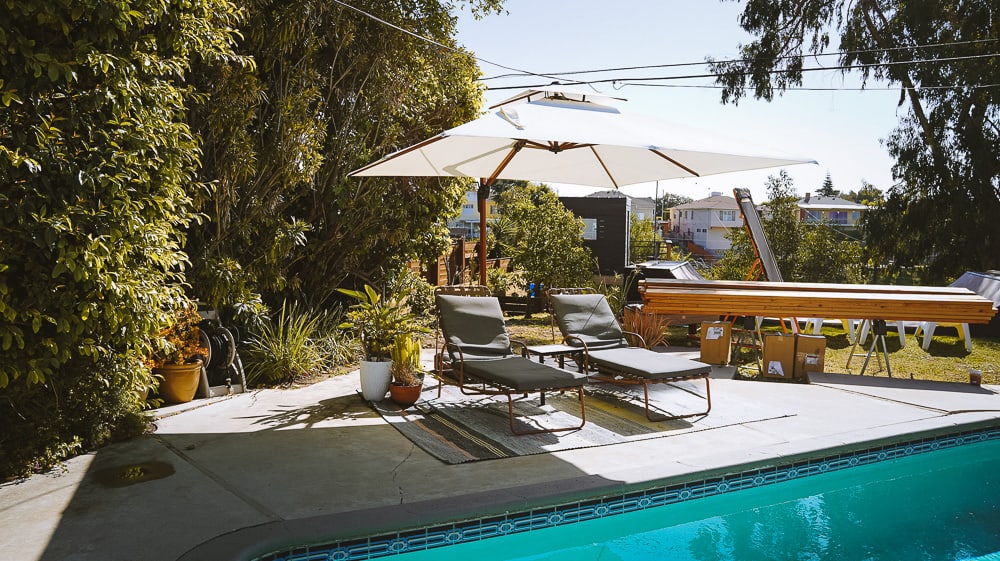 The current area features an outdoor rug that we will also use on the redwood deck. It's weatherproof and adds a touch of warmth to your feet. We also use the rug to cover up unsightly cracks in the concrete. Our pool is probably 30-40 years old and the deck around it is of similar age, so a redwood deck will instantly modernize it and boost it's curb appeal.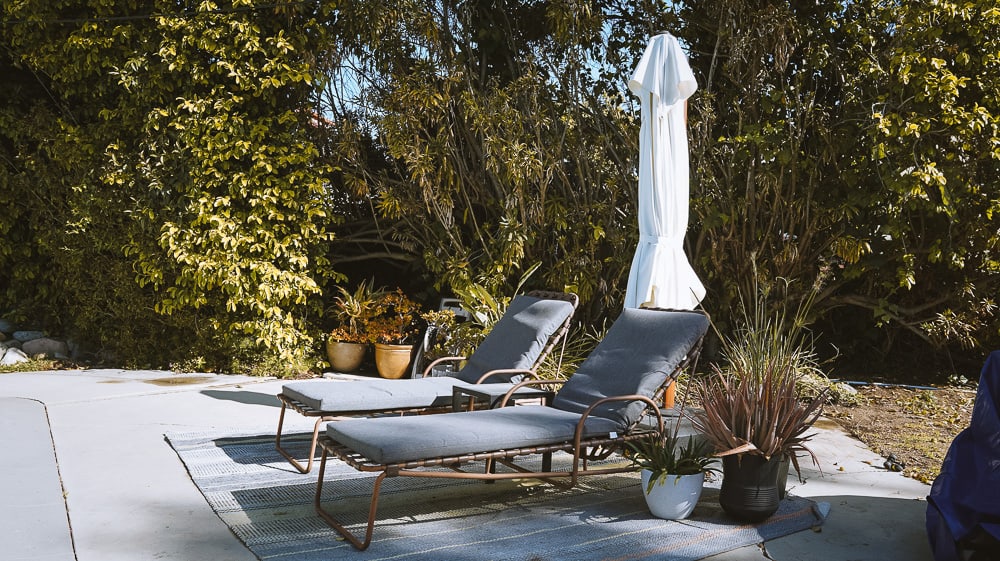 As mentioned above, building a deck on a concrete pad requires very little prep. Concrete pads are solid and level unlike building a deck on dirt or gravel. We did use a pressure washer to thoroughly clean the patio and then just swept up any remaining debris.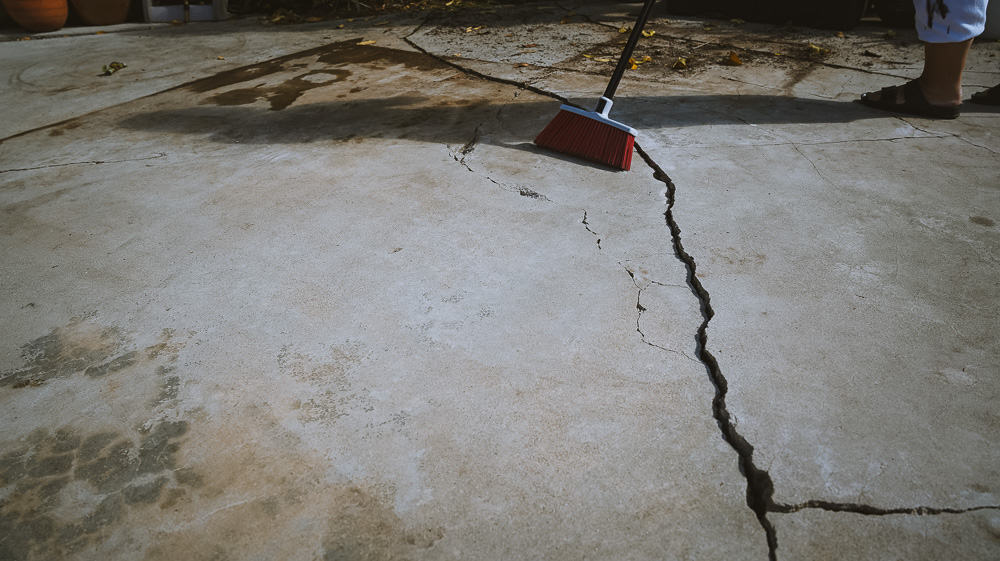 Choosing a Deck Design
Decks designs can be as elaborate as you want them, but for this build we went with a rectangle shape using standard lumber lengths that didn't require any cuts. This saved us time and money as there was no wood wasted. We didn't even need a saw to build this deck.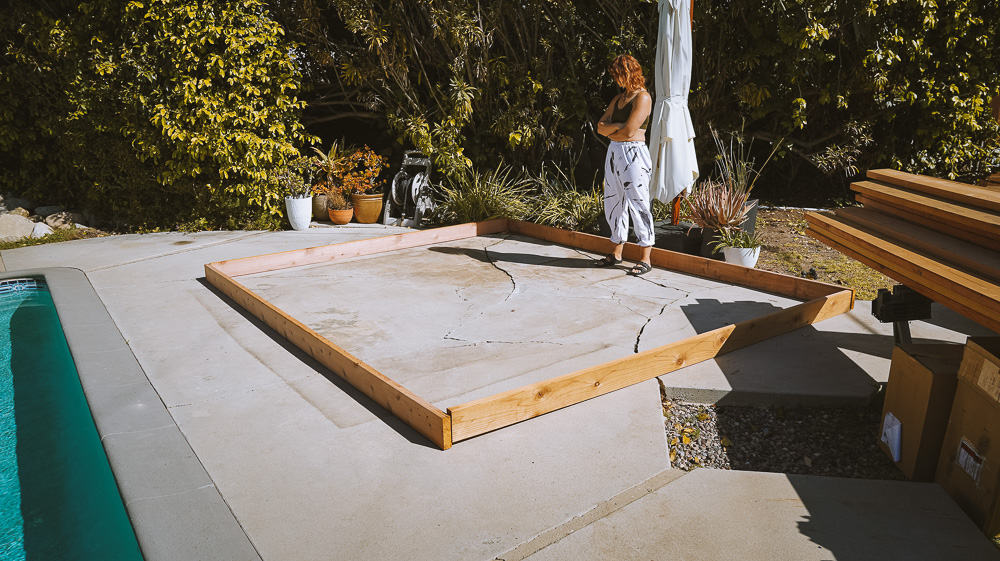 Our previous deck design covered an odd shaped section of our yard, but we ran into issues with roots and overall it would have taken a lot more time and planning to build (someday!).
Our deck measures 12 feet x 10 feet which is large enough to comfortably support our rug and patio furniture while leaving plenty of room around the sides to walk around the pool. We chose 2×6 redwood boards for the framing as well as the deck boards. We wanted something extremely durable and built to withstand the heat as well as moisture from being near a pool.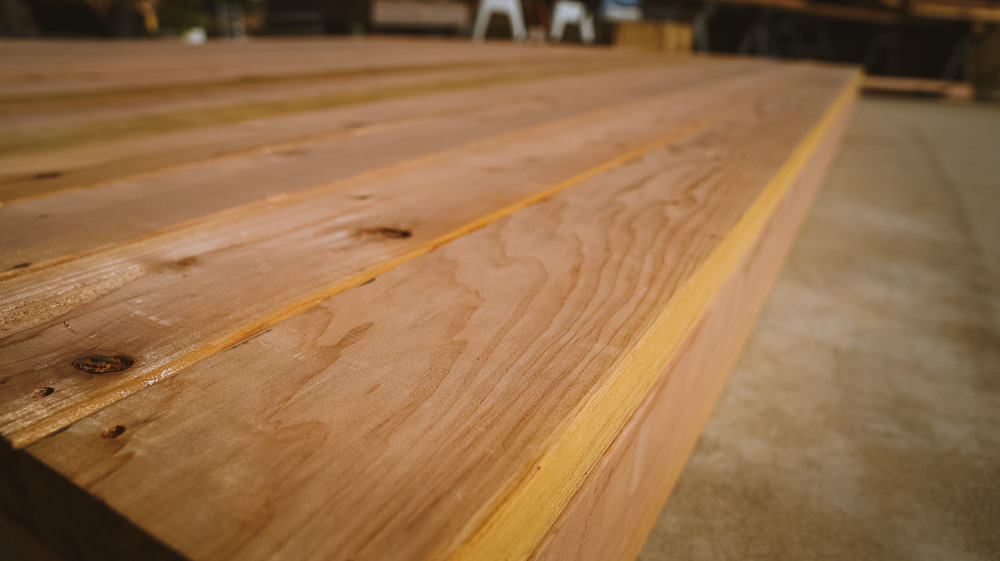 We initially wanted to raise it off the ground, but because we live in a dry area and the redwood will be resting on concrete and not soil we built the deck on the ground. It will occasionally get went in the summer from the pool water, but it won't ever be standing water. Redwood is very resistant to water and rot, so the elements are not a concern.
Choosing a Deck Material
There is no shortage of choices when it comes to choosing a deck material. For our needs redwood was the easy answer. We've successfully used redwood in the past to build a privacy fence and raised planters, so we are well are of it's cost and benefits.
For this project we chose Mendocino Redwood which is available by name at your local Home Depot. The stock we received from Home Depot was clean and straight with no throwaway pieces. We couldn't say that about yellow pine!
Another reason why we buy and trust Mendocino Redwood is that it is Forest Stewardship Council® (FSC® C013133). That means Mendocino Redwood is grown and harvested in accordance with some of the highest environmental standards in the world. From conserving energy to absorbing greenhouse gases.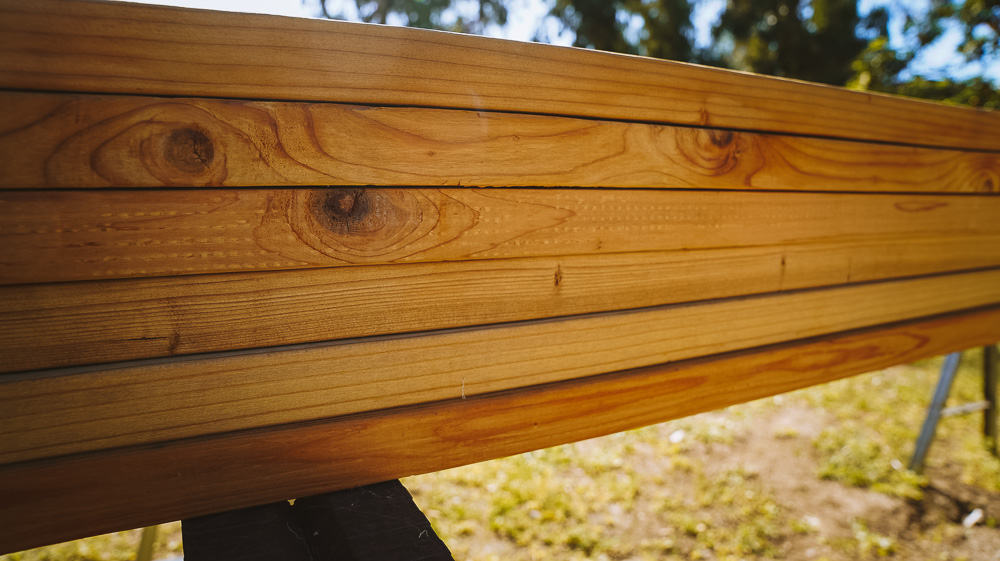 Mendocino Redwood products are grown and harvested with an eye toward long-term sustainability. Logs are harvested at levels consistently below company forests' annual growth rate. Seedlings are replanted at a 7:1 ratio. Plus, all redwood materials are recyclable. Redwood bark and chips are always in high demand.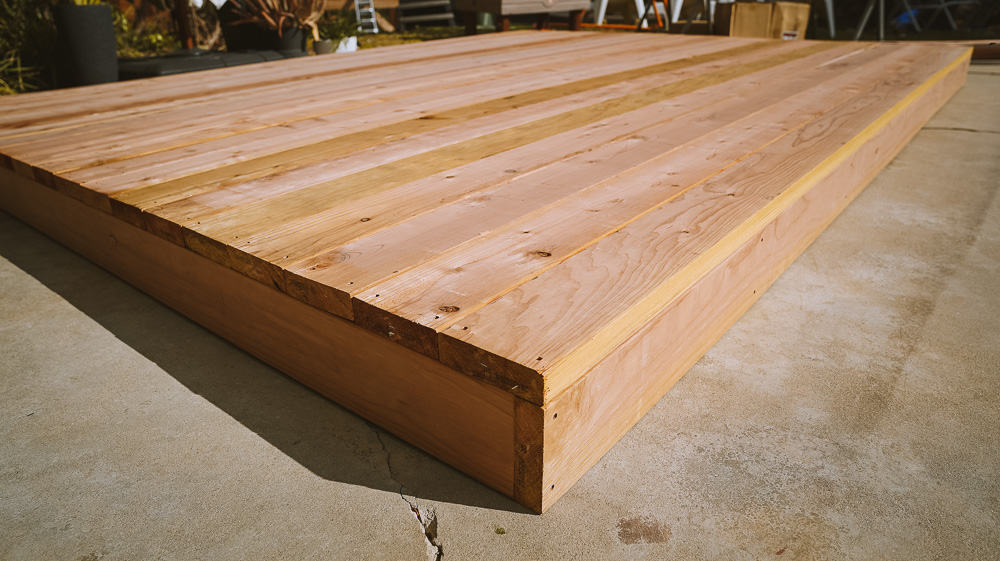 But, the main reason we chose Redwood is that it's naturally resistant to moisture, rot, and insects, which makes it an ideal deck material. Pressure-treated decking is not widely used in California and is better suited for framing and anywhere there is soil contact, Redwood is truly the go-to choice for natural wood decking. Redwood only looks better with age, and the tight grain stock we received from Mendocino Redwood is smooth to the touch and didn't need any sanding.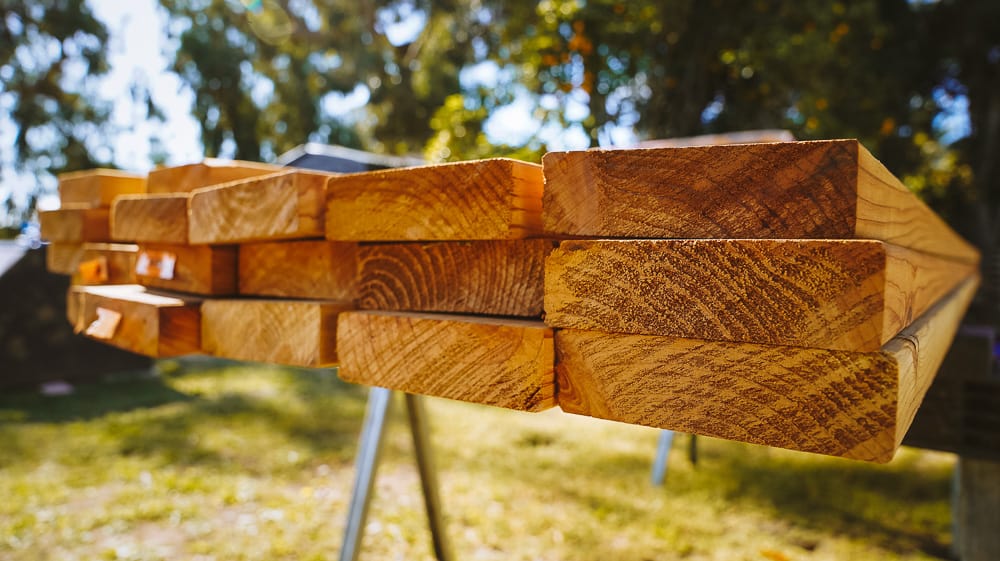 Redwood costs much less than composite deck materials and the installation options are much more flexible than composite decks can be. You simply need an impact driver and deck screws.
Now you are ready to build a raised redwood deck.