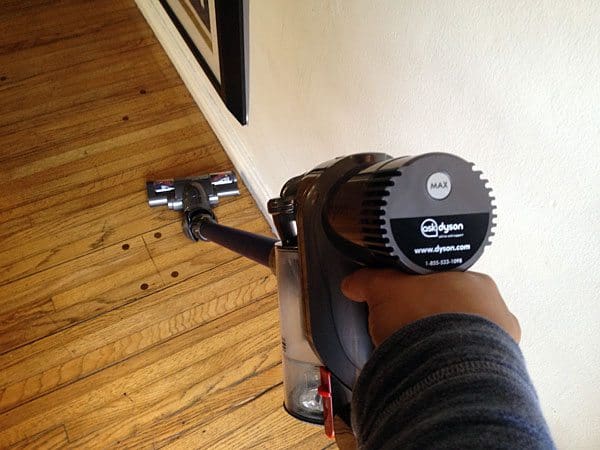 We've loved our Dyson DC44 Animal from the day we got it. It's the perfect size for our small home and hardwood floors. The wall mount keeps the Dyson out of the way and always charged and ready go to.
But after about two weeks of using it we were bummed when the Dyson started cutting out when it was powered on. Since the unit was so new we were a bit dumbfounded as Dyson products are of the highest quality.
We thought it might have been a battery issue but after a quick call to the Dyson help line they sorted us out quickly.
The Dyson customer rep asked us to turn on the unit so they could hear the sound and to try different attachments. They immediately diagnosed the issue as a clogged vacuum head. The Dyson DC44 Animal has a built-in motor cutoff that prevents the motor from burning out if the unit gets clogged.
The customer rep guided me through the process of removing the side tab that holds the roller in and then removing the roller and looking into the tube to see if there is a clog which there was. It turns out there was a piece of paper causing the issue plus pine needles from our Christmas tree. All of that clogged up even more hair and lint.
After we removed the blockage our Dyson was back to normal.
Thanks Dyson for the easy call. We weren't on hold for hours and your customer rep communicated well and helped us solve the issue.
Here's to many more hours of maintenance-free use with our Dyson DC44 Animal.