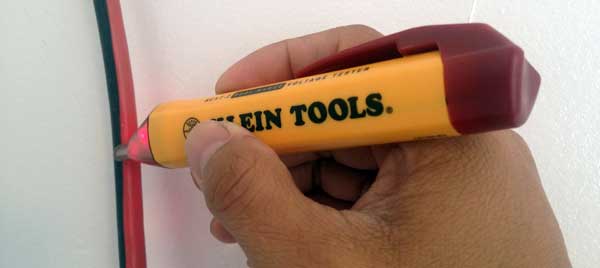 Klein Tools has recently updated their popular non-contact volt tester with the NCVT-2 dual range voltage tester. It's the same size as the previous version but operates in two modes and can test low and standard voltage.
Klein Tools have been trusted by electricians and contractors for over a 100 years so you can trust that you are buying a quality tool from them. They are now exclusively available at The Home Depot and you can purchase this voltmeter online or in store.
Here's a quick demo of the tool in action and enter here for your chance to win this tool plus a $50 gift card to Home Depot.
More from Klein
The Non-contact Voltage Tester lets you detect low voltage in security, entertainment, communications, environmental control and irrigation systems. Its CAT IV 1000 Volt rating provides expanded operation and protection. The lightweight, durable polycarbonate plastic resin construction and pocket clip make it convenient for on the job use.
Automatically detects and indicates both low voltage (12-48V AC) and standard voltage (48-1000V AC) allowing broad application
Non-contact detection of standard voltage in cables, cords, circuit breakers, lighting fixtures, switches, outlets and wires
High intensity, bright green LED indicates the tester is operational and aids in illuminating the workspace
When voltage is detected, a high intensity, bright red LED illuminates and a warning tone sounds
[box] Disclosure: Post and giveaway sponsored by The Home Depot, but all opinions are my own. Please see below for additional disclosure.[/box]