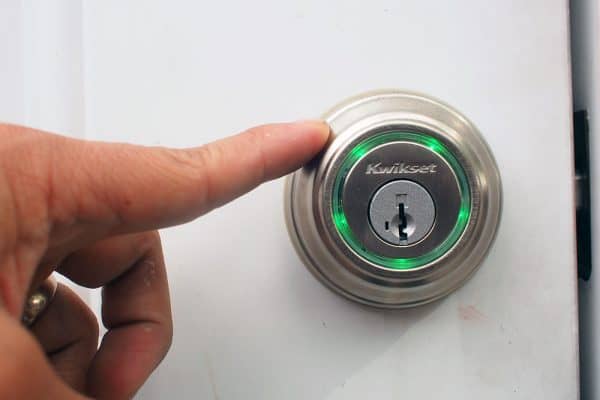 Kwikset recently released the Kevo 2nd generation smart lock, which improves upon the original Kevo that we tested out a couple years ago. Kwikset provided us with a first look at the 2nd Gen system, and an opportunity install and use it. It's been a welcome addition to our home office, and provides an added level of security and convenience that was missing.
Installation
The Kwikset Kevo 2nd Gen smart lock is a touch-to-open deadbolt lock, that is enabled by bluetooth and your smart phone. All this tech may sound intimidating to install, but the helpful step-by-step instructions provided by the app, make the installation almost easier than a standard deadbolt. Illustrations and videos in the app are easy to follow along with, and a DIY novice could have it installed in 30 minutes.
Start by removing your existing lock. We had a double cylinder deadbolt which was a bit tricky to take off due to the security of the irreversible screws. Once removed, the Kevo smart lock simply bolted into place. The external touch mechanism slides through the deadbolt and is secured to a small frame on the other side of the door. Then the interior mechanism is connected via a small wire that attaches it to the external lock. A few screws secure the interior piece in place, and then the battery is installed and the Kevo is ready to pair to your smart phone. The video below shows how simple the process is.
We were most impressed by the installation guidance their app provided and how easily it paired to our iPhone. Once set up it was immediately ready to use. Now as long as we have our smartphone in our pocket with bluetooth turned on (which is 90% of the time), we just tap the lock with our finger to unlock which displays green when confirmed, or lock the door which displays red. No more fumbling with keys when our hands are tied up, and we can double-check the status of the lock by looking at the app.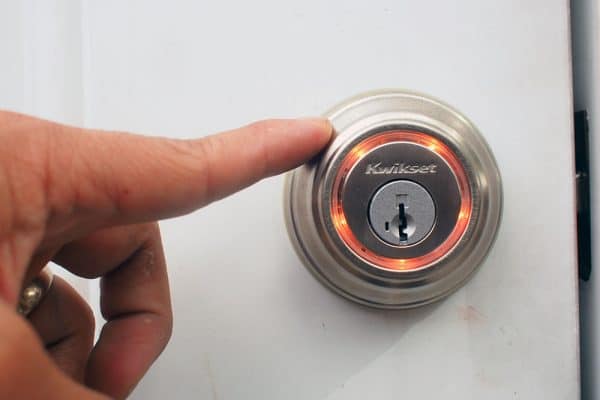 Features
Our first order of business was to share an eKey with my wife's phone which was done straight from the app. This would provide her with instant access to the Kevo after she installed the app. In an emergency we could share an eKey with a friend or neighbor if they needed access to our home, without having to hide or send them a physical key. Through the app we can also track and receive lock activity, so we can keep an eye on who is coming and going.
The Kevo 2nd Gen is compatible with many different smart home platforms including the Nest learning thermostat and Ring video doorbell. This integration provides a much better user experience instead of toggling through a myriad of different systems.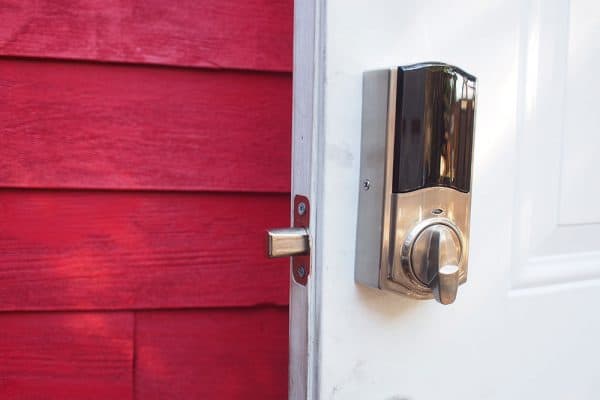 Another standout improvement over the first Kevo is the sleeker metal interior mechanism which is much smaller in size and feels more durable. and less likely to get damaged. The interior design of a lock is not to be overlooked and the Kevo 2nd Gen is unobtrusive and looks great on our door.
Lastly, and to us one of the most vital features that Kwikset offers, is the SmartKey security system. The ability to re-key our own locks saves time and money and provides assurance and security that we can't do without. The advanced SmartKey security provides strong resistance against forced entry attacks, passes the most stringent lock-picking standards and utilizes BumpGuard to prevent lock bumping. We've installed our Kevo smart lock on our home office which contains valuable computers, office supplies, and files. We trust this system enough to protect some of our most vital possessions.
This post is sponsored by Kwikset but all opinions are 100% Charles & Hudson.