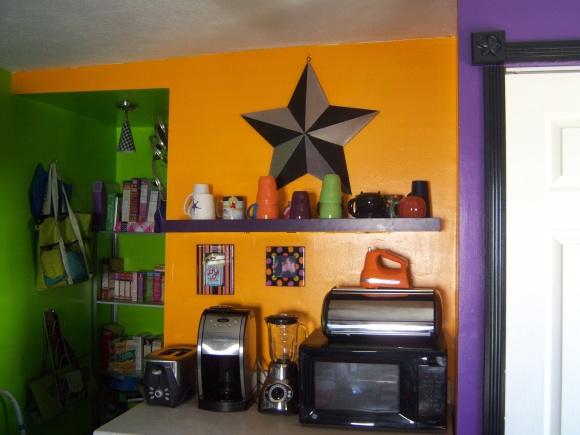 With many people downsizing their homes in order to save money and/or the planet, giving up square footage means making the most of the space you have. As someone who lives in a 1,250-square-foot house with my family of four people, five cats, and a Chihuahua, I'd like to share some of the ways I've creatively utilized storage space to suit my family's needs while keeping in mind my home's design aesthetic.
With the addition of sippy cups, bottles, and kiddie plates and bowls, my kitchen cabinets were getting a bit tight for space. I racked my brain trying to find a solution for my teetering towers of dishes when a trip through my basement yielded a solution.
That shelf is an IKEA LACK shelf circa 2002, in the most awesome shade of deep purple. Once used in my college bedroom and having long since lost its hardware, I dutifully carried it into our home when we moved in, assuring my husband that I'd find some use for it. After two years of nothing but a barn star above that alcove cabinet and my coffee mug collection growing to sizable proportions, I put two and two together.

Of course, installing a LACK shelf without the hardware is akin to brain surgery, but I managed to get it secure with some elbow grease and a prayer. Now, all of my coffee mugs are out on display right by the coffeemaker — conveniently matching the shelf and my kitchen. My unused wall space now serves a function while creating a focal point for a previously dead space. To top it off, precious cabinet space was opened up for my two kiddos' various cutesy cutlery. It was a win all around.
Of course, shelves can be an excellent use of previously vacant wall space no matter the room size. Just make sure to take into consideration the style of the room, type of shelf, and the items you hope to store on it. Don't forget, however, to think about the type of wall you're mounting the shelf to, proximity to seating (no one wants to constantly bang their head on a shelf looming overhead) and the reach of pets and small children. Every inch of your home should work for you, and that includes those pretty walls surrounding it.
What are your small space storage solutions? We'd love to see your creative shelf usage, or hear your stories of wrestling with the infamous LACK in the comments below.