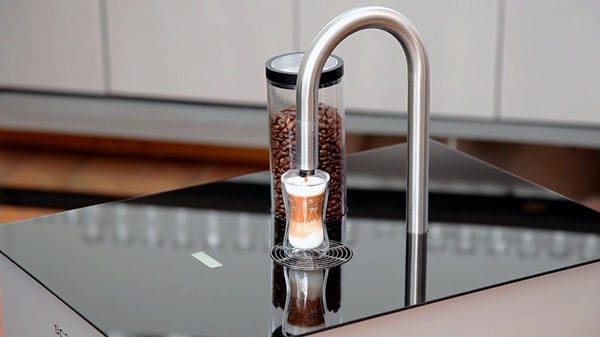 Ever wish you could just startup your coffeemaker from bed and have a hot cup cappuccino waiting for you before your feet touch the ground?
It's now possible with the TopBrewer from Scanomat. This next-generation coffeemaker offers 'coffee on tap' that's operated through your iPhone and iPad and seamlessly sits on your countertop.
It will run you big bucks but the modern design will inspire you to remodel your kitchen to match.
More details include:
The patented stainless steel tap is designed to be built into any tabletop. The TopBrewer brews a perfect cup of fresh-bean coffee – every time.
They have patented the smallest milk foamer in the world. The foamer is installed at the very tip of the coffee tap. Fresh milk is heated "on demand" and foamed to the correct texture. The Scanomatic milk clean system of the Top Brewer cleans all hoses with water after each cup.
The Top Brewer provides chilled drinking water, cold milk, hot water for tea – and steam for the blanching of vegetables for instance.