It's great to see new ventures in shelter publishing and when established print publisher Meredith announced they were joining up with digital magazine Lonny to create Trad Home, the design world took notice.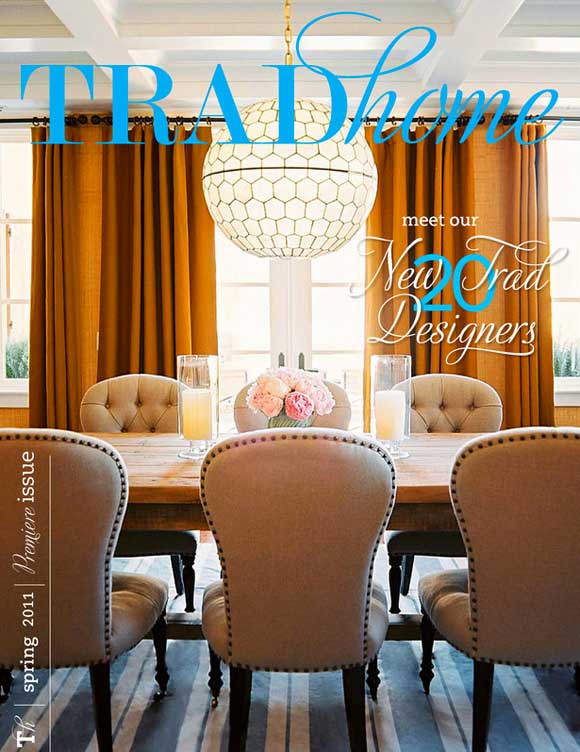 After two splashy launch parties in NYC and LA that were attended by a who's who of the design, publishing and blog world, the table was set for a groundbreaking venture between two successful media entities that both excel at what they do.
Traditional Home launched in 1989 and is a stalwart of shelter magazines. It's target has always been a more affluent reader with classic taste.
Lonny Magazine arrived on the scene a couple years ago and was born from the demise of popular Domino magazine. The editors wanted to create a traditional magazine experience online without all the trappings of a typical blog or website. They've succeeded by curating sharp articles with beautiful photography.

Trad Home is pitched as a best of both worlds and at 344 pages they didn't skimp on the premiere issue. It seems that almost half the pages are ads but they are all tasteful and relevant to the content, similar to what you'd expect to find in a high quality print magazine.
There are plenty of great features such as "Generation (T)rad" and "10 Things My Mother Told Me", but the real value in this issue are the amazing photos of the 20 designers they've chosen as the "New Trad Designers". You can get lost in these photos and find great inspiration.
If you've never read Lonny Magazine and Traditional Home isn't your thing but think you'd enjoy classic design presented in a more fun way, we recommend checking out Trad Home.
Trad Home is guest edited by Lonny cofounders Michelle Adams and Patrick Cline to under Traditional Home editor in chief Ann Omvig Maine. We hope to see more collaborations like this in the future.