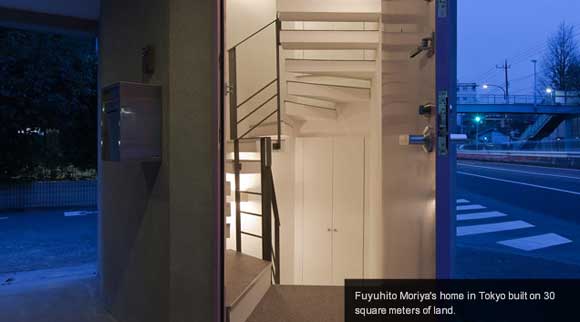 The Japanese are known for creating tiny efficient electronics and now they've refined the small home with the ultra-small home.
Forget the fact that Fuyuhito Moriya is 39 and still lives with his mother. He's taken small space living to the next level by sharing a home with his mom the size of a parking space, approximately 30 square meters.
The home cost $500,000 to build which is a bargain in Japan but at what cost to his lifestyle?

According to CNN:
Architect Junichi Sugiyama of Side Architects says ultra-small homes now make up 70 percent of his company's business. And not because it's trendy, he says.
"There are not that many people who have a big budget," says Sugiyama.
"So if you want to have your own house but can't afford it on an average salary, you have to have a small place because land value is really high in Tokyo."
The result, he says, is fewer people building normal sized homes on typical lots. For architects, it's a creative challenge to cope with the new normal in home design.
[via CNN]