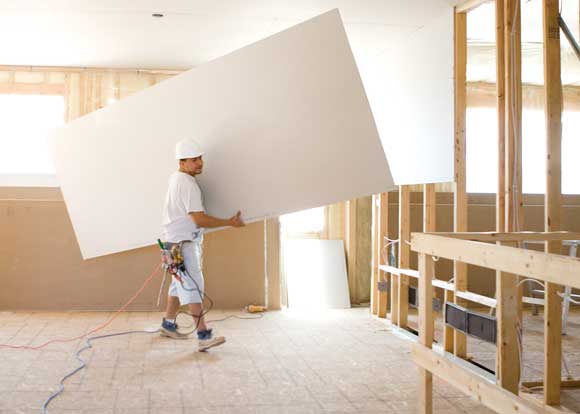 USG's Ultralight Drywall promises to be a revolutionary product for the remodeling/building industry. At 30% lighter than standard 1/2″ drywall, their Sheetrock Ultralight Drywall panels have overnight lessened the burden for contractors and installers around the world.
What's amazing is they haven't sacrificed strength with the Ultralight panels which they claim are pound-for-pound even stronger than traditional drywall. With a lighter weight installers can work faster, safer and more efficiently. Lighter drywall is less likely to be dropped which wastes drywall or damages walls or fixtures.
For installing drywall on ceilings this product will be life-changing and what's also great is the same drywall tools for taping and finishing will all work the same with this product.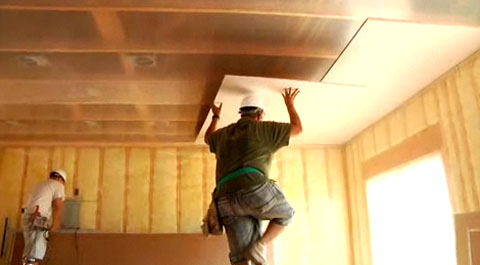 The Facts:
Lightweight, quality wall and ceiling panels for interior applications:
+ The lightest 1/2″ gypsum wallboard panel available today
+ Easier to carry and install
+ Clean score and snap
+ Can be used on ceilings with 24″ o.c. frame spacing when water based texture is applied
SHEETROCK UltraLight Panels are re-engineered, lightweight gypsum wallboard panels with a patented, composite design. The non-combustible core is encased in 100% recycled face and back papers. The natural finish face paper is folded around the long edges to reinforce and protect the core and the ends are cut square and even. The long edges of panels are tapered, allowing joints to be reinforced and concealed with SHEETROCK joint treatment systems.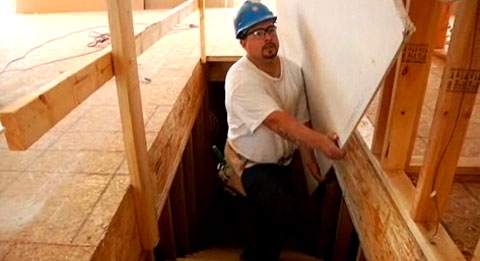 The panels are for use in non-fire rated applications such as new residential and repair and remodel construction, and can be installed on steel or wood framing. SHEETROCK UltraLight Panels are manufactured to meet ASTM C1396 Specifications for 1/2″ gypsum wallboard and 1/2″ gypsum ceiling board, and comply with the requirements of the International Building Code and International Residential Code as both regular wallboard and ceiling board.

For more information USG has setup a website that contains product information and video.