Airstream has fully-embraced the #vanlife movement with the launch of the Airstream Interstate 24X adventure van.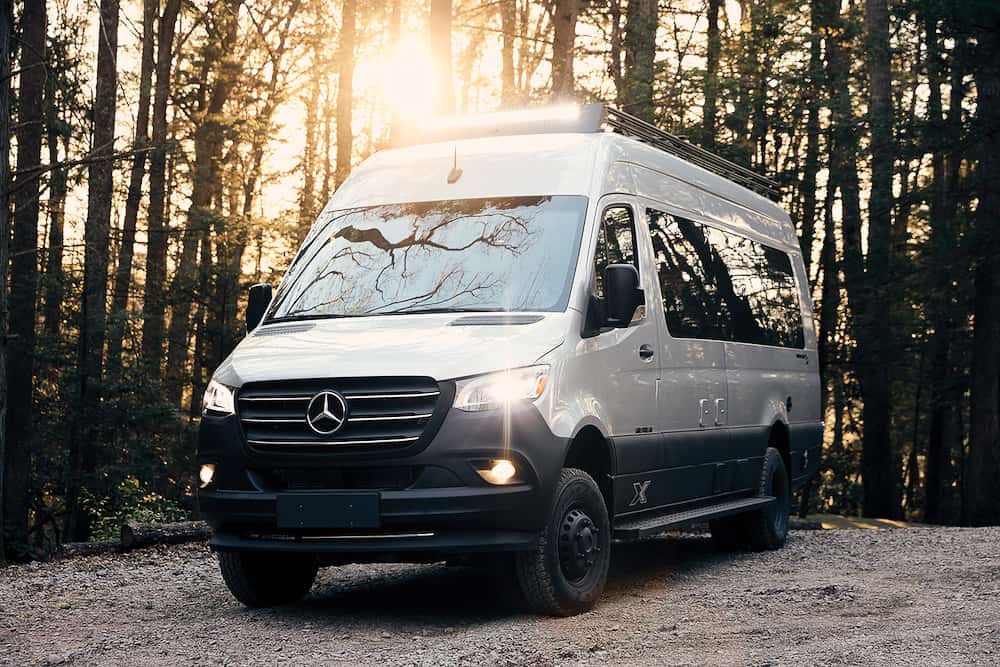 The Airstream Atlas and Interstate 24GL and 24GT, skew towards the luxury spectrum of Class B touring coaches. They are designed for on-road travel on highways and interstates. But, a large segment of van lifers enjoy exploring trails and dirt roads, and the current crop of Airstream coaches are not set up for this.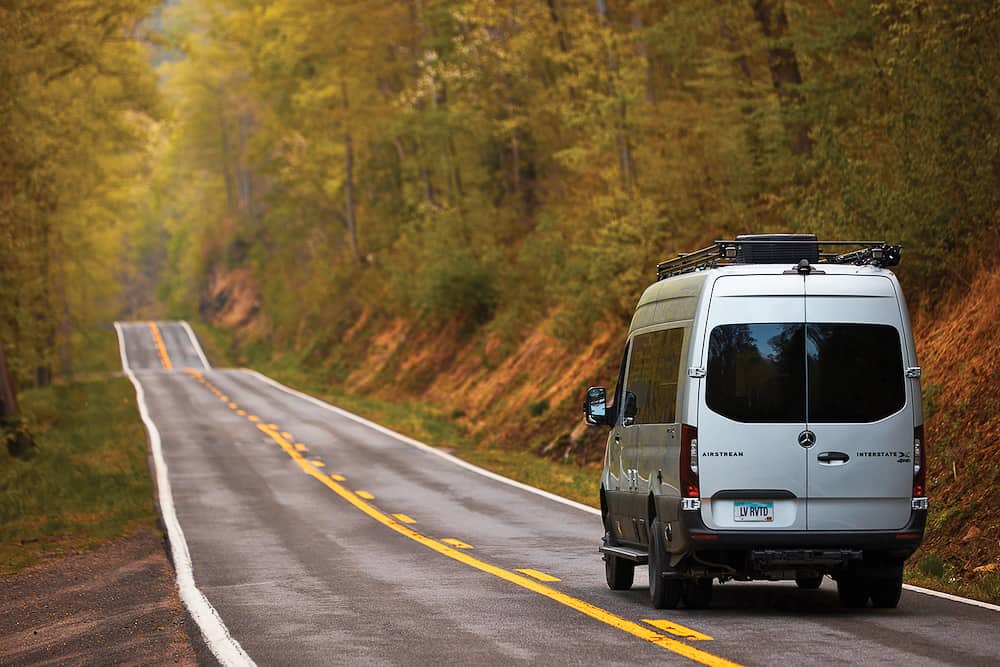 Enter the Airstream Interstate 24X. Airstream has taken the same Mercedes-Benz platform used for the Interstate 24GL and 24GT and modified it for off-road adventure.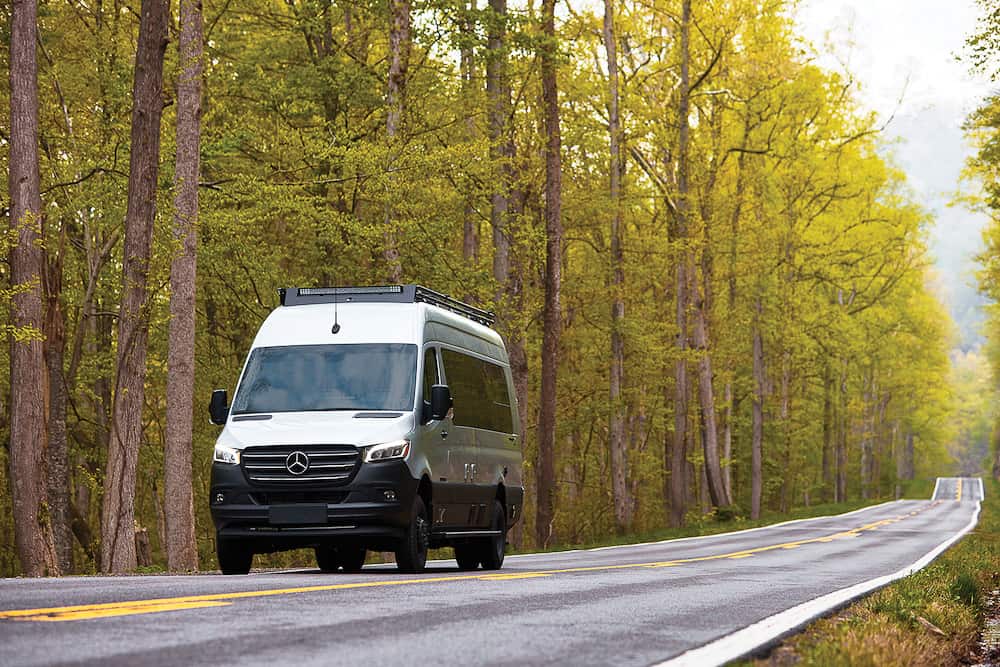 Airstream has a live/work travel trailer, but if you'd prefer not to tow, then a Class B rig could be for you.
4-Wheel Drive
The Interstate 24X is equipped to tackle diverse terrain as it rides on 6 all-terrain tires, has a 4×4 drivetrain, and electronically controlled air ride suspension.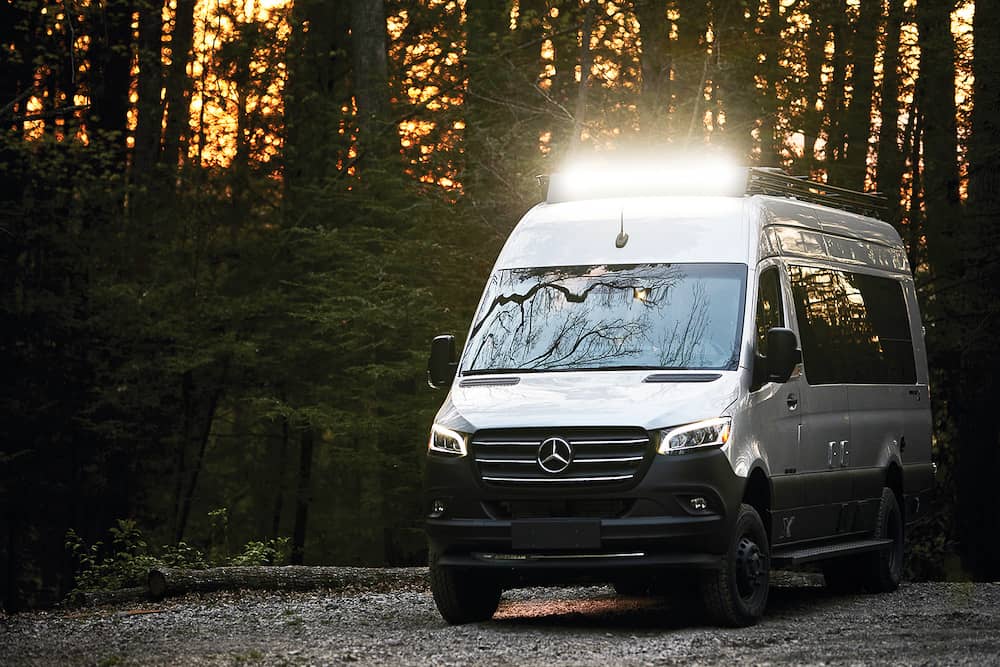 These enhancements make the 24X vastly more capable than its predecessors when the pavement ends.
Rugged Lower Body Coating
Off-road enthusiasts call it "desert pinstriping", and although it's often looked at as a badge of honor for trail rigs, it can make you cringe on a $200K coach.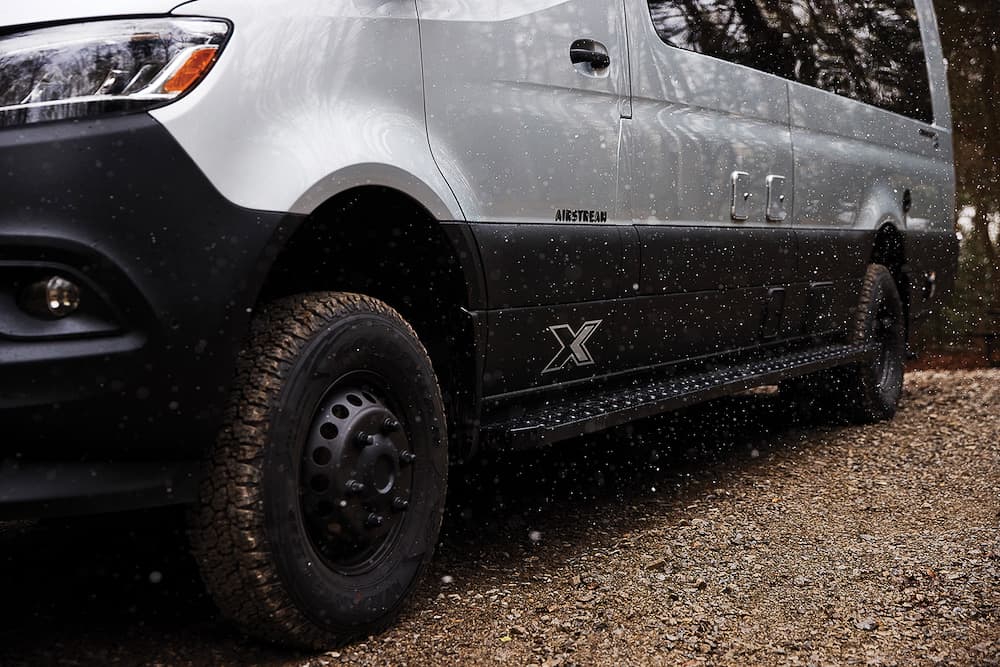 Airstream knows that you'll encounter more rocks, debris, and brush with the 24X, so they've added a durable protective body coating that wraps around the front and rear bumpers, down each side, and on the wheels.
It's similar to spray-on bed liners found on trucks as it can take a lot of abuse, but will resist scratches or dents.
No Cassette Tank
The 24X has a dedicated black water tank and pump that allows you to hook it straight up to a sewer line without having to manually empty a cassette tank.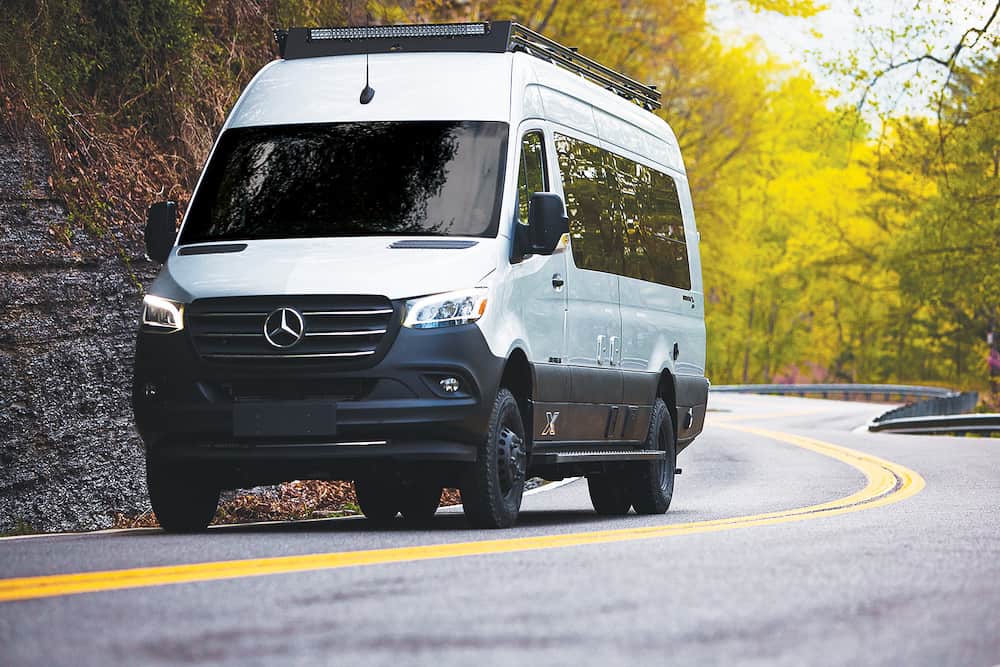 Tank Capacities: 23 gals (Fresh), 24 gals (Gray), 11 gals (Black)
Advanced Power System
There are no large energy-draining touchscreens or TVs on this rig. Everything about the 24X is about conserving energy, which will allow you to stay off-grid longer.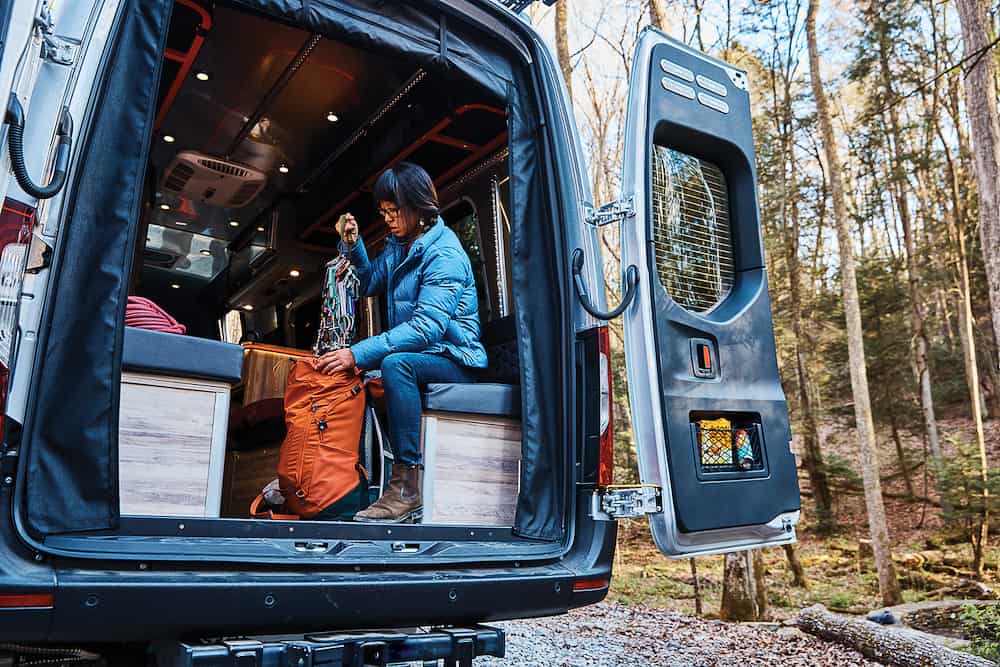 The advanced power system includes 100 Ah Deep Cycle Lithium Battle Born Batteries (LiFePO4), 30 AMP energy management system, a 2000-watt power inverter, 300W of flexible, custom, military grade solar panels for the house batteries, an additional 100W solar panel for the chassis battery, and solar controller.
Plus, portable solar panel inputs on the curb and street sides to maximize solar harvesting.
Modular Table System
The modular table system includes 4 mounts throughout the floor plan for ultimate flexibility.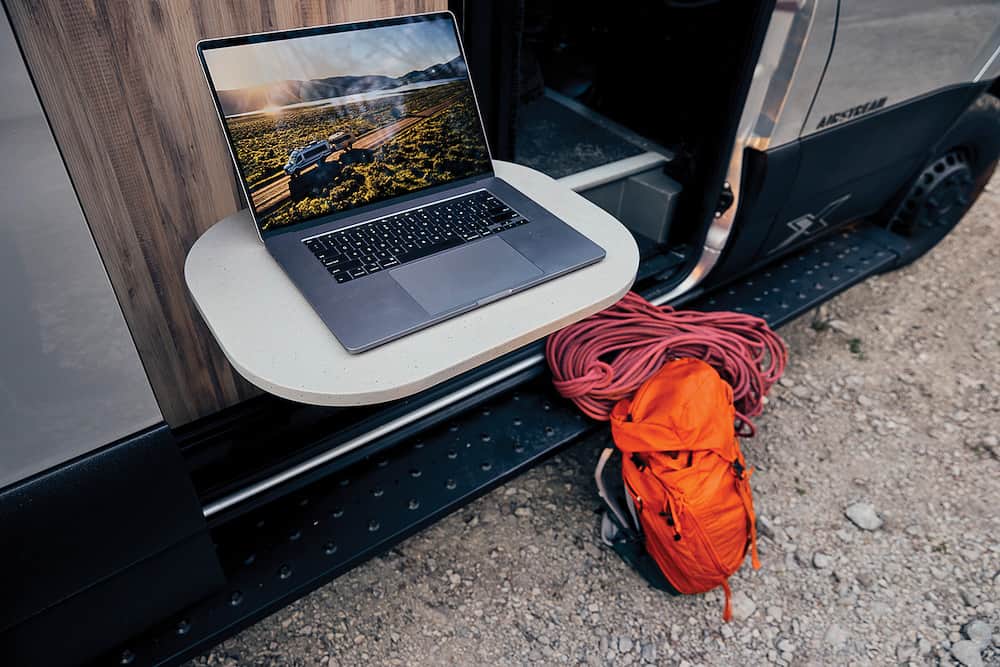 Create a mobile desk by spinning captain's chairs around, place the table in 1 of 2 mounts located in the rear of the motorhome, and even install the table outside the entry door for a food preparation space or standing desk.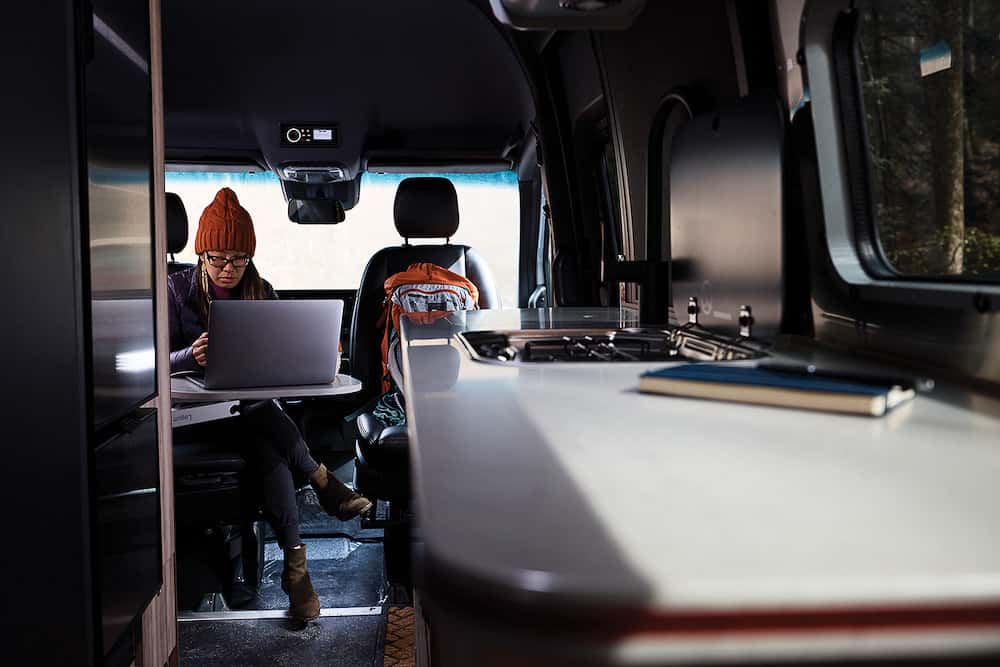 Full Kitchen
The full kitchen includes: solid surface kitchen countertop with a deep sink and cover, 2-burner cooktop, and 0.7 cu. ft. microwave, and an electric powered refrigerator and freezer.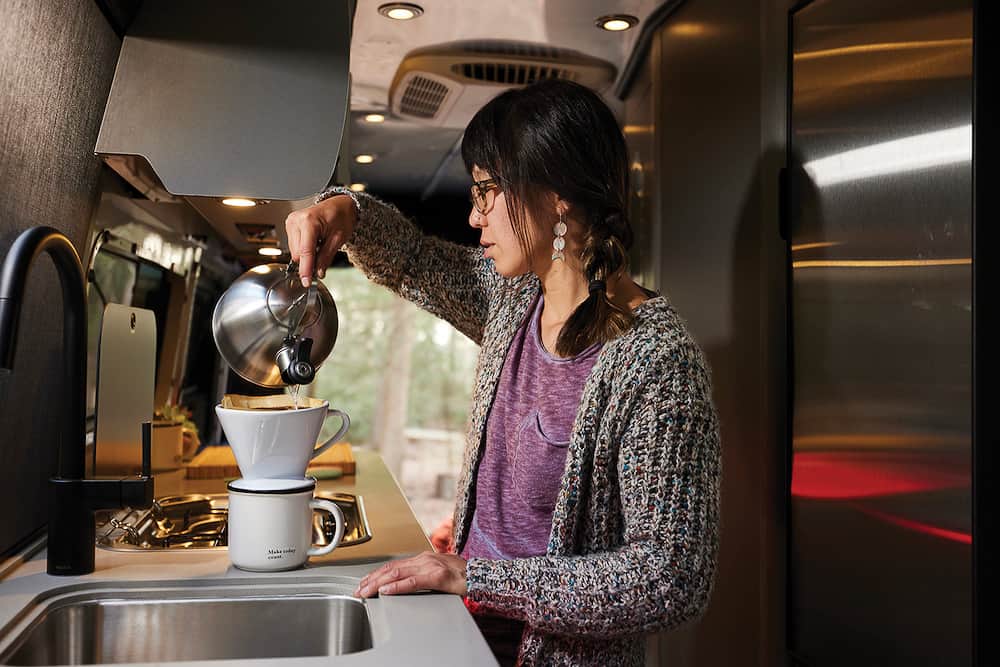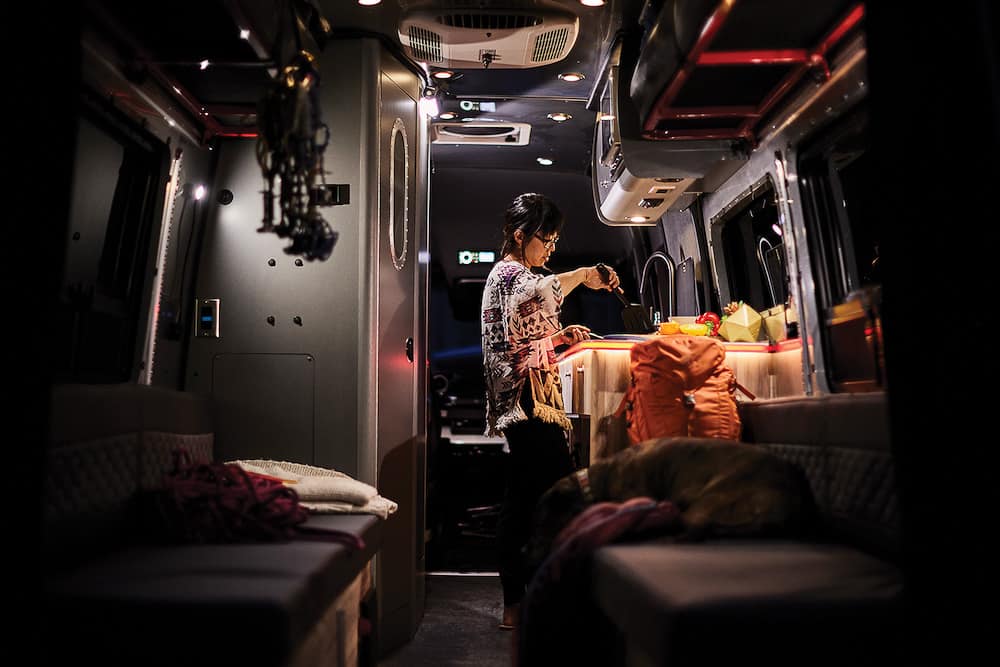 Airstream Interstate 24X Class B Adventure Van
All of these amenities come at a price, but to build a Class B rig like this on your own would be almost expensive and you wouldn't get the fit, finish, quality, and warranty that Airstream is known for.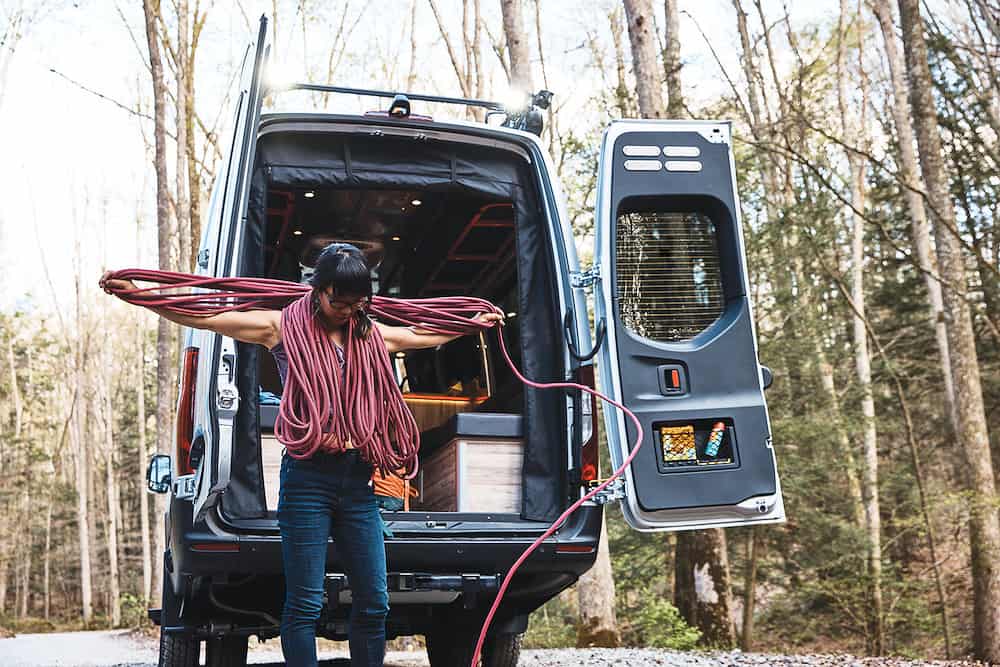 This is one of the only turnkey expedition ready Class B touring coaches available from the factory, so order one now before the waiting list gets too long.
There are too many features to list here, so for more information visit Airstream.com.