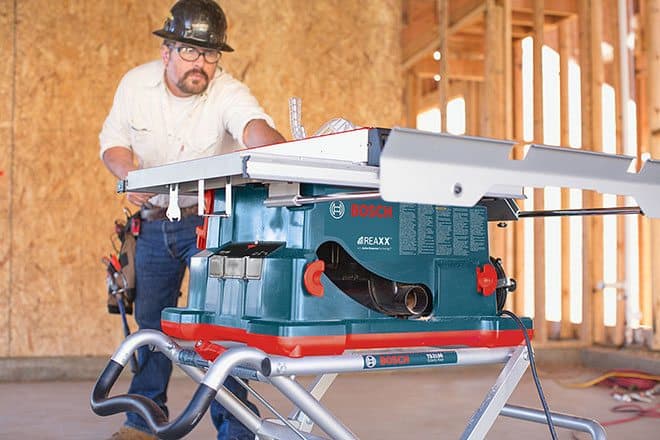 Big news from Bosch today! Their long awaited Reaxx jobsite table saw with flesh-detecting technology has arrived. It's slated for June 1 availability.
Here's the official release:
The Bosch Active Response Technology platform helps reduce the risk of injury to users by combining advanced Bosch sensors and electronics with mechanical injury-prevention systems. The Active Response Technology system on the REAXX table saw detects human flesh that comes in contact with the blade and rapidly drops the saw blade below the tabletop. This high-speed action helps reduce the potential of serious user injury.
After activation, the system can be reset in less than 60 seconds. A dual-activation cartridge enables activation for two incidents before replacement is needed; just rotate the dual-activation cartridge and reset the drop mechanism and the REAXX table saw is ready to go without damaging the blade. All necessary parts, instructions and wrenches are located onboard the saw, including storage for extra dual-activation cartridges.
It will be available on June 1 for $1,499. Check the Bosch website for more details.