Closing on our new home signaled the end of the buying process, and the beginning of the journey towards making the house our home. The first step towards achieving this was painting the entire interior of the house, as well as the front exterior.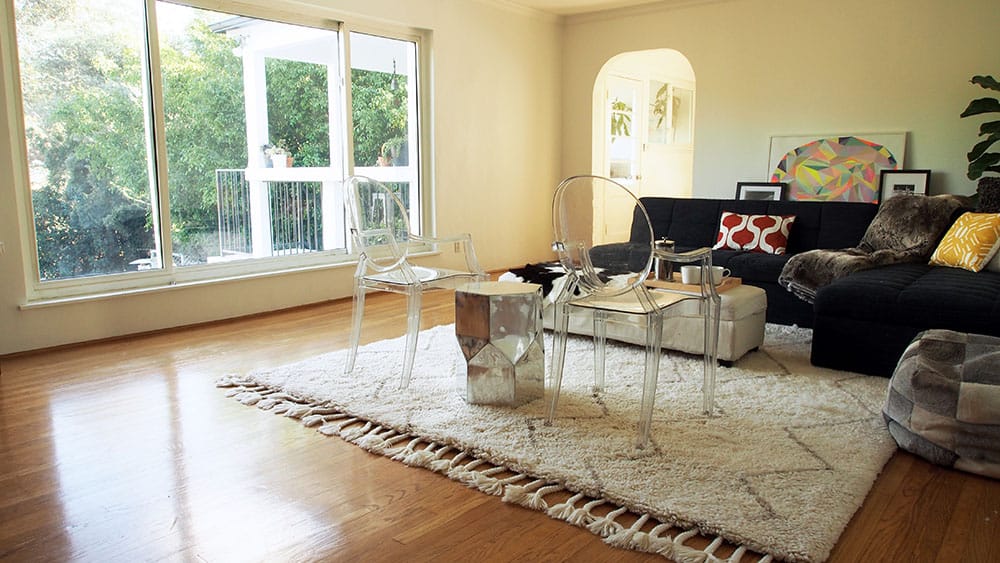 We knew this would make the most dramatic change to the house and provide the most bang for the buck. We've been fans of Benjamin Moore paint for years, and were ecstatic when they agreed to partner with us to paint our home.
Check out the newest episode of The Dahl House, where we finally paint!
Before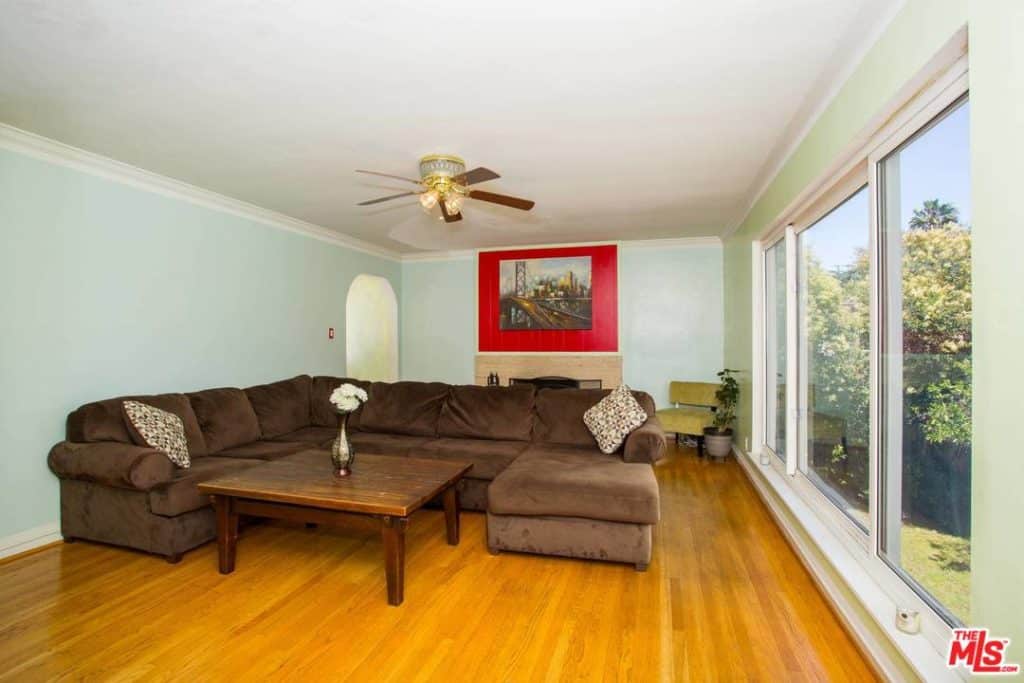 Our 1940 traditional home has great bones, and overall the walls aren't in bad shape either, but the previous owner had an eclectic taste in colors and nearly every room was a different shade of blue, brown, green, or red. Sponge painting techniques were used liberally and there were a few rooms that looked as if a six-year-old painted them.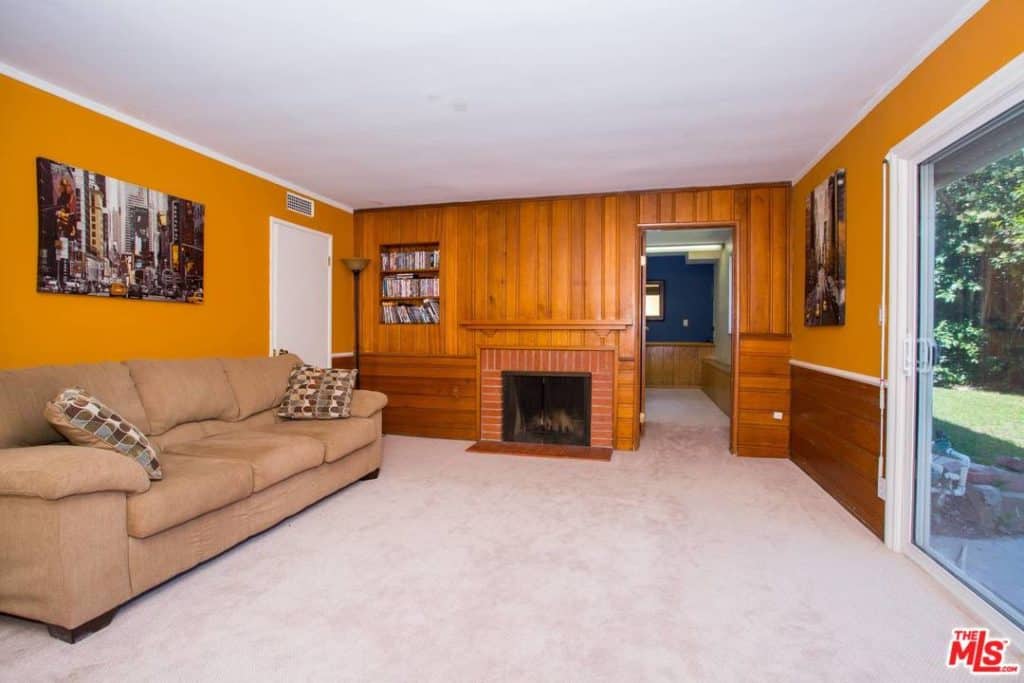 We had the vision to look beyond the rainbow of colors, and saw the potential of how our modern palette would work. It was helpful to mock up some exterior photos in photoshop and we took the time to test a variety of colors and sheens, during all times of day.
We chose Benjamin Moore Aura as we wanted a high-quality and no-VOC paint, that was safe for our family and durable enough to last for years. Covering red and other dark colors, often takes multiple coats of paint, but with Aura we only needed one coat of primer and two coats of of paint to achieve our desired results.
Choosing a Paint Color and Sheen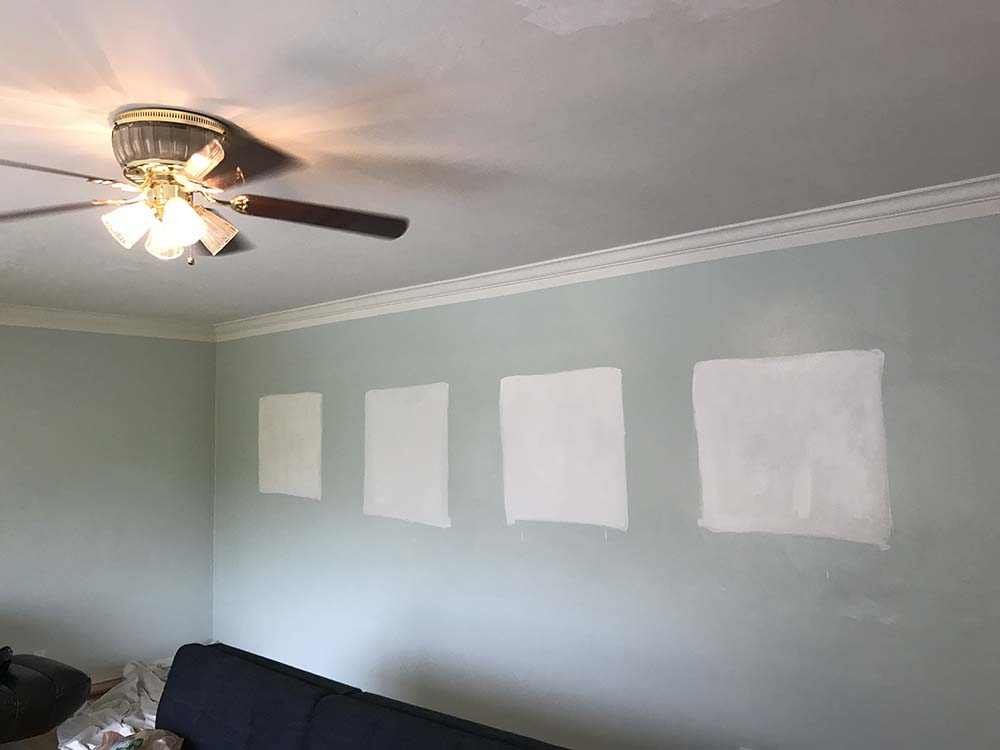 You'd think choosing a white paint would be easy, until you see how many variations of white Benjamin Moore offers. It's difficult to see a difference in the swatches, which is why you need to see them side by side on the wall.
It's only then that the various hues and shades will appear based on the lighting in the room and the other colors such as the floors and furniture that will complement your walls.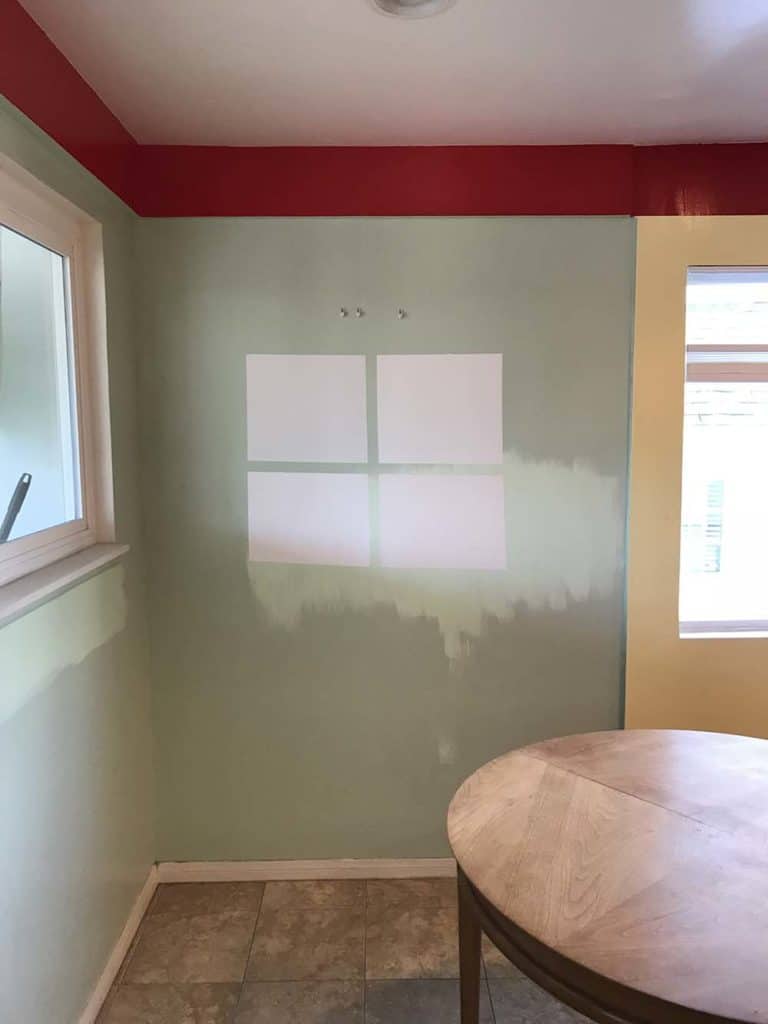 We narrowed it down to four different whites and painted 1 foot x 1 foot squares on various walls throughout the house. We could have selected a different white for each room, but we wanted to go with a uniform look.
We needed a white that could act as a chameleon and look great in multiple rooms and and complement different colored furniture, flooring, and other paint colors. Fortunately one white stood out from the rest.
We chose Benjamin Moore Chantilly Lace OC-65, as the white which would cover 90% of the interior of our home. According to Benjamin Moore, Chantilly Lace is defined, "As delicate and refined as the lace it was named after, this crisp, clean white evokes images of pure silk, soft linen and simpler times." We couldn't agree more.
Crisp and clean, without being harsh or too blue was what we were looking for. We wanted a white that would work in every room, including our den which we went for a really big contrast.
Selecting a sheen was an easy choice as we've got a young one (and one on the way), so bumping into the walls and grabbing them seems like one of his favorite pastimes. Aura is extremely durable, washable, and in eggshell, provides just enough pop. We also painted the ceilings in flat throughout the home, and went semi-gloss for the trim and doors.
The Den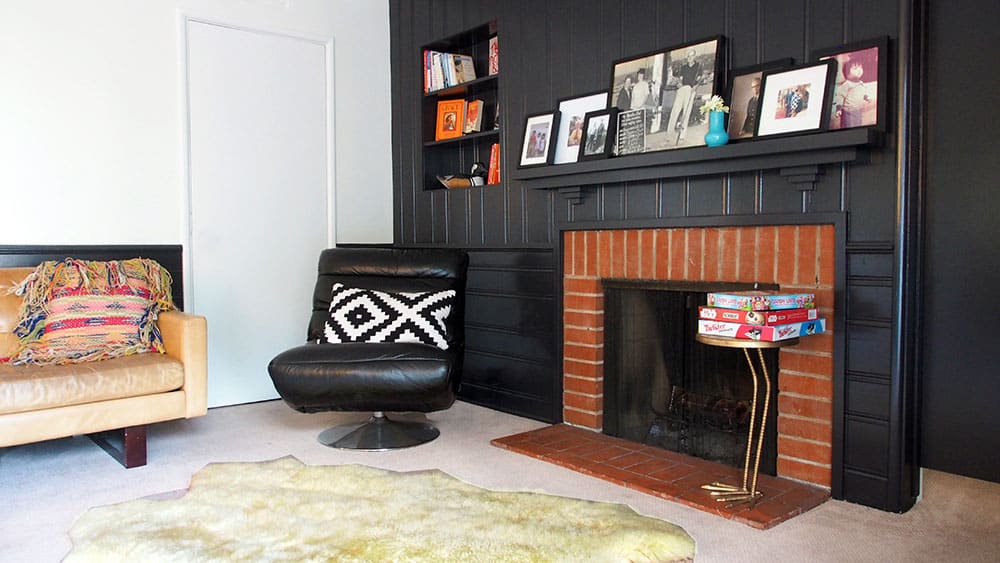 The den located on the lower level of our home, consisted of wood paneling as well as two different browns that covered the walls and ceiling. We were a bit torn on keeping the wood paneling, but ultimately decided to keep it, but by painting it a dark color we could modernize it.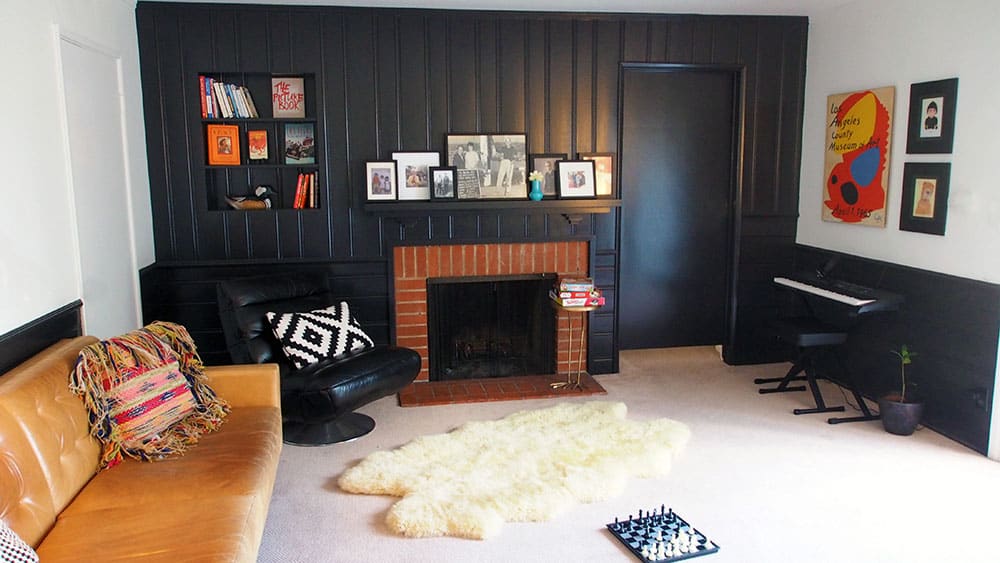 We also did the same for the wood hearth above the fireplace. We wanted a black, but not one that completely contrasted with Chantilly Lace white. We settled on Benjamin Moore Black Beauty 2128-10 for the wood panel of our den as well as some areas of the front exterior.
The black wasn't too deep, and provided a nice contrast to Chantilly Lace. Black Beauty also looked great on the wood grain, and unexpectedly brought out some great texture in the wood.
Dining Room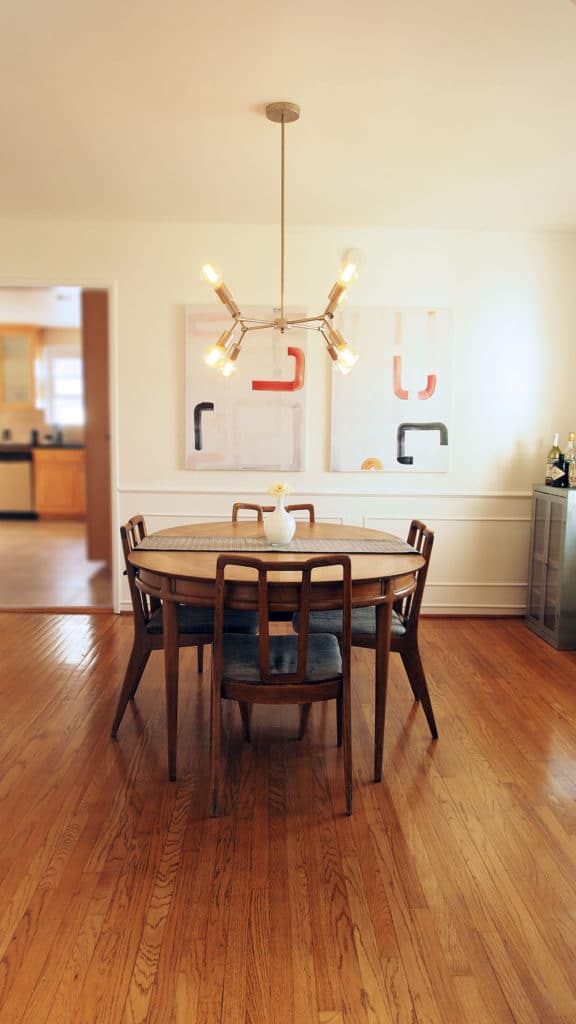 Our dining room features a Scandinavian table set and mid-century chandelier. Our original wood floors complement the original wall features which we wanted to retain. Chantilly Lace works well in this room which is bathed in light throughout the day.
Breakfast Nook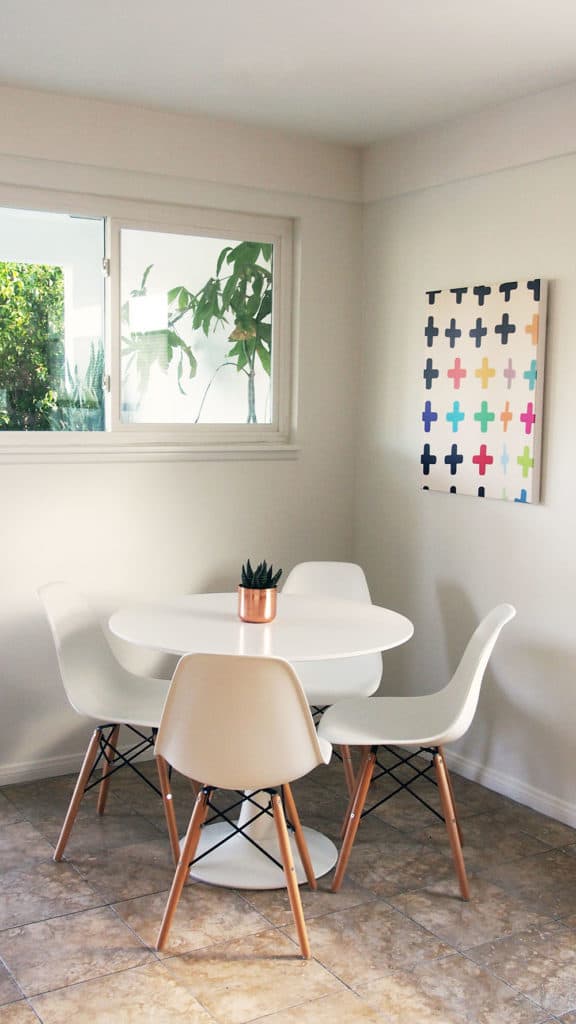 The breakfast nook just off our kitchen was one of the most difficult rooms to setup, as we plan on remodeling the kitchen in the near future and don't want to make any design choices that would only be short-term. We chose a modern white table and chair set helps pop the splash of color from the art hanging in the corner.
Again, Chantilly Lace looks great in this space and we are going to appreciate its durability and easy to clean attributes being next to the kitchen.
Kids Room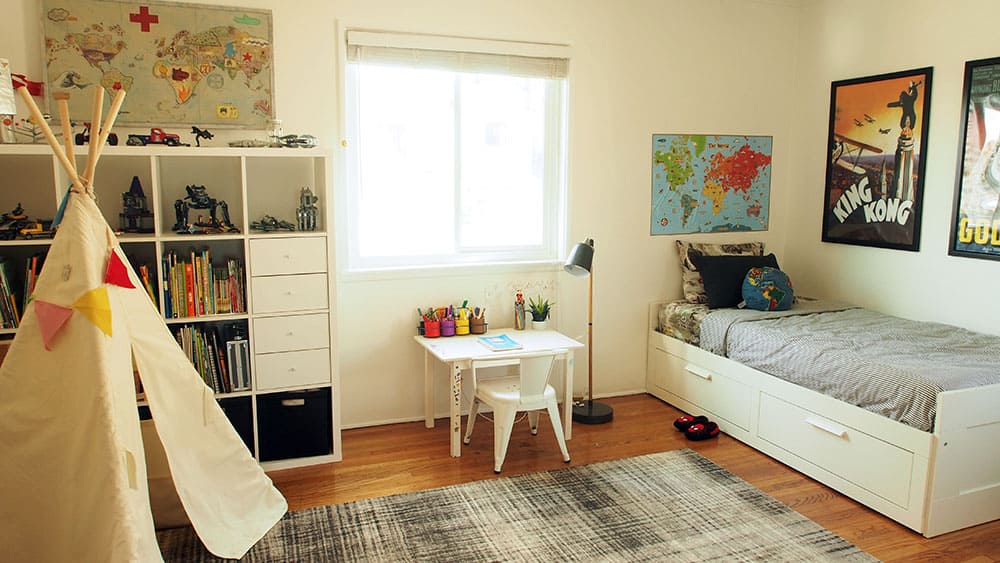 Our son's bedroom was one of the most shoddily painted rooms when we moved in, but after a fresh coat of Benjamin Moore, it now radiates with the warmth and energy we all desired.
Living Room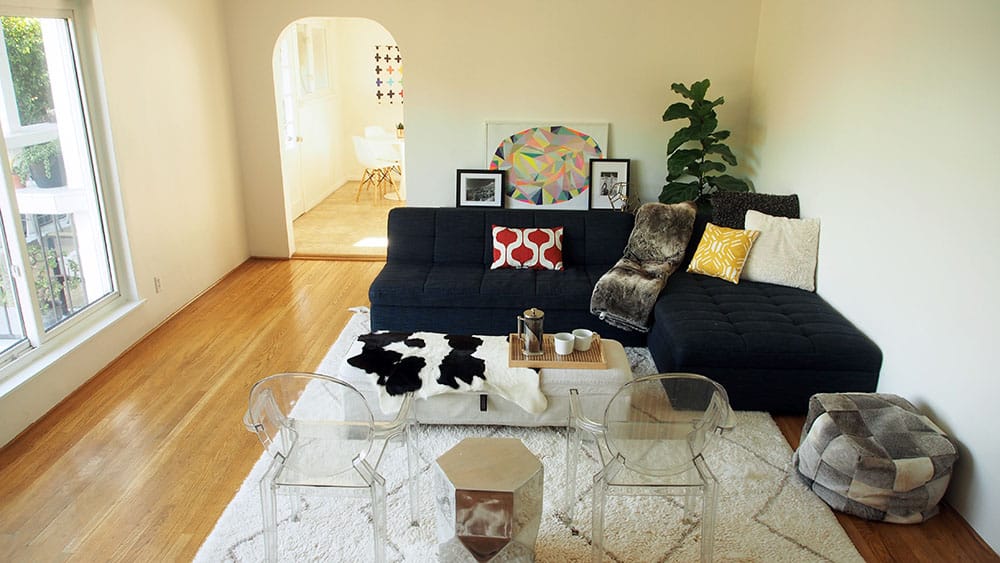 Our living room is central to the home and where we spend time working as well as entertaining. This room has a southern exposure and receives full sun throughout most of the morning.
We didn't want a white that would cast too much of a blue hue, but rather we preferred a warmer glow, which Chantilly Lace provided.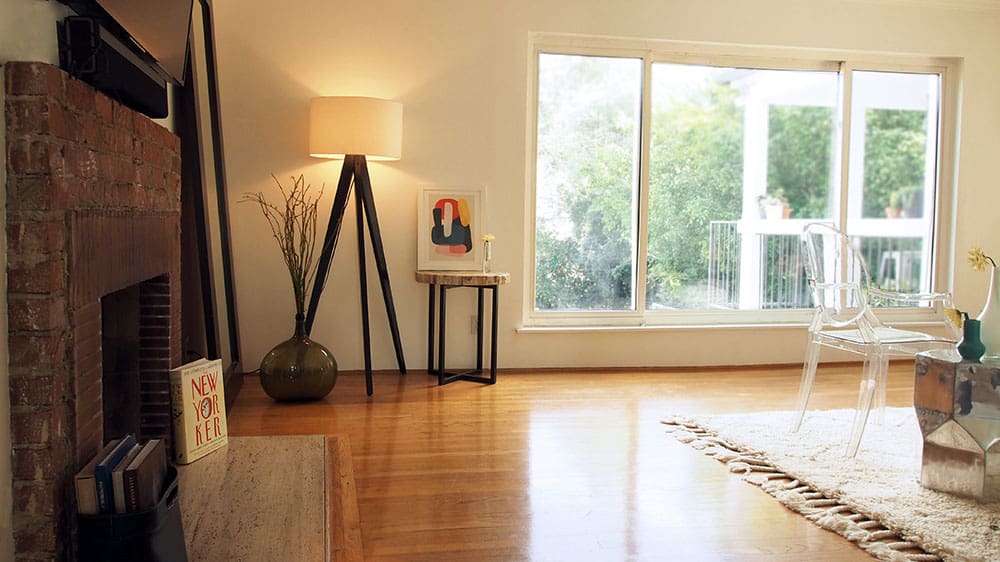 Guest Bath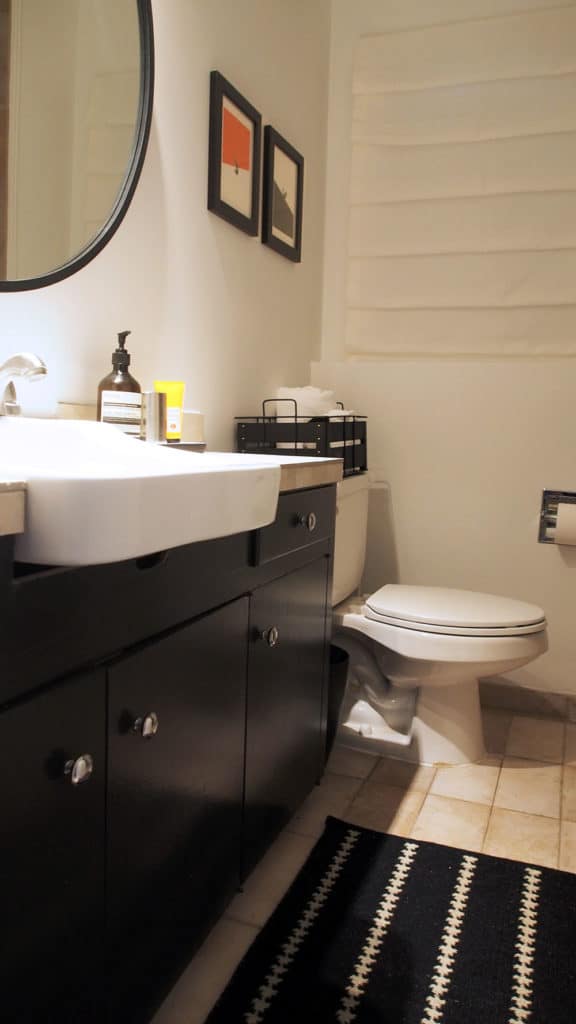 The final room where Benjamin Moore paint made the most impact, was our guest bath. It's a tiny room, but after a new coat of Chantilly Lace paint on the walls and Black Beauty on the cabinets, we had an entirely new looking room.
We weren't sure if the dark color would make the room seem smaller, but it actually had the opposite effect. Our little dark guest bath, is now featured gem of the house.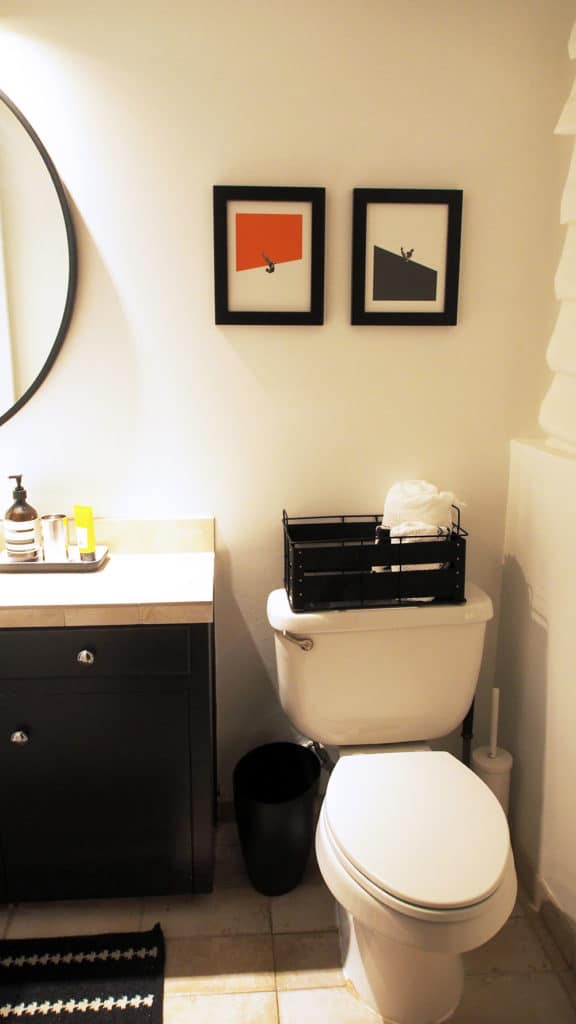 Painting our home has proven to be the biggest bang for the buck improvement. We were able to immediately put our own stamp on house, and can start with a blank slate when it comes to future design.
Check back for our next article on designing and painting the exterior of our home, which was possibly even more dramatic.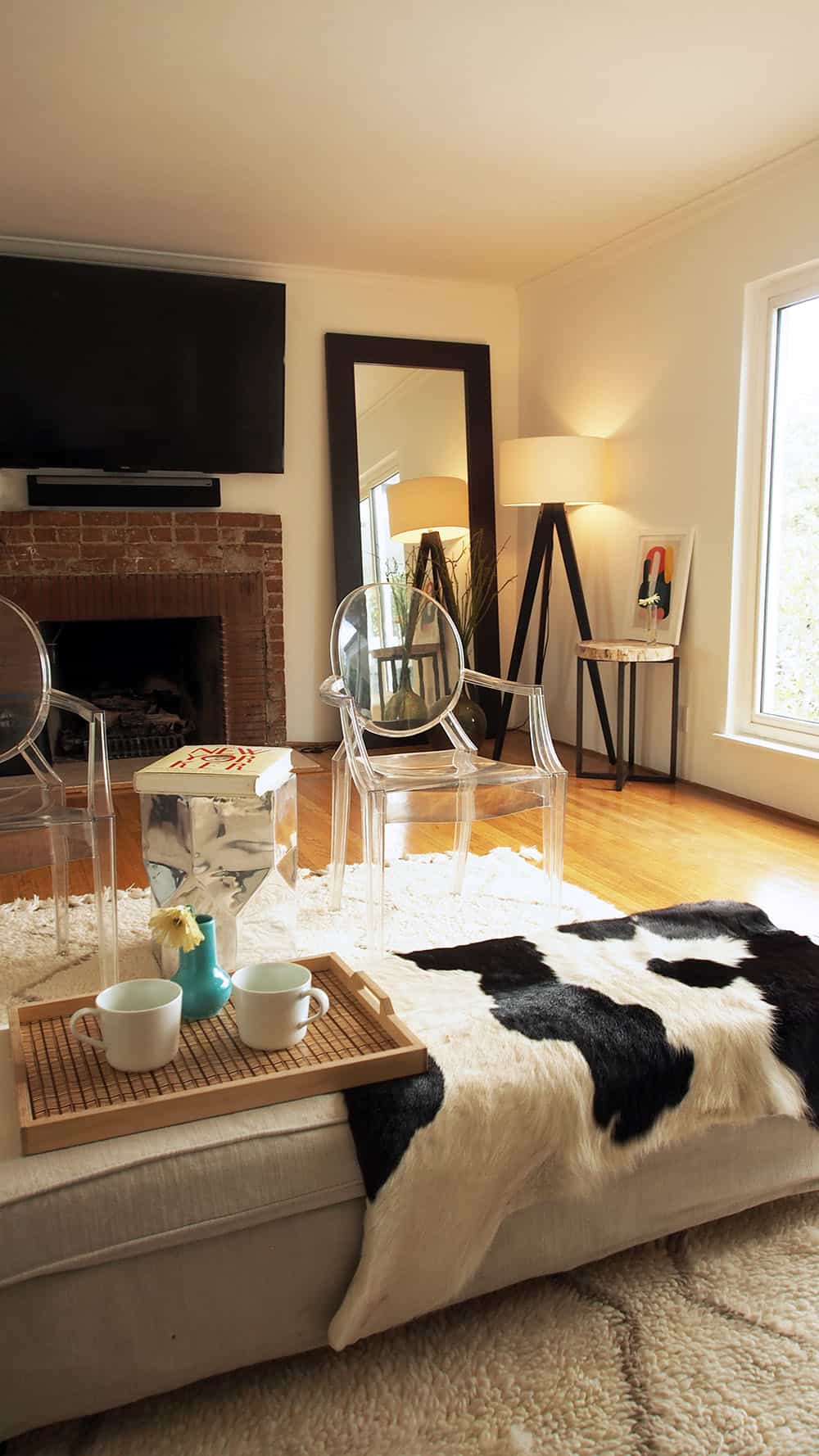 More Before Photos