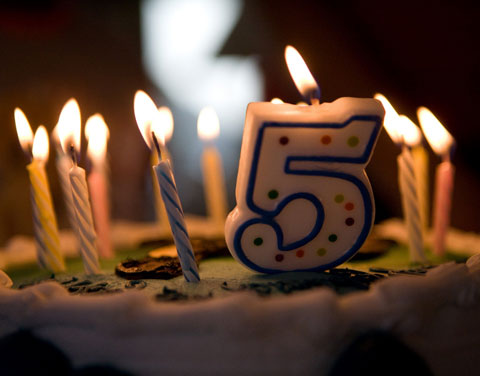 5 years ago today I published the first post on Charles & Hudson. This blog started out as an exploration into blogging as well as an opportunity to discuss and share home improvement ideas, products and tips.
At the time I was working at This Old House which I still consider the premiere and original reality TV series. Blogging was a bit of a hobby back then and allowed me to have an outlet to explore Movable Type, social media and provide a platform for me to network both personally and professionally.
I have to thank Charles & Hudson for opening many doors including my time at PointClickHome.com and although PCH is no longer around and shelter magazines continue to fold, it's been an amazing ride being part of the new media that has taken hold in the design/decor/diy space.
Over the past 5 years I've developed some incredible relationships both online and off and I'd like to thank the following folks for helping get Charles & Hudson to where it is today.
Laura Dahl – for your unwavering support and love
Aaron & Jeannie Olson – for inspiration and dedication to the house blogging and remodeling community
Maxwell Gillingham-Ryan – for mentoring and offering encouragement and advice
Chad Everitz – for your MT expertise and keeping CharlesandHudson.com running as smooth as possible
Martha Stewart – for your exposure and efforts in taking the design/diy blogging segment to the masses
Nick Eber – for sharing the content of your partners and understanding the position of blogs
Dan Meehan – for having the vision and determination to create an ad network for the diy crowd.
More bloggers and partners who have contributed to our growth and positive vibe.
Joe Kutchera, Katy Ryan, Chris Phillips, Gregory Han, Rebecca Orlov, Fred & Ethan, John & Sherry, Preston Koerner and our team of contributors. There are so many other bloggers and businesses that helped me along the way and I appreciate each and every one of you.
Last but certainly not least I'd like to thank our loyal readers who continue to make this blog a rewarding experience and through your questions, comments and support have inspired me to continue to build Charles & Hudson into a site that you love.
Thank you,
Timothy
photo: AndrewEick
The following two tabs change content below.

Founder/EIC
at
Charles & Hudson
Timothy's background includes stints at This Old House, ELLE DECOR, Metropolitan Home and Woman's Day. His work has been published on Wired Design, Bob Vila, DIY Network, The Family Handyman and Popular Mechanics and he has been featured on the Martha Stewart radio show and as a speaker at the ALT Design Summit, K/BIS and the National Hardware Show.

Latest posts by Timothy Dahl (see all)