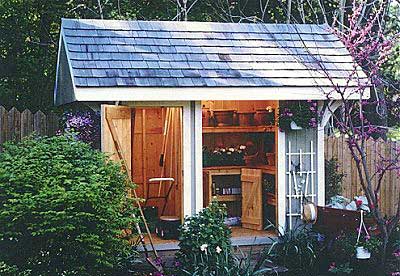 If you have a sloped backyard, don't despair. You won't necessarily be destined for terraced gardens or mowing sideways for all time. Consider using some of the space for a shed. Transform barely usable lawn into much needed storage by following these six steps.
1. You need to start with a base. Think of it like a small deck or platform that you'll install the shed on top of.
2. Lay out the shape and dig posts or pour piers. Design in the same way that you would a free standing deck – posts no more than 6 feet on center and around 8 feet of space between beams.
Opt for a cantilever of no more than 2 feet, but that's usually not an issue with a shed floor (unless you're building a mansion-type shed – then make sure to bring power over for a big screen TV).
3. Build your frame onto the posts. You may need to dig in the front a little, so that the opening or door will be fairly level with the ground. Alternatively a ramp can be built up to the door.
4. Deck the frame with treated plywood. This will be your shed floor, so go with something sturdy and long lasting.

5. Now you're ready to install your preferred shed on top. If you bought a pre-fab, follow the manufacturer's instructions and attach it to the plywood base. If you're building a shed from scratch that includes traditional framed walls and custom shelving, doors and roof, simply attach the bottom plate of each wall to the plywood deck and have at it. Your shed will be up in no time.
6. As a final consideration, install skirting around the bottom of the shed. This will not only give it a finished look, but will deter critters from making a home underneath and also give you something to retain gardens, etc. around the shed. Build it like a vertical fence board or deck board screen running from the frame into the ground (try not to leave gaps or the animals are sure to flock in). Use treated wood or match your shed materials – whatever works best. No need to install posts, but you can put blocking behind and attach it to the floor frame.
With a little bit of planning and a well installed deck or platform, you have the ideal spot for a shed. And you won't have to mow that part of the hill.
photo courtesy of Cindy Skinner – sxc/cinderzill
The following two tabs change content below.

Founder/EIC
at
Charles & Hudson
Timothy's background includes stints at This Old House, ELLE DECOR, Metropolitan Home and Woman's Day. His work has been published on Wired Design, Bob Vila, DIY Network, The Family Handyman and Popular Mechanics and he has been featured on the Martha Stewart radio show and as a speaker at the ALT Design Summit, K/BIS and the National Hardware Show.

Latest posts by Timothy Dahl (see all)