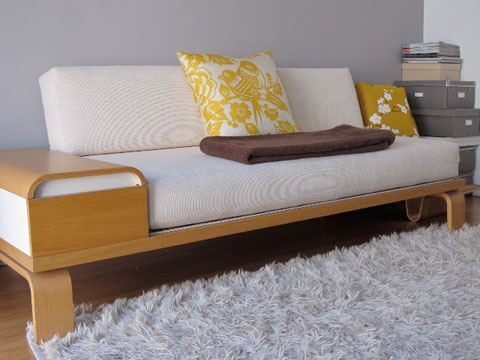 My recent post about refurbishing an old family sofa got me thinking about the value of old furniture. Personally, I think it is a wonderful thing. When I look around my house, I can count at least a dozen pieces where I've extended life with new upholstery or refinishing.
One of my favorites is this IKEA sofa/daybed. It is sturdy, functional, and works well in a variety of settings. And, like many IKEA products, the design is ingenious. The low wood armrest is a great place to set a drink, but the hollow space beneath it holds a back cushion for when it extends into a bed. I can't recall exactly, but I paid less than $300 for it. Now this product is unavailable — it is "vintage" IKEA.
What's more, it looks like an original piece due to the fact that I reupholstered it with a soft, cream-colored chenille fabric. Okay, I know what you are thinking. Why would I spend more money on new fabric than the sofa itself? The answer is simple. I love it, and this option was still cheaper than buying a new sofa.

So before you ditch old furniture in search of something "newer and better," here are some questions to ask yourself:
1. Does the piece hold personal meaning?
2. Is it still functional for your needs?
3. Is it still structurally sound?
4. Can it be transformed to your liking by changing the color, fabric, or stain?
If the answer to any of these questions is yes, consider giving your furniture a new lease on life. Not only does refurbishment address any sentimental feelings you might have, it is also an environmentally sensitive and economical alternative.